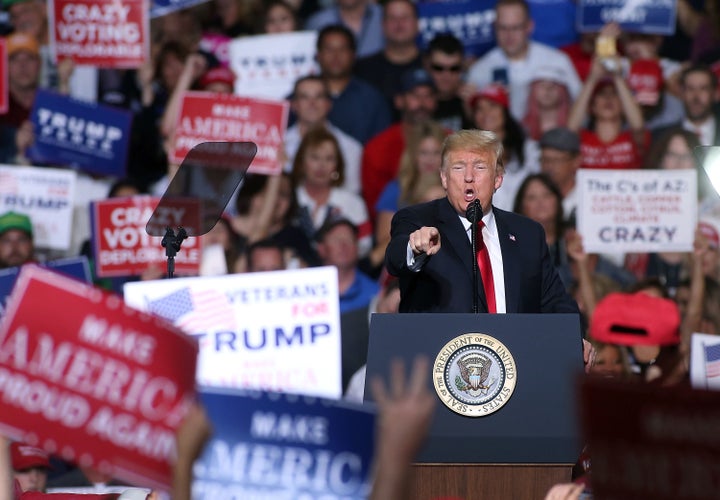 President Donald Trump discussed many of his usual talking points ― his prized border wall, Hillary Clinton's emails, his attacks on the news media ― during his rally in Mesa, Arizona, Friday night.
However, Trump didn't free up any time to address with his supporters the biggest news item of the night: Saudi officials confirmed U.S. resident and Saudi journalist Jamal Khashoggi's death, claiming he died after getting into a fight at the Saudi consulate in Turkey earlier this month.
Trump made no mention of Khashoggi, a Washington Post columnist who was living in Washington, D.C., during his roughly hour-long speech, despite the fact that it has sparked international outrage and has dominated news headlines since the journalist first went missing 18 days ago. 
Hours before Trump's rally, Saudi authorities said that their initial investigation revealed that Khashoggi was killed after a discussion turned into a fight during his consulate visit. They initially had claimed that Khashoggi walked out of the consulate on foot after retrieving a marriage document. 
At least 18 people had been arrested in connection with his death, a Saudi prosecutor said in the latest announcement.
Earlier Friday, Trump told reporters during a defense roundtable that he found the Saudi explanation for Khashoggi's death credible and called the arrests of the suspects a "good first step."
The White House on Friday offered a more neutral response to the Saudi findings, saying the administration would "closely follow" the investigation "and advocate for justice that is timely, transparent, and in accordance with due process."
During Friday's rally, many U.S. officials, including his allies in Congress, took a harder stance on the Saudi investigation. 
Senate Foreign Relations Committee Chairman Bob Corker (R-Tenn.) warned the administration to be skeptical of the Saudis' claims and called for the U.S. to launch its own investigation.
"The story the Saudis have told about Jamal Khashoggi's disappearance continues to change with each passing day, so we should not assume their latest story holds water," Corker said in a statement Friday night.
Sen. Lindsey Graham (R-S.C.) also expressed doubt in the Saudi investigation.
"To say that I am skeptical of the new Saudi narrative about Mr. Khashoggi is an understatement," Graham tweeted. "It's hard to find this latest 'explanation' as credible."
On Oct. 10, the Washington Post reported that Saudi Arabia's crown prince, Mohammed bin Salman, known as MBS, personally ordered an operation to lure Khashoggi back to Saudi Arabia.
Turkey authorities have also leaked information to U.S. media outlets that suggest that the Saudi royal court ordered Khashoggi's murder.
Trump on Tuesday criticized earlier reports that claimed Saudi officials were behind Khashoggi's disappearance and compared it to the controversy surrounding the sexual assault accusations made against Supreme Court Justice Brett Kavanaugh.
"I think we have to find out what happened first," Trump told the Associated Press. "Here we go again with, you know, you're guilty until proven innocent. I don't like that. We just went through that with Justice Kavanaugh, and he was innocent all the way as far as I'm concerned."
REAL LIFE. REAL NEWS. REAL VOICES.
Help us tell more of the stories that matter from voices that too often remain unheard.