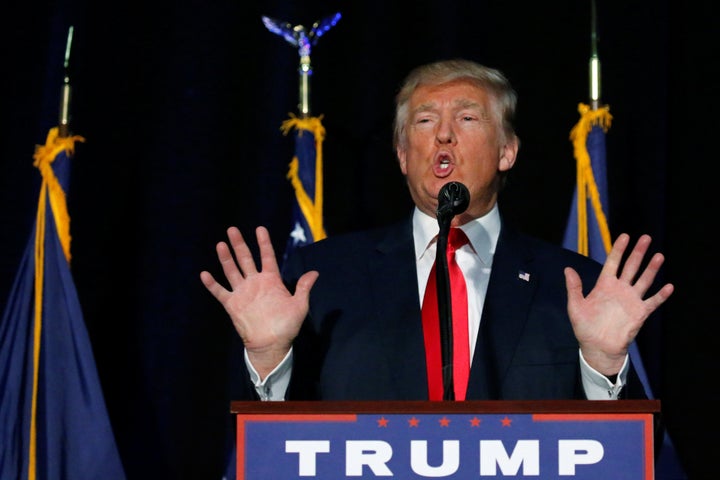 In footage of a two-hour deposition that the Republican presidential nominee gave this summer in a lawsuit over restaurant space in his new Washington, D.C., hotel, Trump says he pre-planned the remarks in which he called Mexican immigrants "rapists" and criminals. He also said he didn't run the idea by anyone prior to delivering it as part of his presidential announcement speech in June of 2015.
The videos were released after several news outlets including BuzzFeed, CNN, NBC, ABC, CBS, The Washington Post and The Los Angeles Times filed a motion to access them; transcripts of the exchange were already public.
In the deposition, a lawyer asks Trump about his comments:
Q [lawyer]: With respect to the speech that you made, and specifically the focus on Mexicans and immigrants, did you write the statement in advance? Was it written?

A [Trump]: No.

Q: And did you plan in advance what you were going to say?

A: Yes.

Q: Okay. Did you talk to other people about it?

A: No.
Trump's speech angered people across the political landscape and set the tone for his xenophobic and nativist campaign. The nominee has talked about how he's an off-the-cuff speaker, and he often has to walk back his controversial remarks after making them.
The immigration comments prompted two restaurateurs, Jose Andres and Geoffrey Zakarian, to drop their plans to open restaurants in Trump's new hotel in the landmark Old Post Office building in downtown Washington. The deposition was part of a breach of contract lawsuit Trump filed against the two restaurants, which had already signed leases with the hotel.
The two videos, which are available on YouTube, are each about an hour long. You can watch them both below, or read a text version of the deposition here.
Support HuffPost
The Stakes Have Never Been Higher
Popular in the Community