President Donald Trump's plan to make Central American asylum-seekers wait in Mexico while their cases move forward contains a fatal flaw, according to half a dozen experts interviewed by HuffPost: The obscure provision of immigration law underlying the plan specifically exempts immigrants from being forced to return to Mexico after applying for asylum.
The White House is reportedly close to clinching a deal with Mexico's incoming government to send asylum-seekers back across the southern U.S. border while their cases wind through America's beleaguered immigration courts. But even if Mexico's president-elect, Andrés Manuel López Obrador, supports the proposal, the "Remain in Mexico" plan is riddled with legal problems that cast doubt on its feasibility. The Trump administration's apparent interpretation of the Immigration and Nationality Act is perhaps the most glaring.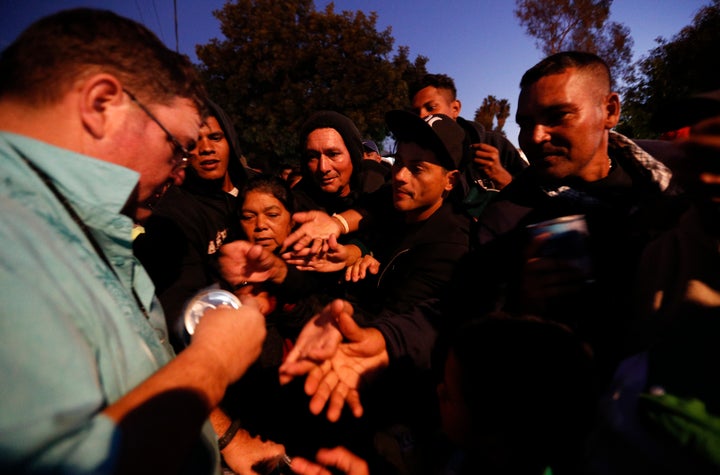 "This is clearly not what the asylum statute contemplates," Barbara Hines, a law professor at the University of Texas at Austin, told HuffPost. "It's just one more way to try to keep people from applying."
The Department of Homeland Security has not explained the details of the plan that Secretary of State Mike Pompeo is trying to negotiate with the incoming López Obrador administration.
DHS did not respond to a request for comment on this article.
But the broad outlines of the plan under negotiation, first reported by BuzzFeed News earlier this month and later elaborated by The Washington Post, would require asylum-seekers arriving from Mexico to return there once their "credible fear" interviews have been conducted in the U.S. The interviews are the first major step toward filing an asylum application.
A "Safe Third Country" agreement that would require migrants to first apply for asylum in Mexico, instead of being allowed to enter the U.S. to state their case, is off the table, according to that country's soon-to-be interior secretary, Olga Sánchez Cordero.
That leaves only one obvious way to make the plan work. The Department of Homeland Security would rely on a provision of the Immigration and Nationality Act that allows the U.S. to return migrants who arrive at legal ports of entry by land back to the country they came from while they await deportation proceedings, according to several legal experts on immigration.
But there's a catch: Asylum-seekers don't appear to be subject to that section of the law.
The problem with the Trump administration's plan lies buried in the complexities of the Immigration and Nationality Act. Section 235 of the act does, in fact, allow the U.S. to send migrants back to Mexico if they arrive by land while they await deportation proceedings. But the same section of the law exempts people who make asylum claims and pass their "credible fear" interviews from getting sent back to a neighboring country.
"The takeaway is that our government hasn't thought it through," David Leopold, an immigration lawyer with decades of experience, told HuffPost. "They're so focused on closing the door to asylum that they haven't really thought about the fact that the statute doesn't cover what they want to do. You can't just throw someone outside the United States and say, 'Now, apply for asylum.'"
There's no way to predict whether the courts will agree with the experts consulted by HuffPost. Immigration law is notoriously complex, and the meaning of the statute wasn't immediately obvious to everyone interviewed. It contains a maze of references that require jumping from one section of the law to another to decipher its meaning. Some had to read it multiple times before arriving at the conclusion that it exempted asylum-seekers.
"If a student in my class wrote this, they'd get an F," said former Chief Counsel of U.S. Citizenship and Immigration Services Stephen Legomsky, who now works as a law professor at Washington University in St. Louis. However, he too thought a literal reading of the provision showed it exempts the asylum-seekers Trump wants to repel.
None doubted that the Trump administration could try to push forward, but all suspected it would face an immediate challenge in federal court.
"At the very least, we can say with 100 percent confidence that this is a difficult legal question that will have to be answered by a judge, assuming this change does come out," Sarah Pierce, an analyst with the nonpartisan Migration Policy Institute, told HuffPost.
Those challenges wouldn't be limited to the plan's dubious legality. Pushing asylum-seekers back to Mexico would wreak logistical mayhem on an immigration court system already backlogged by more than 1 million cases.
Until now, asylum claims have been made and litigated in U.S. immigration courts. Forcing asylum-seekers to fight their cases in Mexico would require the U.S. to either set up immigration courts in that country, shuttle migrants back and forth across the border for hearings, or require video-conferencing. Any of those new burdens could lead opponents to challenge the plan as a violation of due process.
"The takeaway is that our government hasn't thought it through."
"I'm having a hard time even getting what they're imagining," said Stephanie Leutert, director of the Mexico Security Initiative at the University of Texas' Lyndon Baines Johnson School of Public Affairs. "The logistics seem really insurmountable."
Lee Gelernt, an attorney at the American Civil Liberties Union, declined to comment on his organization's analysis of the contiguous country provision until the Trump administration formally announces a policy. But for the plan to work, the U.S. government would have to ensure that migrants who were returned to Mexico would be safe and that they would receive the same legal guarantees and due process there that they would in U.S. courts.
"Those two threshold requirements are going to doom any proposal," Gelernt said. "I suspect there will be other legal defects."
And Trump's own words have undermined his immigration policies in the past. Last month, a federal judge temporarily blocked the Trump administration's plan to strip Temporary Protected Status from Haitian, Salvadoran, Nicaraguan and Sudanese migrants, contending that the president's harsh words about them may imply racial bias.
The Trump administration has long envisioned turning migrants who arrive by land from Mexico back to wait there while their deportation cases move forward. The idea was first floated in a sweeping executive order on immigration signed by Trump five days after taking office.
The López Obrador administration, however, appears willing to put the idea on the table as part of a larger plan to reduce Central American migration through Mexico to the United States.
Behind closed doors, López Obrador's team is trying to persuade the Trump administration to secure about $20 billion in private investment over six years for Mexico's impoverished southern region as part of the deal that would allow Central American asylum-seekers to wait in Mexico, according to Spanish newspaper El País.
Clarification: Language in this story has been amended to clarify the timeline of reporting about the plan under negotiation between the U.S. and Mexico regarding asylum-seekers.
Popular in the Community