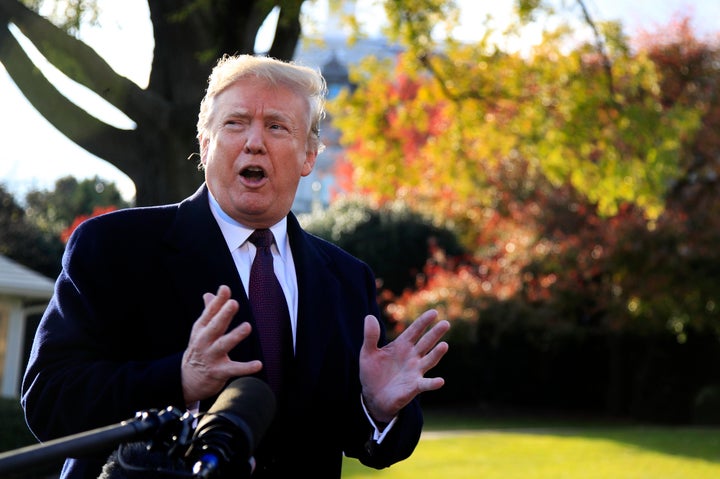 Speaking to reporters Tuesday, President Donald Trump downplayed the fact that many U.S. troops will be missing Thanksgiving with their families this year because of his decision to send them to the U.S.-Mexico border.
"Don't worry about Thanksgiving," Trump said. "These are tough people. They know what they're doing and they're great. And they've done a great job. You're so worried about the Thanksgiving holiday for them. They are so proud to be representing our country on the border."
The president's comments came shortly before he boarded a flight to spend Thanksgiving at his Mar-a-Lago resort in Florida.
Trump has faced criticism for his decision to deploy 5,900 troops to the border shortly ahead of the U.S. midterm elections ― a move he claimed was necessary to protect Americans from caravans of migrants seeking asylum, but that his political opponents regard as a last-ditch, fear-mongering effort to get out Republican voters.
There are about 8,500 to 10,500 people, mostly women and children, currently traveling in caravans who plan to seek legal asylum once they reach the U.S. About 6,000 of them are currently waiting to cross into San Ysidro, California. About 80 percent of those who joined the caravans this year came from Honduras, where chronic violence and political crisis have forced them to flee for safety.
Trump even said at one point that he might send as many as 15,000 troops to the border, far exceeding the number of people in the caravans.
Army Lt. Gen. Jeffrey Buchanan, who is overseeing the troop deployment at the border, told Politico on Monday that troops will be heading home as soon as this week. A Pentagon spokeswoman told HuffPost that she had no details on redeployment.
Popular in the Community