President-electDonald Trump insisted on Wednesday that he will quickly begin building a wall ― not just a fence ― on the southern U.S. border, and that Mexico will pay for it.
In his first press conference since the election, Trump acknowledged that the U.S. government will actually foot the bill. But he claimed that Mexico will pay the U.S. back, and predicted he would "probably" negotiate a deal with Mexico within a year and a half.
"We're going to build a wall," Trump said. "I could wait about a year and a half until we finish our negotiations with Mexico, which will start immediately after we get to office, but I don't want to wait."
Trump talked about awall on the U.S.-Mexico border almost daily on the campaign trail, always with the promise that Mexico would pay for it. He also said the wall would be a literal one ― not a metaphorical one or a technological one, as some of his top advisers have said.
In other words, the president-elect drew a very clear line in the sand that potentially sets him up for an embarrassing failure.
"The government of Mexico is terrific. ... I don't blame them for taking advantage of the United States."
Mexican government officials have repeatedly said their country won't pay for a border wall. On Tuesday, Mexico's newly appointed foreign minister, Luis Videgaray, said "there's no way that could happen."
"There are no circumstances ... not even the best possible trade deal, investments, support which would justify taking a step that would violate the dignity of Mexicans to such an extent," Videgaray said on Mexican television.
After Trump's remarks on Wednesday, Mexican President Enrique Peña Nieto told an assembly of foreign diplomats that the country won't cooperate with Trump's attempts to coerce it into paying for a wall.
"We have differences with the United States, like the wall that we're not going to pay for," Peña Nieto said, according to Mexican news site Animal Político. "But we're going to have a good relationship. ... We reject attempts to keep businesses from investing in Mexico on the basis of fear and threats."
Trump insisted that he will be able to work something out with the Mexican government, "whether it's a tax or whether it's a payment," although he added that it's "probably less likely that it's a payment."
Meanwhile, Trump said he respects both the Mexican government and its people ― something that has been in question since he launched his presidential bid by accusing Mexico of "sending people that have lots of problems," such as rapists and other criminals, into the United States.
On Wednesday, Trump said he "love[s] the people of Mexico" ― including the many "phenomenal people" from the country who work for him ― and added that "the government of Mexico is terrific."
"I don't blame them for taking advantage of the United States," Trump said. "I wish our politicians were so smart. Mexico has taken advantage of the United States. I don't blame the representatives and various presidents, et cetera, of Mexico. What I say is we shouldn't have allowed that to happen. It's not going to happen anymore."
There are plenty of logistical questions about the proposed border wall beyond whether Mexico reimburses the U.S. for its construction. Trump has already dismissed the current fencing along some 670 miles of the nearly 2,000-mile border. He chided a reporter on Wednesday for asking about a fence ― "It's not a fence, it's a wall," he said ― which means he can't simply build on the existing security systems; he has to replace them.
But building even a fence has been a logistical challenge for the U.S. government. Much of the land along the border is privately owned, and treaties in both countries restrict building along some parts of the Rio Grande, which forms part of the border. Congress would have to approve the upfront costs, which would run to billions of dollars.
Trump said that Vice President-elect Mike Pence "is leading an effort to get final approvals through various agencies and through Congress for the wall to begin."
Roque Planas and Cristian Farias contributed reporting.
This post has been updated with comments from Mexican President Enrique Peña Nieto.
Before You Go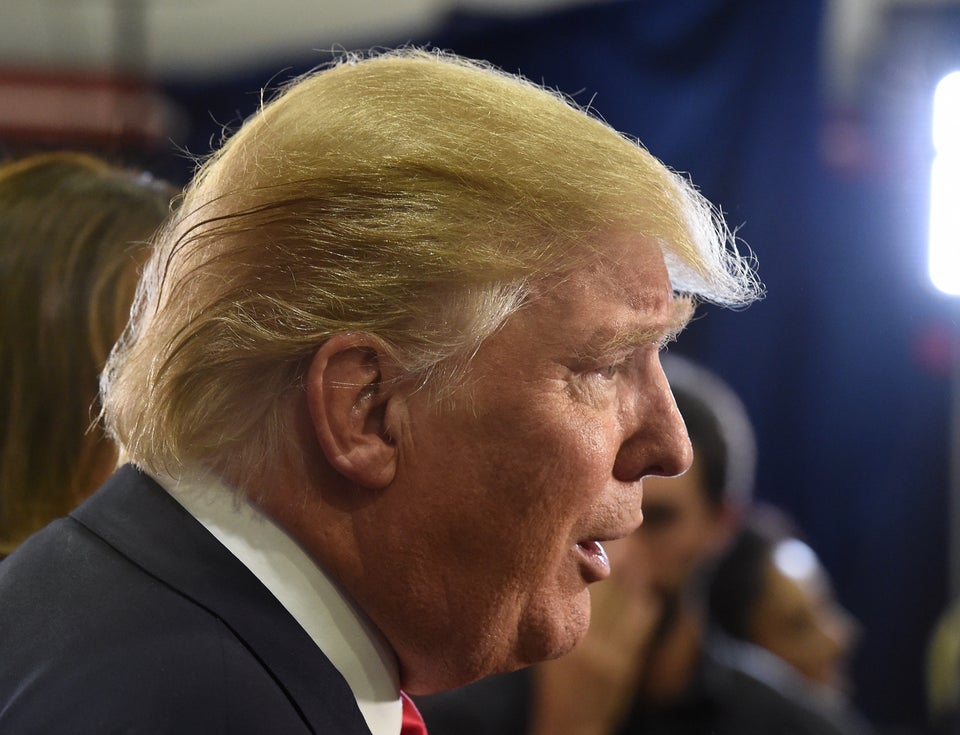 How Donald Trump Talks About Undocumented Immigrants
Popular in the Community