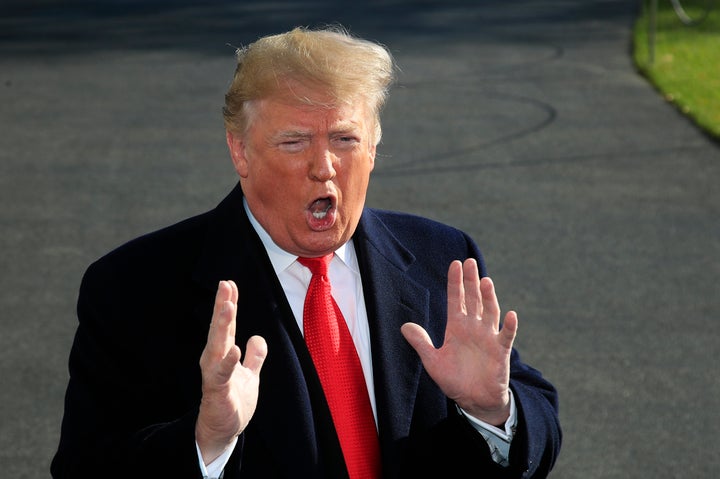 WASHINGTON — Donald Trump's former personal lawyer and fixer Michael Cohen pleaded guilty on Thursday to lying to key congressional intelligence committees to help his ex-boss, but even worse news for the president is now just five weeks away.
Come Jan. 3, the House version of that committee will no longer help Trump undercut special counsel Robert Mueller's Russia investigation and will almost certainly help it instead.
"Playtime is over," said Rick Wilson, a prominent Republican critic of Trump who has been sounding the alarm about Trump's connections to Russia since 2016. "There is no more fun, funny, amusing moment when Donald Trump gets to have Devin Nunes run interference for him, go out and lie to the press for him."
Nunes is a Republican congressman from California and Trump loyalist and was a member of his transition team. For the past 22 months, the House Permanent Select Committee on Intelligence, which Nunes chairs, has openly worked with Trump and his White House aides to discredit Mueller with selective leaks to conservative media. Nunes even wrote a memo that he claimed would prove Mueller's investigation was an abuse of power and then had Trump declassify it for general release.
Nunes' office did not respond to a request for comment.
Rep. Adam Schiff, the California Democrat who will take control of the committee in January, said he will "restore" oversight of the intelligence community, "including outstanding questions in the Russia investigation."
He added, "We will do this work regardless of the posture of the president or the White House, as the American people expect and as is our job."
House Minority Leader Nancy Pelosi, who will likely become speaker in the new Congress, after her party picked up 40 seats in this month's midterm elections, said that oversight committees will be looking for the truth, not covering up for Trump, and that she hopes Republican members will work with them.
"House Republicans have been complicit in the Trump administration's culture of corruption," said Pelosi spokeswoman Ashley Etienne. "Our challenge will be to overcome the Trump administration's stonewalling."
That Mueller used Cohen's false congressional testimony to charge him in federal court serves as a warning to those who have already testified on the Russia probe as well as those who will do so under Democratic control.
"The world will look a lot different," Wilson said. "The Trump White House will keep creating new opportunities to perjure themselves."
Cohen worked for Trump's business and for him personally for nearly a dozen years. He previously pleaded guilty to arranging illegal payments in the closing days of the 2016 campaign to a porn actress and a Playboy model to keep them from discussing the affairs they said they had with Trump. Thursday's plea was regarding Cohen's false testimony to Congress about Trump's efforts to build a hotel in Moscow.
Trump claimed during the campaign — falsely — that he had no business interests in Russia. In fact, Cohen told a federal judge, negotiations to build a Trump hotel there continued through most of the 2016 campaign, and Cohen had lied about it to Congress to protect "Individual 1," the owner of the company he worked for, which is to say, Trump.
As he left the White House on Thursday morning to attend the G-20 summit of the world's largest economies in Buenos Aires, Argentina, Trump falsely claimed that his efforts were well known throughout the campaign and that he had every right to pursue the Moscow project.
"If I did do it, there would have been nothing wrong. That was my business," he said, and then added that the only reason Cohen pleaded guilty Thursday was to avoid getting a long prison sentence. "He's a weak person and not a very smart person. What he's trying to do is end ― and it's very simple. He's got himself a big prison sentence, and he's trying to get a much lesser prison sentence by making up a story."
Playtime is over.

Rick Wilson, Republican political consultant
Mueller's decision to schedule Cohen's new guilty plea just as Trump was leaving the White House on a foreign trip where he was to meet one on one with Russian President Vladimir Putin echoed Mueller's indictment of a dozen Russians for interfering in the 2016 election just days before Trump was scheduled to meet with Putin in Helsinki.
The timing was not lost on Trump's lawyer handling Mueller's criminal investigation. "It is hardly coincidental that the special counsel once again files a charge just as the president is leaving for a meeting with world leaders at the G20 summit in Argentina," Rudy Giuliani said in a statement. "The special counsel did the very same thing as the president was leaving for a world summit in Helsinki."
Trump went ahead with that meeting in July, for which he received renewed criticism for appearing to accept Putin's denial of having interfered in the election on Trump's behalf. But Trump canceled this coming meeting just minutes after boarding Air Force One. He blamed the decision on Russia's recent aggressive actions toward Ukraine in the Black Sea, though, rather than the Cohen plea.
The FBI has been investigating Trump and his campaign's contacts with Russia since before his election. Trump openly praised the country's authoritarian ruler throughout his campaign, and Putin's spy agencies worked to elect Trump by stealing emails from Democrats and releasing them through an ally, WikiLeaks. Trump repeatedly praised WikiLeaks and pointed to the stolen emails as proof that Democratic nominee Hillary Clinton was corrupt.
Trump fired FBI Director James Comey not long after taking office and told first Russian diplomats visiting the Oval Office and then NBC News that he had done so because of the Russia investigation. Mueller, who served as FBI director under Presidents George W. Bush and Barack Obama, was appointed special counsel to continue the probe after Comey's firing.
Calling all HuffPost superfans!
Sign up for membership to become a founding member and help shape HuffPost's next chapter