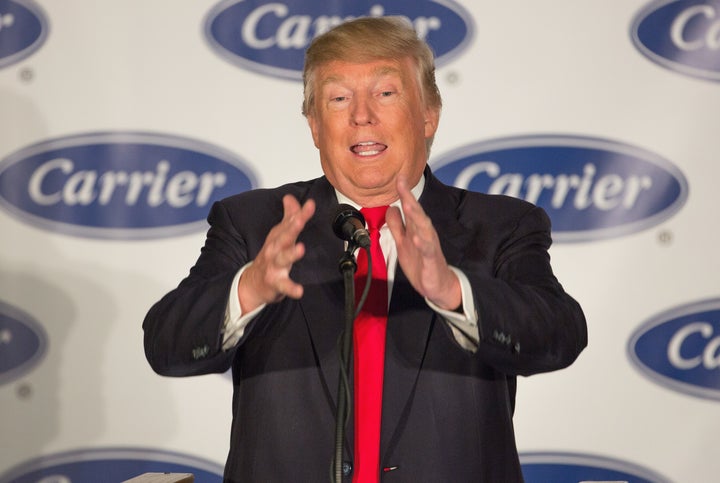 President-elect Donald Trump, who has claimed the election was riddled with fraud, has filed an objection to block what his lawyers called a "lawless, insulting" request for a recount in Michigan that had been scheduled to begin Friday.
A 36-page challenge filed by attorneys on behalf of Trump and the Michigan Republican Party argues that the "farce" recount called for by Green Party candidate Jill Stein "sows doubts regarding the legitimacy of the presidential election," creates "constitutional chaos" and threatens to knock the Electoral College "off its hinges."
The objection, filed Thursday with the Board of State Canvassers, argues that Stein has no standing to demand a recount because she has no chance of winning a recount. Stein, therefore, cannot be an "aggrieved" party even if fraud or mistakes are discovered, the document argues.
Stein "finished no higher than fourth in any state where she appeared on the ballot," the filing states. "Yet despite being just a blip on the electoral radar, Stein has now commandeered Michigan's electoral process" by demanding an "expensive, time-consuming" recount, the objection adds.
"Simply put, Michigan should not grant this lawless, insulting request," it says, "and its voters should not risk having the Electoral College door knocked off its hinges, all because a 1-percent candidate is dissatisfied with the election's outcome."
Trump beat Hillary Clinton by just 10,700 votes out of 4.8 million cast in Michigan. Stein had 51,460.
By law the Michigan election board must resolve the complaint within five days. It's scheduled to consider the objection Friday.
It would take a 3-1 vote by the board of two Democrats and two Republicans to stop the recount, which is on track to begin late Tuesday or Wednesday. The recount will go forward if the board is deadlocked, which is often the case in sharply partisan issues in the state, reports the Detroit News. 
Stein raised funds for recounts in Wisconsin, Michigan and Pennsylvania after some data experts expressed concerns about possible vote discrepancies. The Clinton campaign is participating in the process to ensure that it "proceeds in a manner that is fair to all sides," the campaign's general counsel, Mark Elias, has written.
Clinton is now close to 2.5 million votes ahead of Trump nationally in the popular vote, though he won the Electoral College. Trump has insisted he would have also won the popular vote had "millions" of Americans not voted illegally. He has yet to offer any evidence or examples of voter fraud. 
UPDATE: Trump's team filed a complaint Thursday to block the recount in Pennsylvania, Politico reported Friday.
Calling all HuffPost superfans!
Sign up for membership to become a founding member and help shape HuffPost's next chapter