A Michigan Republican activist convicted of election fraud had VIP access to President Donald Trump's April rally in the state.
In 2012, Brandon Hall forged signatures to get a judicial candidate on the ballot in Ottawa County, Michigan. He was convicted of 10 counts of election fraud and sentenced in 2016 to 30 days in jail and 18 months probation. He is still serving the probation portion of his sentence.
The photos showcase Hall's front-row seat to Trump's rally in Washington, Michigan. One of the pictures shows him standing at the same lectern where Trump spoke.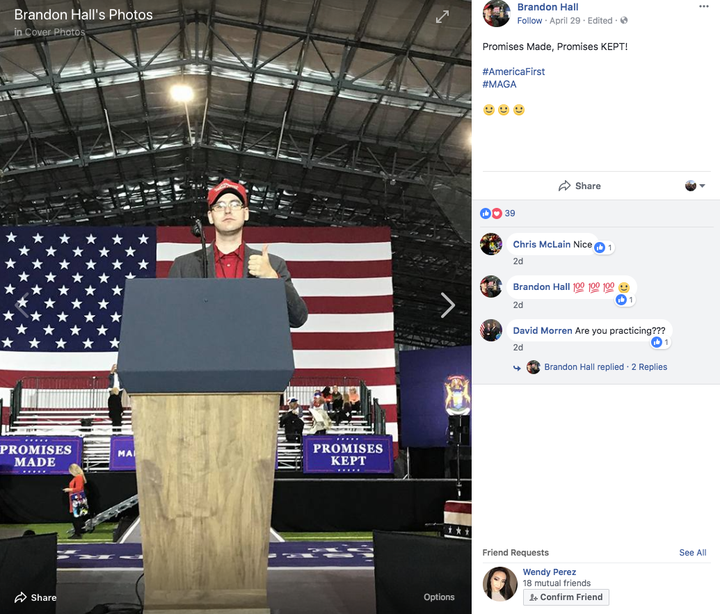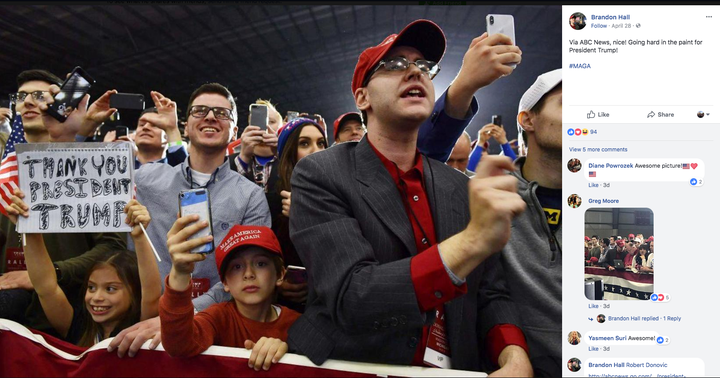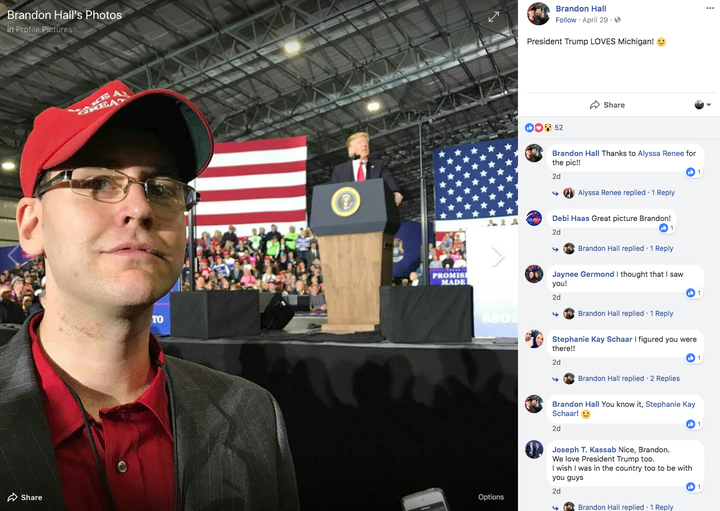 Hall's level of access is notable given the Trump administration's focus on voter fraud, which several analyses have shown is not a widespread problem. Trump claims that between three and five million people voted illegally in the 2016 election, but has offered no evidence to support that claim. In April, he dismissed the idea that voter fraud was a conspiracy theory, saying "in many places, like California, the same person votes many times, you probably heard about that." Trump convened a panel to investigate voter fraud last year but disbanded it in January as it struggled to assemble voting data from all 50 states and faced a slew of lawsuits.
Hall declined to comment on his attendance at the rally.
"The fake news media should spend their time covering stories that matter to real Americans instead of pandering to DC elites, like President Trump's historic peace talks with North Korea, which caused South Korean President Kim Jae-in to say President Trump should receive the Nobel Peace Prize," he wrote in an email. "Employment levels for Hispanic and Black Americans are higher than they have been in decades, same for women. I could go on and on, but of course, you won't publish it."
In a follow-up email, he corrected the South Korean leader's name to Moon Jae-in.
The White House did not respond to a request for comment.
The day before petitions were due for the 2012 judicial race, Hall used different colored pens to forge signatures to get 1,000 names, the minimum requirement. He told the Grand Haven Tribune in 2016 that he used a local phone book to find names to forge.
"I'm sorry to the people whose names were forged. At the time, I just viewed that as part of a goal, and I've had four years to realize that if my name was there I'd be mad too. I didn't think about that at the time," he said.
Popular in the Community