The Trump administration is sending at least 5,200 active-duty troops to the border this week in what officials said Monday is a necessary response to a roughly 3,500-person migrant caravan still weeks from reaching the United States.
The troop deployment, dubbed Operation Faithful Patriot, was announced eight days before the midterm elections. But Kevin McAleenan, commissioner of U.S. Customs and Border Protection, dismissed accusations that the move is motivated by politics.
"This is a law enforcement operation," he said at a press conference.
President Donald Trump has repeatedly condemned a migrant caravan making its way from Honduras to the U.S.-Mexico border, and officials are reportedly considering a dramatic crackdown on Central Americans and asylum seekers in response. But first, the administration is using the caravan to justify an eye-popping expansion in the military presence at the border ― even though the migrants are about 1,000 miles from the U.S., their numbers are already diminishing and many of those headed to the country are expected to seek asylum through a legally protected process at ports of entry.
About 800 troops are already en route to help "harden" the border at and between ports of entry, and more will follow by the end of the week, said Gen. Terrence O'Shaughnessy, who leads United States Northern Command, at the same press conference. They will join about 2,100 National Guard troops already there to assist CBP efforts.
"The president has made it clear that border security is national security," O'Shaughnessy said.
The U.S. military can't carry out immigration arrests under law except in limited circumstances, but it is expected to assist border officers with various forms of engineering, medical and aviation support ― including identifying people crossing the border, constructing temporary barriers and providing medical services. Troops who are authorized to carry firearms will do so, O'Shaughnessy said.
"These migrants need water, diapers, and basic necessities — not an army division."
The migrant caravan is already shrinking. Once estimated at more than 7,000 people, it now numbers around 3,500, officials said. Still, the size of the caravan and potential for more to follow ― a second group of migrants tussled with both Guatemalan and Mexican police over the weekend ― calls for more preparations, McAleenan said.
McAleenan said asylum seekers will still be able to request help in the same manner as before ― at least for now ― but he encouraged them to take up the offer from the government of Mexico to remain there instead.
Many caravan participants have already registered for asylum in Mexico, and others are likely to stay as well, particularly after its president offered protections to those who chose to. Some experts expect only about 1,000 people to ultimately make it to the border, based on past trends.
Trump claimed on Monday, without evidence, that gang members are part of the caravan, and called it "an invasion of our country."
"Our military is waiting for you!" he tweeted.
CBP, which includes Border Patrol and officers at ports of entry, apprehended about 520,000 people on the southwest border last fiscal year, about 40 percent of whom were families and unaccompanied minors. Although total apprehensions were higher than Trump's first year in office, 2018's numbers aren't unprecedented ― CBP apprehended more than 550,000 people in the 2016 fiscal year, for example, and more than 1 million in 2000.
Nearly a quarter of those apprehended last year were picked up at ports of entry after being deemed inadmissible, a number that includes asylum seekers following a legal process. U.S. and international law allows people who fear persecution in their native countries to seek asylum.
The administration has struggled to quickly deport those it apprehends because a larger proportion are Central American asylum-seeking families and children, who have more protections to have their claims heard before they can be sent back.
Immigrant rights advocates argue that the border needs more resources to process asylum seekers, not more militarization.
"President Trump has chosen just before midterm elections to force the military into furthering his anti-immigrant agenda of fear and division," Shaw Drake, policy counsel for the American Civil Liberties Union Border Rights Center in El Paso, Texas, said in a statement. "But this harmful action is nothing more than Trump's latest aggression against immigrant families with children who seek our protection. These migrants need water, diapers, and basic necessities — not an army division."
Before You Go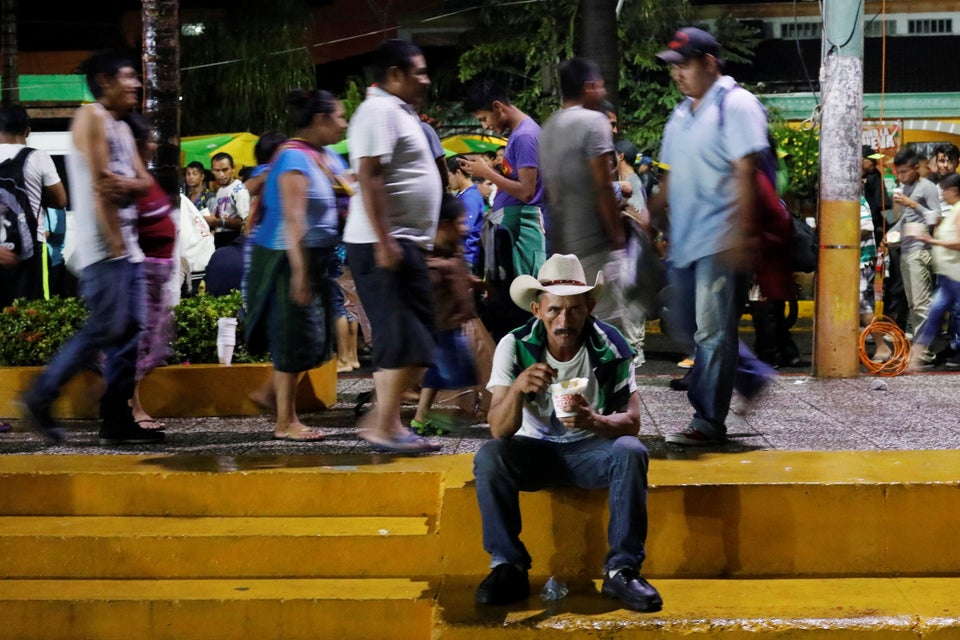 Migrant Caravan Moves Toward The U.S.
Popular in the Community