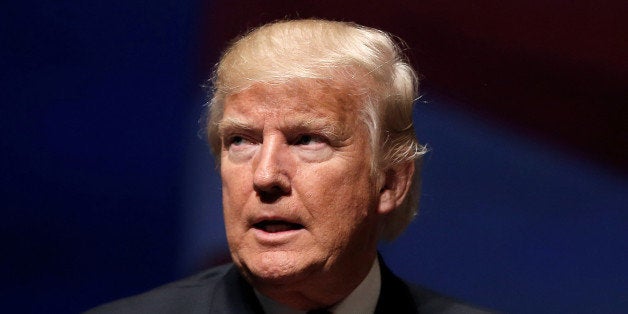 October is Domestic Violence Awareness month, but awareness of the patterns of domestic violence is something we need to cultivate all year long.
In the excellent resources on domestic violence awareness now available, such as at Domestic Violence Awareness dot org, the signs are clear for an abuser personality and they should raise enormous red flags when you see them.
Domestic violence is all about control of women's bodies.
I will say frankly, and with some alarm, that I think Donald Trump is exhibiting an increasing number of characteristics of the abuser personality.
His 3 a.m. tweetstorm attacking the former Miss Universe, Alicia Machado, whom he fat-shamed after she gained some weight (16 pounds, according to Ms. Machado) after she won is alarming. Hillary Clinton brought up the issues with Trump attacking Alicia Machado for weight gain in the first presidential debate.
Controlling what women eat is frequently a sign of an abusive personality. It is certainly abusive in itself, but often is accompanied by physical abuse.
This is so perfectly ordinary that it can just flow by a viewer even in a romantic comedy like Notting Hill. Julia Roberts' rotten old boyfriend, played to perfection by Alec Baldwin, tells her not to order too much food from room service because he doesn't want to be known as "that famous actor with the fat girlfriend." Roberts admits at a dinner party that she has been "hungry for a decade" and that one of her boyfriends used to "hit me."
And those scenes are in a comedy.
It's the ordinariness of abuse that we have to watch out for. There is a widespread assumption in Western culture, aided and abetted by Christian theology, that the use of force against women is justified as they are "unruly" and need to be kept in check by force or the threat of force. As I have written in Women's Bodies as Battlefield: Christian Theology and the Global War on Women it's all about power: who gets to exercise power and who doesn't.
So, to translate this to the body of Ms. Machado, it seems Donald Trump as the one who is in control of the beauty pageant believes he has the right to control the bodies of the women in it.
No, Mr. Trump. People's bodies are their own.
We need to cultivate awareness all year long of abuser attitudes in politics, in media and film, and, yes, in religion as well. And when we see it, we need to call it out.
Mr. Trump, you do not have the right to control Ms. Machado's body or that of any other woman.
Calling all HuffPost superfans!
Sign up for membership to become a founding member and help shape HuffPost's next chapter