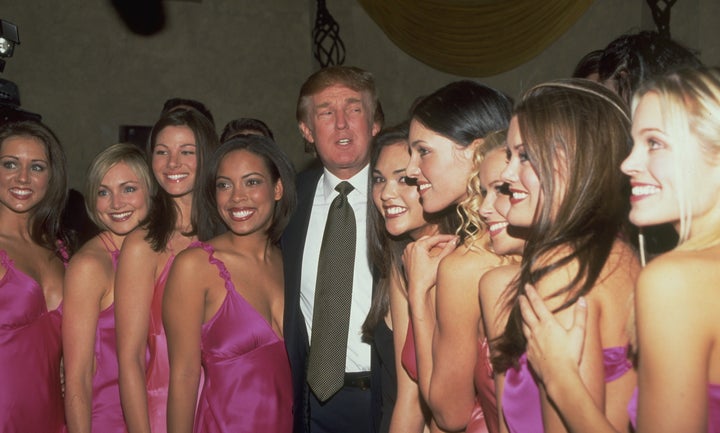 The excerpt, published Thursday at Mother Jones, details Trump's 2013 trip to Russia for the Miss Universe beauty contest. While the excerpt focuses mainly on Trump's business interactions while in Russia, it also describes the managerial style he allegedly used at his pageants. The book, due in stores March 13, is co-authored by Michael Isikoff, Yahoo News' chief investigative correspondent, and David Corn, Mother Jones' Washington bureau chief. (Yahoo News is owned by HuffPost's parent company, Oath.)
According to Isikoff and Corn's research, Trump always had the final say in who won the pageant. The authors say Trump often vetoed contestants of color when he believed there were too many. 
A day or two before the 2013 Miss Universe pageant, Trump reportedly reviewed the contestants and picked who he wanted to be in the final round.  
"In short, no woman was a finalist until Trump said so," Isikoff and Corn write.
According to one staffer, Trump would "toss out finalists" whom the judges had chosen and replace them with women he preferred. The contestants he tended to toss out, the staffer said, were women of color:
"If there were too many women of color, he would make changes," a Miss Universe staffer later noted. Another Miss Universe staffer recalled, "He often thought a woman was too ethnic or too dark-skinned. He had a particular type of woman he thought was a winner. Others were too ethnic. He liked a type. There was Olivia Culpo, Dayanara Torres [the 1993 winner], and, no surprise, East European women." On occasion, according to this staffer, Trump would reject a woman "who had snubbed his advances."
One Miss Universe employee told Isikoff and Corn that if Trump didn't like a contestant "because she looked too ethnic," he could sometimes be persuaded by "telling him she was a princess and married to a football player."
In 2016, former Miss Teen USA winner Kamie Crawford said she was warned that "Trump doesn't like black people." She said she saw Trump turn his back to a black Miss Universe contestant who was rehearsing on stage, and "[make] a face like he was going to vomit at the sight of her."