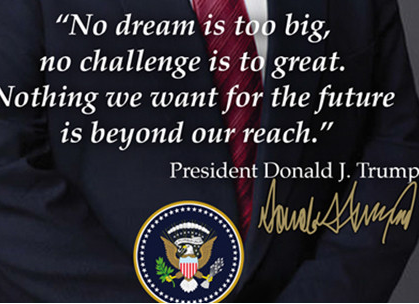 For a man known for his frequent misspellings in his bombastic tweets, what could be better than an official inauguration photo of Donald Trump featuring a quote from him with a ... misspelling.
"No challenge is to great" gushes the caption under Trump's photo ― except for the challenge, apparently, of spelling words correctly.
The entire quote reads: "No dream is too big," (got it right there), "no challenge is to [sic] great. Nothing we want for the future is beyond our reach." Signed: "President Donald J. Trump."
The photo with caption was for sale by the Library of Congress shop for $16.95, with a sales plug that it "captures the essence of Donald Trump's campaign for the presidency of the United States." For sure.
The photograph quickly sold out once the embarrassing glitch was spotted— and it was yanked off the website Sunday by the, ahem, library.
It's not clear who was responsible for the mistake, and who missed it in proofreading. But Trump has certainly set a tone in his administration as the misspeller in chief. His tweets have been riddled with mistakes, including words like "payed," big "shoker," "loose" instead of lose, "big honer," and "leightweight choker" (referring to Marco Rubio). Possibly everyone's favorite concerned China's "unpresidented" seizure in December of a U.S. Navy drone. (It has since been erased from Trump's site.)

And that's just the beginning of a parade of mistakes from within the administration that is possibly the best argument for funds not to be cut from the Department of Education — though the authors were probably all products of private schools.
Then on Sunday, none other than the Department of Education tweeted about civil rights activist "W.E.B. DeBois," which the rest of us know is actually W.E.B. Du Bois. The department offered deepest apologies ― except it also misspelled that as "our deepest apologizes."
The Republican Party tried to get in on the action by making up a quote from Abraham Lincoln to celebrate what would have been his 208th birthday Sunday— "And in the end, it's not the years in your life that count. It's the life in your years" — but we have our hands full keeping up with the misspellings.
Popular in the Community