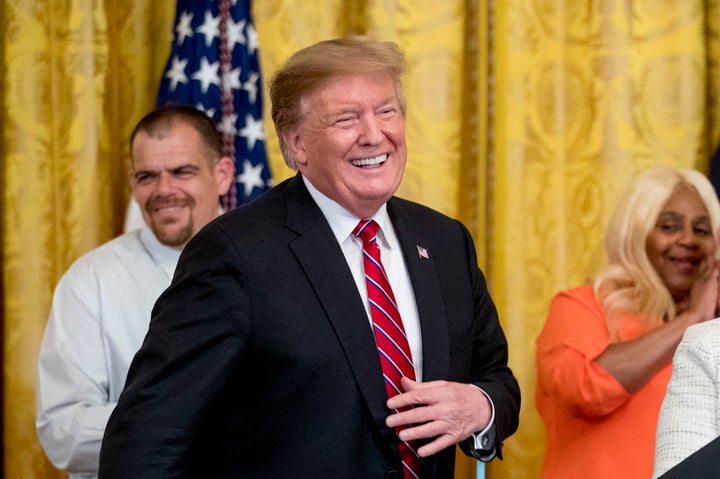 President Donald Trump, who stubbornly maintains that all of his own sexual misconduct accusers are telling lies, mocked former Vice President Joe Biden over misconduct allegations in a Thursday afternoon tweet.
Last week, former Nevada Assemblywoman Lucy Flores alleged in an op-ed published by New York Magazine that Biden kissed the back of her head, smelled her hair and touched her in a manner she felt to be inappropriate before a political event in 2014. Since then, at least six other women have said they also felt that the former vice president behaved inappropriately toward them in the past.
Biden did not apologize for his alleged conduct in Wednesday's video but promised to be "more mindful." He explained that he has "always tried to make a human connection" with people he meets, saying he has "never thought of politics as cold and antiseptic."
In the edited version, created by a pro-Trump Twitter user with the handle Carpe Donktum, a cutout of Biden creeps into the shot, appearing to smell the real Biden's hair from behind. (A Patreon page linked to Carpe Donktum describes the person behind it as a "stay at home dad" with "time to pursue my passions," which apparently include creating memes.)
The president's mockery, though, is a bit paradoxical considering that more than 20 women have accused him of sexual misconduct through the years. Accusations against Trump have ranged from sexual harassment to rape, but he has never acknowledged that his behavior might have been an inappropriate.
Biden responded to Trump's tweet with a snarky post of his own, writing, "I see that you are on the job and presidential, as always."
Trump previously addressed the Biden controversy with a sarcastic remark to attendees at the National Republican Congressional Committee spring dinner on Tuesday.
"Our former vice president. I was going to call him. I don't know him well. I was going to say, 'Welcome to the world, Joe. You having a good time, Joe?'" Trump said.
The former vice president is currently mulling a run for president in 2020, although he has made no official announcement.
This article has been updated with a Twitter response from Biden.
Popular in the Community