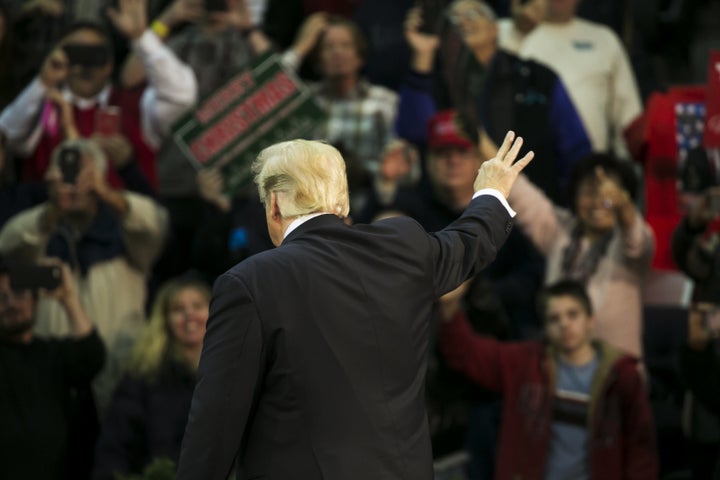 WASHINGTON – Calling women who accuse you of misdeeds liars. Flat-out denying even knowing them. Threatening lawsuits.
It turns out these Donald Trumpian tactics of dealing with sexual misconduct allegations might only work for President Donald Trump, as Republicans now face the fallout of a stunning loss of a Senate seat in deep red Alabama, despite the full-throated support of their candidate by the president himself.
But while Trump managed an Electoral College victory thanks to razor-thin margins in three key states, Moore is not heading to the Senate to represent Alabama.
"Donald Trump's endorsement doesn't make as big of a difference as he might think it does," said Rory Cooper, once a top aide to House Majority Leader Eric Cantor, who unexpectedly lost the GOP primary for his Richmond, Virginia, seat in 2014.
Cooper guessed that Republican leaders will now want to move past the entire episode as quickly as possible. "People will do their best to put their heads down and pretend like it never happened."
A sweeping GOP loss in Virginia's statehouse elections last month began making Republicans nervous about having their fortunes tied to a deeply unpopular president. Many explained it away by calling Virginia a Democratic state, even though current Democratic Gov. Terry McAuliffe barely won his race four years ago.
The loss in solidly Republican Alabama, though, will likely have a different rationale: Moore was so damaged a nominee that no broader lessons can be drawn from it.
"The category of sexual assault against children is in its own universe."
"He's such an awful candidate that I don't think we can extrapolate," said Matt Mackowiak, a Texas GOP consultant and chairman of the Travis County party. "The category of sexual assault against children is in its own universe."
The GOP party establishment had never been crazy about Moore, who had been twice removed from the Alabama Supreme Court for defying federal court orders and who has a long record of controversial statements. When a string of women started coming forward to accuse Moore last month, Senate Majority Leader Mitch McConnell (R-Ky.) and other party leaders denounced him ― only to have Trump come out to support him. Trump argued that he believed Moore's denials, and since then has repeatedly asked Alabamans to vote for him, including via recorded "robocalls" to households.
Trump's eagerness to support Moore put party leaders, some in his administration and even his own family, in an awkward position. His daughter Ivanka Trump told the Associated Press, "There's a special place in hell for people who prey on children" ― only to have her father then endorse this presumably hell-bound candidate.
On Sunday, United Nations Ambassador Nikki Haley told CBS News of Trump's female accusers, "Women who accuse anyone should be heard. They should be heard and they should be dealt with." The remark reportedly angered Trump. On Monday, press secretary Sarah Huckabee Sanders issued a rare clarification that her statements about Trump's female accusers were not her views, but Trump's.
"I'm here to speak on behalf of the president," she said. "And I can say that the president has directly responded and said that these allegations are false, and that's what I'm doing in relaying that information to you."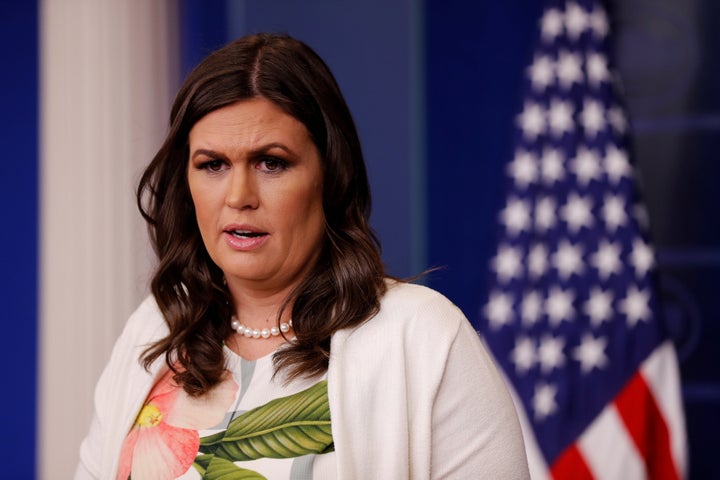 This discomfort notwithstanding, Republicans doubted it would lead to any distancing between Trump and GOP members of Congress heading into the 2018 midterms, even as more Democrats clamor for congressional investigations into the accusations against the president.
"I don't see any impetus for Republican leaders who haven't distanced themselves already to do so now," Cooper said. "I just don't see how it happens."
Texas Sen. Ted Cruz, who was among the 16 GOP candidates who ran against Trump in the 2016 primary, delivered the identical message that Trump's White House has been using regarding Trump's accusers. "Those allegations were vigorously ligated during the 2016 election. The American people had them before them," Cruz said.
John Weaver, who ran the campaign of Ohio Gov. John Kasich (R) in the 2016 primaries, said congressional Republicans will never challenge Trump, even if it means damaging their own chances in next autumn's congressional elections.
"I've not seen a more cowardly group of people in my life," he said. "He's leading the way over the cliff. And they're blindly following along. They're afraid of him."
Igor Bobic contributed to this report.
Popular in the Community