A White House aide asked South Dakota Gov. Kristi Noem (R) last year how an interested party might go about adding another giant presidential face to Mount Rushmore, a source told The New York Times.
Here's a hint: Noem greeted President Donald Trump with a four-foot replica of Mount Rushmore that included his face when he traveled to the monument for a speech on July 3. The tidbit was part of a Times story about how Noem — and others — appeared to be sniffing around for Vice President Mike Pence's job.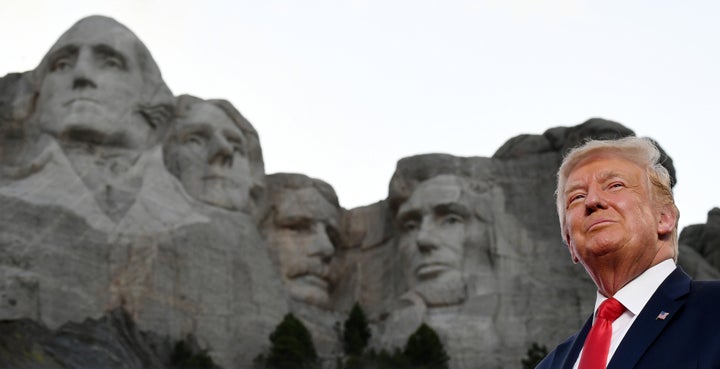 Noem spilled on a 2018 South Dakota version of Carpool Karaoke that the first time Trump shared his dream with her in the Oval Office, she thought he was joking, the Argus Leader reported.
"Do you know it's my dream to have my face on Mount Rushmore?" he asked Noem, who was still in Congress at the time and running for governor. "I started laughing. He wasn't laughing, so he was totally serious," she recalled.
A Tulsa World cartoonist had even envisioned Trump on the mountain the previous year:
During a rally in Youngstown, Ohio, in 2017, Trump also raised the possibility of his face set in stone — but didn't quite commit so people wouldn't laugh at him.
"I'd ask whether or not you think I will someday be on Mount Rushmore, but here's the problem: If I did it joking — totally joking, having fun — the fake news media will say, 'He believes he should be on Mount Rushmore,'" Trump explained.
"So I won't say it, okay? I won't say it."
Trump denied the Times story in a tweet Sunday — but said that his face on Mount Rushmore "sounds like a good idea to me!"
For anyone concerned about Mount Rushmore changes, there's no room for another president, according to officials.
As an alternative, Trump might want to consider some other ideas from Twitter critics:
Popular in the Community