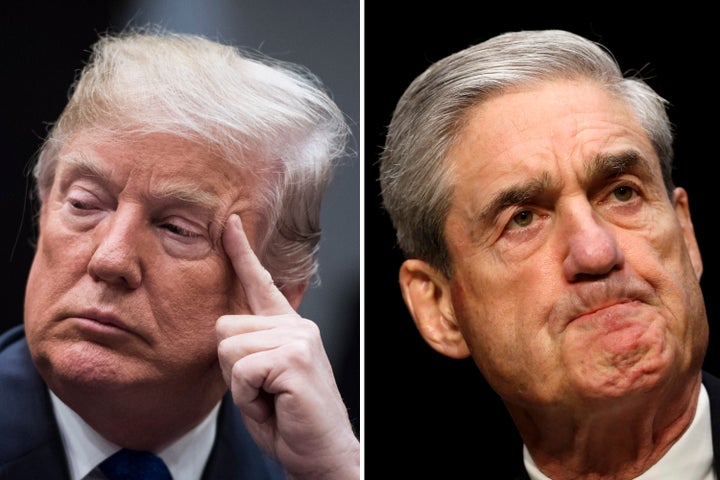 WASHINGTON ― Several Republican lawmakers on Sunday said that despite claims by President Donald Trump and some of their colleagues, a GOP-authored memo critical of the Russia investigation doesn't undermine the need for the probe to continue.
Following the release of the memo on Friday, Trump used the memo to call the investigation into possible collusion by his campaign with Russia to influence the 2016 presidential campaign a "witch hunt" and an "American disgrace!" Trump also said the memo ― which alleges that senior Department of Justice and FBI officials improperly used information from the so-called Steele dossier to get a court to approve surveillance warrants on Carter Page, a former Trump campaign adviser ― "totally vindicates" him.
In Trump's view, the memo buttressed his repeated calls for an end to the Russia investigation. Members of his own party who appeared on Sunday talk shows disagreed.
"I actually don't think [the memo] has any impact on the Russia probe. There is a Russia investigation without a dossier," Rep. Trey Gowdy (R-S.C) said on CBS' "Face the Nation"
"DOJ and the FBI should continue doing their job," Rep. Will Hurd (R-Texas) said on ABC's "This Week."
He added that he didn't view the memo as an attack on Robert Mueller, the special counsel who heads the Russia probe, or as "an attack on the men and women in the FBI,"
Rep. Brad Wenstrup (R-Ohio), called the memo "a separate issue" from the investigation. "I don't think it really has anything to do with that," he said on CNN's "State of the Union."
The memo "doesn't end [the need for the Mueller investigation] at all," Rep. Chris Stewart (R-Utah) said on "Fox News Sunday." "I think it would be a mistake for anyone to suggest that the special counsel shouldn't complete his work."
The views of these Republicans not only put them at odds with Trump, but also with many of their House colleagues and prominent Fox News hosts who the president relies upon for political insights.
House Speaker Paul Ryan (R-Wis.) also tried to separate the memo from the Mueller probe last week, even as some members of his caucus accused top DOJ and FBI officials of committing treason against the U.S. Speculation continues that the memo will give Trump political cover to have Mueller fired and squelch the probe that has already seen charges brought against four of his campaign aides.
But Gowdy, who was closely involved in drafting the memo, listed a number of aspects of the investigation that have nothing to do with putting Page under surveillance based on the Steele dossier, which was funded by Democratic interests.
"The dossier has nothing to do with the meeting at Trump Tower. The dossier has nothing to do with an email sent by Cambridge Analytica. The dossier really has nothing to do with George Papadopoulos' meeting in Great Britain."
Gowdy was referring to Donald Trump Jr.'s meeting at New York's Trump Tower during the campaign with a Russian lawyer who promised dirt on Clinton, the Trump campaign's dealings with Cambridge Analytica, a data firm that may have helped the Russians spread fake news and the disclosure by Trump campaign aide George Papadopoulos' disclosure to Australia's top diplomat in Britain that the Russians had negative information on Clinton.
Gowdy also said the memo "doesn't have anything to do with obstruction of justice" ― possible efforts by Trump and others in his administration to stymie Mueller's probe.
"So there's going to be a Russia probe, even without a dossier," Gowdy said.
Stewart said that he had been "contacted by FBI agents" in the past few days who said, in reference to the memo, "thank you for doing this, we recognize that you're trying to hold us accountable."
He said the FBI and DOJ had "enormous power, enormous authority. With that must come enormous accountability. That's all we're trying to do here."
Matt Olsen, who served as a deputy assistant attorney general in the DOJ's national security division during President George W. Bush's administration, called the memo "politically motivated" and "sort of amateurish" in comments on "This Week."
Hurd said he did not agree with Trump that the memo vindicates the president.
"I don't agree with some of my colleagues" who were using "hyperbole" and "exaggerations" when they spoke about the memo, Hurd said.
CORRECTION: A previous version of this story said Rep. Brad Wenstrup was a Republican from Utah. He is a Republican from Ohio.
Ryan Reilly is HuffPost's senior justice reporter, covering criminal justice, federal law enforcement and legal affairs. Have a tip? Reach him at ryan.reilly@huffpost.com or on Signal at 202-527-9261.
Popular in the Community