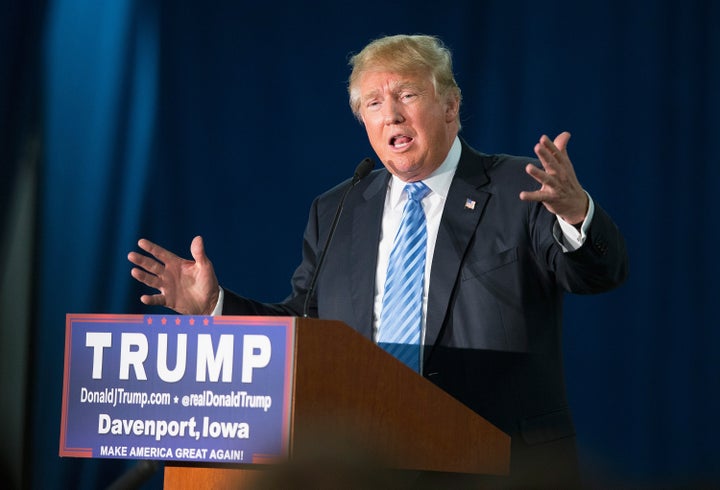 Fifty-seven percent of Americans said they were against the "proposal to bar Muslims from entering the U.S." and 25 percent supported it.
Three in four Democrats opposed Trump's plan, but Republicans were split. Thirty-eight percent of GOP primary voters favored the proposal, and 39 percent opposed it.
A Bloomberg/Purple Strategies poll released Wednesday also found a majority opposed to Trump's "temporary ban on all Muslims who are citizens of foreign countries from entering the United States." But that poll showed a stark divide among Republicans and Democrats. Sixty-five percent of likely Republican primary voters were in favor of the plan, while 22 percent were opposed. Among likely Democratic primary voters, 75 percent opposed the plan and 18 percent favored it.
This difference in the two polls is likely due in part to the wording of questions. The  WSJ/NBC poll question included more details of Trump's plan than did the Bloomberg/Purple Strategies poll.
The WSJ/NBC poll also showed that a majority of Americans find Trump's rhetoric offensive. Republicans, however, were far less put off.
Only 16 percent of Republicans said Trump's comments are offensive, while 65 percent of Democrats said his remarks were "insulting and wrong." Thirty-seven percent of Republicans were bothered by his language, but said they think he is "raising important issues." Four of 10 Republicans said they think Trump is "telling it like it is and has the right approach on many issues."  
The political divide may reflect partisan opinions of Muslims. Half of Republican primary voters told pollsters they have a negative view of Muslims, while nearly four in five Democratic primary voters had a positive view of Muslims.
Despite the overall disapproval of Trump's call for a ban on Muslim immigration, the poll showed it's unlikely to affect his standing.
Fifty-one percent of Republican primary voters gave Trump a positive rating, while 26 percent gave him a negative one. Those numbers were unchanged from a WSJ/NBC poll conducted in October.
WSJ/NBC surveyed 1,000 Americans, and a subgroup of 495 adults were asked specifically about Donald Trump and Muslims. The interviews were conducted by a live caller on landlines and cellphones Dec. 8 thru Dec. 9. Bloomberg/Purple Strategies surveyed 605 likely general election voters online through an opt-in panel representative of the population on Dec. 8.
Calling all HuffPost superfans!
Sign up for membership to become a founding member and help shape HuffPost's next chapter