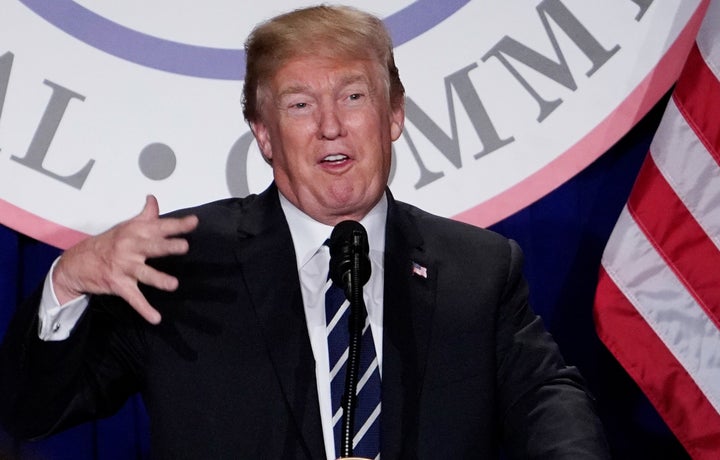 WASHINGTON ― Once the party of morality and national security, Republican leaders this week found themselves defending a casino magnate accused of coercing sexual favors and a White House attacking the FBI.
Then they capped it off by putting more of their donors' money into the president's pocket when they held a dinner at his Washington hotel Thursday night.
Welcome to the Trump National Committee's winter agenda, say the party's estranged members.
"It's not the Republican Party anymore. It's the Trump Party," said Colorado activist Kendal Unruh, who led an effort to dump then-nominee Donald Trump at the party convention in 2016. "It's not the party that I knew, but it's the party they have become."
Because returning cash collected under their former finance chairman Steve Wynn, the casino magnate, would spur more questions about the sexual misconduct allegations against the president himself, the money's not going back, some Republican National Committee members acknowledged privately. Because Trump is under investigation by special counsel Robert Mueller, they added, the party must support the president's attacks on the FBI and the Department of Justice.
"I can't be part of all this garbage," said a former RNC member who spoke on condition of anonymity because he wants to remain involved in Republican politics at the state level. "The hardest thing to do in life is admit when you were wrong. That has sort of taken over. They don't want to admit that they were totally hoodwinked by this guy."
Wynn resigned his party position a week ago. In her public statement on the matter, RNC Chairwoman Ronna Romney McDaniel noted that she accepted his resignation, but made no mention of the Wall Street Journal report last week detailing accusations that he had coerced sexual favors from women in his employ.
The party and its candidates have not returned the $1.5 million Wynn himself donated to them in recent years, let alone the tens of millions he helped raise in his role as finance chairman. Just months earlier, however, Republicans aggressively demanded that Democrats return money donated by disgraced movie producer Harvey Weinstein, who was similarly accused of sexual misconduct.
Ron Kaufman, an RNC member from Massachusetts and a former top adviser to Mitt Romney's 2012 presidential campaign, denied there was a double standard. "One person says I'm guilty. The other person says I'm not," Kaufman said.
Unlike Weinstein, who has vaguely acknowledged that he "caused a lot of pain," Wynn has said he never did anything wrong. That flat-out denial mirrors Trump's own defense against the nearly two dozen women who have accused him of everything from walking into the dressing room of a teen beauty pageant to reaching under the skirt of a woman at a bar and touching her genitals. The denial strategy was also used by GOP Senate candidate Roy Moore in Alabama last year. It was cited by Trump as the reason for his continued support of Moore even after many other Republicans abandoned him following an accusation that Moore had initiated a sexual encounter with a 14-year-old girl when he was in his 30s.
None of that, though, has any bearing on the Wynn situation, said Vermont RNC member Deb Billado, who also chairs the state party.
"I don't think we should be passing judgment until all the facts come out. Let the accusers present their case. Returning the money is an acknowledgement of guilt," she said, denying that the issue reflects poorly on the RNC. "I don't think that it puts us in an awkward position at all."
"There's a thing called due process," added Kentucky RNC member Mike Duncan. "Steve resigning was the right thing to do. It cleared the decks for us."
RNC members were less eager to defend Trump's attacks on the FBI and the Justice Department, which he ramped up Friday morning in a pair of statements on Twitter. Many declined to comment at all, saying they were unfamiliar with the contents of a disputed memo, written by Trump ally Rep. Devin Nunes (R-Calif.) and his staff, that supporters contend discredits the criminal investigation into the Trump campaign over its contacts with Russian agents.
"Everybody is entitled to their point of view," Kaufman said, declining to offer his thoughts about the FBI but arguing that Trump's attacks do not diminish the party. "We're still the party of national security, and the Democrats aren't."
California RNC member Shawn Steel was among those willing to defend Trump's war against the FBI because he found it alarming that the nation's intelligence community would start investigating a presidential candidate. "If that is true, it creates a constitutional crisis," he said. "Trump is the great victim of all of this."
Steel also defended the party's decision to hold its Thursday night dinner, which the president attended, at the Trump International Hotel blocks from the White House ― the kind of business that Trump continues to profit from despite promises during the campaign that he would not.
"I happen to like going to the Trump hotel. It has beautiful furnishings. It has great big American flags," Steel said.
"We have to go somewhere," added Kaufman. "Besides, people wanted to go there."
To Florida GOP consultant Rick Wilson, the party's ongoing defense of Trump is proof that it cannot be salvaged.
"They are literally burning down the FBI to save this guy. They are literally burning down the Justice Department to save this guy. This is a remarkable moment," said Wilson, an early and fierce critic of Trump. "If Barack Obama had done anything remotely like this, Republicans would be rioting in the street with pitchforks and torches."
He added that if Obama or either Bill or Hillary Clinton had steered party money into their own pockets, the RNC would have been attacking that day in and day out for weeks, if not months.
"The double standard is ridiculous," Wilson said. "If Bill Clinton had been using the DNC for funding his legal defense in the Monica Lewinsky scandal? The world would have exploded."
"They will violate their own moral consciences to unequivocally support him," said Unruh, who attended eight GOP conventions as a delegate before being forced out of the local Colorado party after Trump's election. "They have lost the high road. They had it, and they lost it. I hope it was worth selling their souls."
Popular in the Community