The boundary of Bears Ears National Monument, a 1.35 million-acre area named after a pair of buttes and home to thousands of Native American archeological and cultural sites, will shrink by 85 percent, according to a pair of proclamations first reported on by The Washington Post and later obtained by HuffPost. The 1.87 million-acre Grand Staircase-Escalante National Monument, the largest land national monument in the country, will be cut roughly in half, according to the documents.
The proclamations would reduce Bears Ears to 201,397 acres and Grand Staircase-Escalante to 997,490 acres — a collective loss of more than 2 million acres. Additionally, both monuments would be divvied up into several smaller monuments.
The document indicates that Bears Ears would lose its official name, replaced with two monuments called Indian Creek and Shash Jaa. Grand Staircase-Escalante would become three new monuments: Grand Staircase, Escalante Canyons and Kaiparowitz.
The two Utah sites, in particular Bears Ears, have been at the center of recent controversy over the Trump administration's attempts to slash acreage from or otherwise weaken protected sites.
Members of Utah's Republican delegation and other local officials have described the establishment of Bears Ears and Grand Staircase-Escalante, designated by former presidents Barack Obama and Bill Clinton respectively, as clear examples of federal overreach. Early on, they called on Trump to take action.
In April, Trump signed a pair of executive orders threatening the future of 27 national monuments. At the signing ceremony, he praised Sen. Orrin Hatch (R-Utah) for his "never-ending prodding" on the issue and boasted that he would end "another egregious abuse of federal power," put "states back in charge" and opening up now-protected areas to "tremendously positive things."
The Bears Ears Inter-Tribal Coalition — a group of five Native American tribes that came together to petition for monument status — has called Zinke's recommendation a "slap in the face to the members of our Tribes and an affront to Indian people all across the country." The group has promised to sue the administration if it follows through on its proposal.
Along with giving significantly more time to monument opponents during its review process, the Trump administration has yet to substantiate a figure that appears to be the foundation of its argument that recent presidents have abused the Antiquities Act.
The Interior Department has claimed that the size of national monuments designated under the Antiquities Act has "exploded from an average of 422 acres per monument" early on, and that "now it's not uncommon for a monument to be more than a million acres."
The department hasn't cited any evidence to support this claim, and many early U.S. monuments were substantially larger. In 1908, only two years after signing the Antiquities Act into law, Theodore Roosevelt designated more than 800,000 acres of the Grand Canyon as a national monument. Only a few Obama-era land monuments are larger. Roosevelt also designated the 610,000-acre Mount Olympus National Monument and the 20,629-acre Chaco Canyon National Monument. Republican presidents Calvin Coolidge and Herbert Hoover both designated monuments of over a million acres.
The Interior Department has ignored numerous requests from HuffPost — the first in May and more recently, this week — seeking clarification on the source of the 422-acre figure.
In a statement Thursday to The Salt Lake Tribune, Hatch said he appreciated Trump's "willingness to listen to my advice and, even more importantly, to give the people of Utah a voice in this process."
Before You Go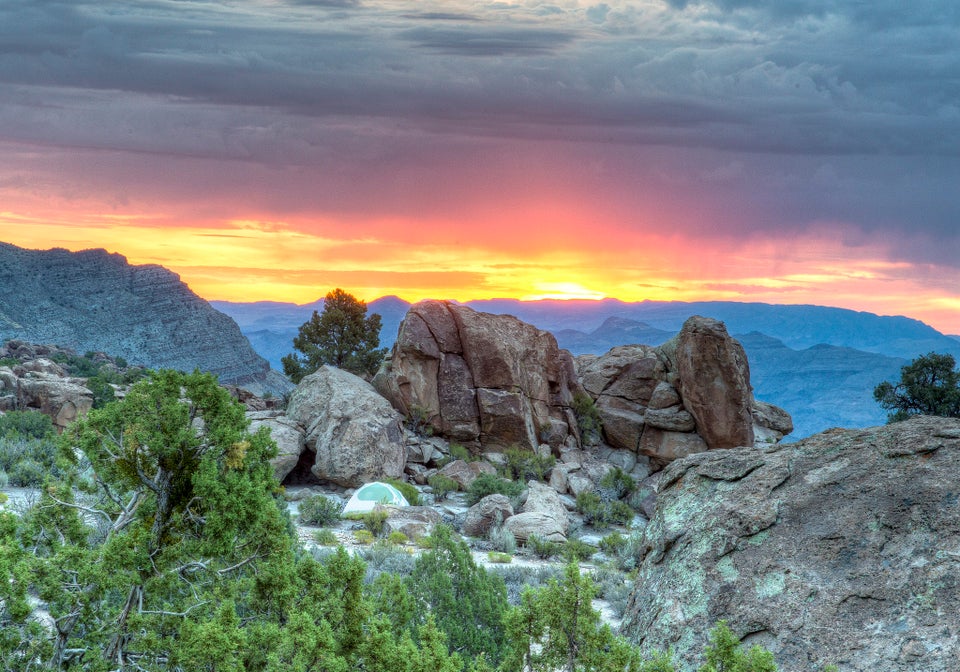 National Monuments Threatened By Donald Trump's Executive Order
Popular in the Community