WASHINGTON — Flanked by a group of Utah officials at the Capitol in Salt Lake City, President Donald Trump on Monday signed a pair of proclamations to dismantle two of the state's national monuments — a move that opens the door for oil, gas and other development on public land that has been protected.
"I've come to Utah to take a very historic action to reverse federal overreach and return the rights of this land to your citizens," Trump said during his speech.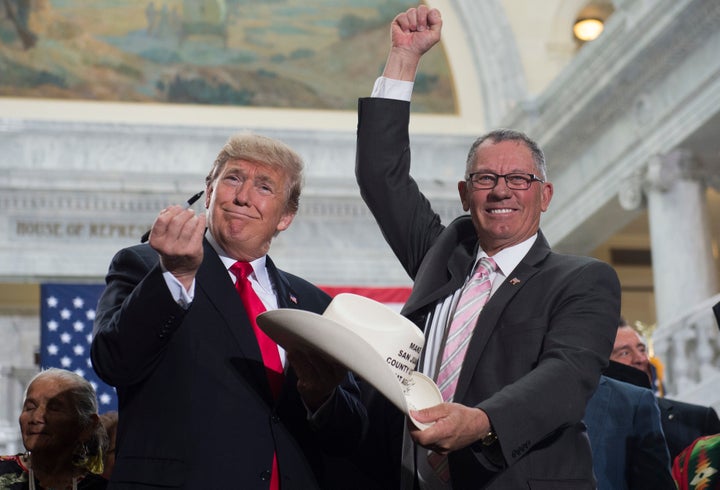 The action — the largest reduction of national monuments in history — follows an administrative review of recent monument designations that Trump launched in April. Interior Secretary Ryan Zinke said early on that "there is no predetermined outcome on any monument," but the criticism he and Trump have made in regard to several recent designations left many wondering whether the review was mostly for show.
"There was absolutely no consultation with our nation in advance of this decision."
The president will no doubt face a slew of legal challenges over the new proclamations, most notably from the Bears Ears Inter-Tribal Coalition. The group of five Native American tribes petitioned for Bears Ears to be given monument status.
Ethel Branch, the attorney general for the Navajo Nation, told reporters in a call ahead of Trump's trip to Utah that the looming announcement was "absolutely shocking" and totally "disrespectful" of the decades of work that went into establishing Bears Ears.
"There was absolutely no consultation with our nation in advance of this decision. We were greatly upset by that," Branch said. "And ultimately, the president doesn't have authority to take the steps he seeks to take on Monday. We plan to challenge that in court."
Congress, not the president, has the sole legal power to rescind or weaken protections for monuments designated under the Antiquities Act, four legal scholars concluded in June. Sixteen presidents have used the Antiquities Act of 1906 to designate 157 monuments.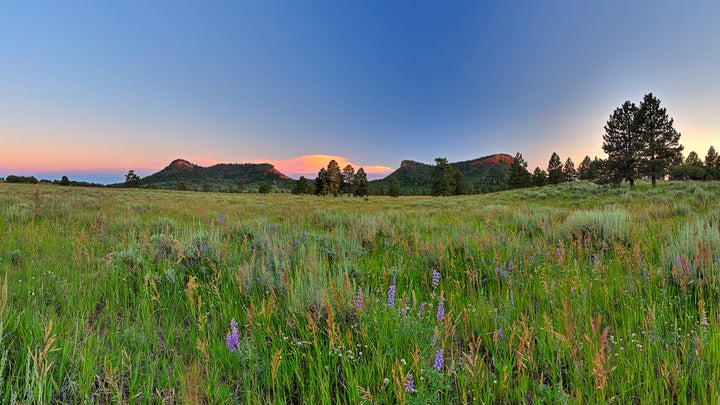 Bears Ears and Grand Staircase-Escalante have been at the center of a fiery debate over the size and scope of such protected sites.
Members of Utah's Republican delegation and other local officials who have a reputation for attacking public lands have blasted the establishment of monuments in their state, referring to them as federal land grabs by Presidents Barack Obama and Bill Clinton. And they were quick to call on Trump to overturn or drastically shrink the sites.
Trump signed a pair of executive orders in April that threatened the future of 27 national monuments. At the signing ceremony, he said the designation of Bears Ears "should never have happened" and praised Sen. Orrin Hatch (R-Utah) for his "never-ending prodding" on the issue. And Trump boasted that he would end "another egregious abuse of federal power," put "states back in charge" and open up protected areas to "tremendously positive things."
Monday's proclamations reduce Bears Ears to 201,876 acres and Grand Staircase-Escalante to 1,003,863 acres — a collective loss of more than 2 million acres. Additionally, they divvy up both monuments into several smaller units.
According to maps distributed Monday, Bears Ears will consist of two disconnected areas called Indian Creek and Shash Jaa. Grand Staircase-Escalante will consist of three units: Grand Staircase, Escalante Canyons and Kaiparowitz.
During his speech Monday, Trump railed against recent administrations for abusing the Antiquities Act and against "far-away bureaucrats" in Washington, D.C., for thinking they know more about managing Utah lands than local residents do.
"These abuses of the Antiquities Act have not just threatened your local economies, they've threatened your very way of life," Trump said. "They've threatened your hearts."
"Public lands will once again be for public use," he added.
In a tweet on Monday, former Interior Secretary Sally Jewell said the decision would solidify Trump's place as "the most anti-conservation president in our history."
"Mr Trump, some promises are worth keeping," she wrote in an opinion piece for The Guardian. "Some places should remain forever."
Environmental groups were quick to condemn Trump's proclamations, and several promised to sue.
"This is a shameful and illegal attack on our nation's protected lands," Jamie Rappaport Clark, president the conservation nonprofit Defenders of Wildlife, said in a statement. "National monuments are designated for their scientific, cultural and conservation value ­— because they are too important to damage and degrade. Teddy Roosevelt is rolling in his grave."
Roosevelt — of whom Zinke calls himself an "unapologetic admirer and disciple" — signed the Antiquities Act into law in 1906 and used it to designated more than 800,000 acres of the Grand Canyon as a national monument. He also designated the 20,629-acre Chaco Canyon National Monument and the 610,000-acre Mount Olympus National Monument.
While Native American tribes are expected to lead the legal battle against Trump's decision to shrink Bears Ears, Earthjustice announced Monday that it is representing eight conservation groups in a lawsuit to protect Grand Staircase-Escalante's boundaries.
"President Trump has perpetrated a terrible violation of America's public lands and heritage by going after this dinosaur treasure trove," Heidi McIntosh, a managing attorney at Earthjustice, said in a statement. "While past presidents have used the Antiquities Act to protect unique lands and cultural sites in America, Trump is instead mangling the law, opening this national monument to coal mining instead of protecting its scientific, historic, and wild heritage. We will not let this stand."
"It's certainly encouraging to see Secretary Zinke advocating for permanent protect of the Badger-Two Medicine, but he can't have it both ways," Kate Kelly, public lands director at the Center for American Progress, told HuffPost. "It's unacceptable to propose monument protection of the Badger in his own backyard of Montana, while at same time stripping protections from Bears Ears and other sacred places for Native Americans. With President Trump attempting to render monument protections as impermanent, Zinke's proposal rings as hollow and politically self-serving."
Monday's announcement notably comes a week after Trump proved unable to get through an event at the White House to recognize Native American Code Talkers — largely Navajo Marines who transmitted commands over the radio to soldiers overseas in their native language during World War II — without resurrecting his favorite insult for Sen. Elizabeth Warren (D-Mass.).
"You were here long before any of us were here," Trump told Code Talkers during the event. "Although we have a representative in Congress who they say was here a long time ago. They call her Pocahontas."
This article has been updated with addition details from Trump's speech on Monday, and with reactions to his proclamations.
Before You Go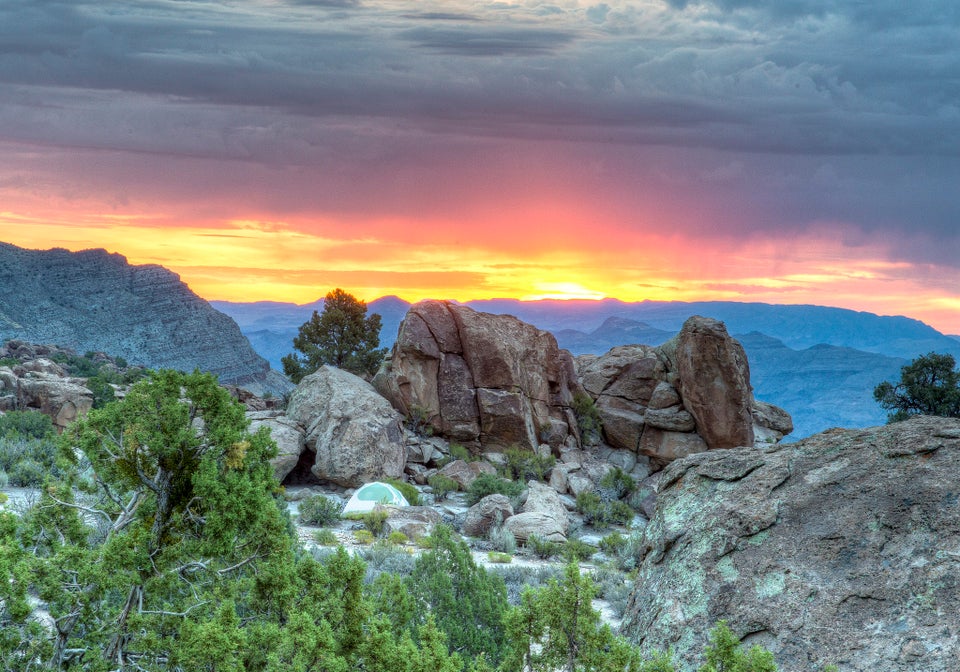 National Monuments Threatened By Donald Trump's Executive Order
Popular in the Community