President-elect Donald Trump announced Thursday that he's chosen Fox News contributor Monica Crowley as the National Security Council's senior director of strategic communications. If her conspiracy theory-pushing past is any indication, she'll fit right in with several of Trump's administration picks.
Crowley promoted a debunked theory that Hillary Clinton aide Huma Abedin had ties to "Islamic supremacists" ― a claim proven false by The Washington Post, Snopes and other sources.
A CNN report found Crowley repeatedly spread this phony information through various channels, including op-eds and guest appearances on radio shows and Fox News.
In August, Crowley called Abedin's parents "essentially tools of the Saudi regime" on Fox News' "Hannity." A month later, she wrote that Abedin's family had "alleged ties to the Muslim Brotherhood" in a Washington Times piece.
But Crowley's unsubstantiated claims aren't limited to targeting Abedin. She was a vocal proponent of the birther movement, often calling President Barack Obama's citizenship into question. In 2008, she suggested Obama lied about his blackness.
"[Obama is] not black African, he is Arab African," she said on Laura Ingraham's radio show. "And yet, this guy is campaigning as black and painting anybody who dares to criticize him as a racist. I mean that is — it is the biggest con I think I've ever seen."
Crowley isn't the first Trump pick with a history of peddling conspiracy theories.
David Friedman, whom Trump nominated as ambassador to Israel earlier this week, is another Abedin conspiracy theory believer. At an October rally in Jerusalem, he told the crowd that Abedin has "close connections to the Muslim Brotherhood."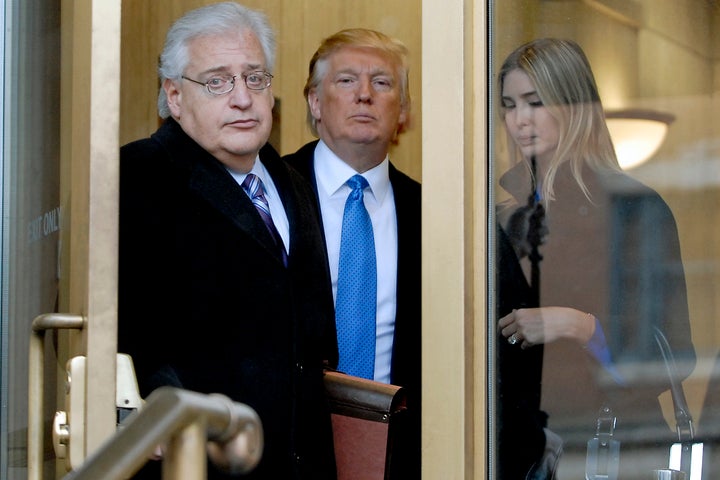 And there's Army Lt. Gen. Michael Flynn, whom Trump tapped to be his top national security adviser. Flynn tweeted a fake news story in November on the #Pizzagate hoax, an absurd claim tying Clinton to a made-up underground child molestation ring based out of a Washington, D.C. pizza place named Comet Ping Pong.
#Pizzagate inspired an armed man to fire his weapon inside the restaurant earlier this month (fortunately, no one was injured). When asked about his motives, the accused gunman cited the conspiracy theory, admitting that the "intel on this wasn't 100 percent."
The Comet Ping Pong incident didn't stop Flynn's son, Michael Flynn Jr. ― then a member of Trump's transition team ― from continuing to push the false claim a day later.
While Flynn Jr. was fired from Trump's transition for spreading fake news, Flynn Sr. quietly deleted the original tweet and held on to his national security position.
The paranoia runs deep. But hey, it's not like the misinformation is being shared by people deciding the fate of our national security or anything.
Popular in the Community