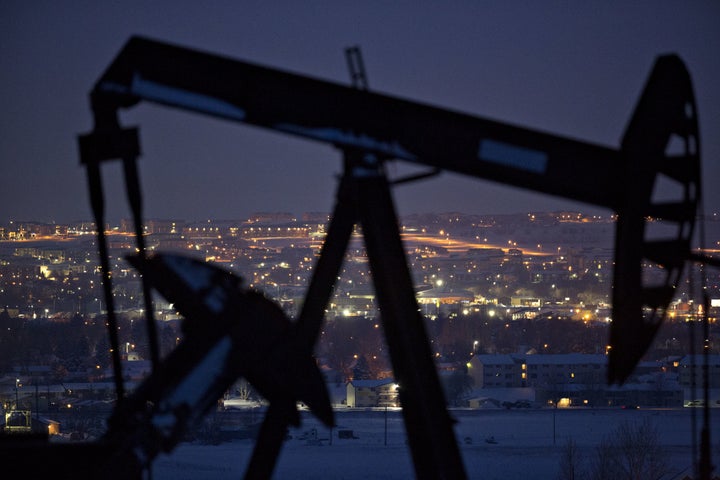 The White House is considering plans to invoke an obscure, Cold War-era law to prop up struggling coal-fired power plants, a move that some say could open the door for Democrats to take radical steps to phase out fossil fuels.
The Defense Production Act gives the president broad authority to intervene in industries deemed vital amid war or disaster, including nationalizing systemically important companies to avert catastrophe. In 1952, President Harry Truman applied the statute to nationalize the steel industry and forestall a nationwide strike.
But President Donald Trump is weighing using the law to fulfill a campaign promise and halt coal plant closures, according to a Bloomberg report published late last month. It's unclear what the program would look like. The Trump administration could spend taxpayer money to bail out some coal-fired plants and require that utilities keep greater stocks of coal on site, effectively nationalizing and dictating the energy market. The White House did not return a request for comment.
Coal advocates, including Murray Energy Corp. CEO Bob Murray and Sen. Joe Manchin (D-W.Va.), have long argued that the natural gas and renewables driving coal-fired plants out of business cannot provide reliable electricity in extreme weather ― a widely-disputed conclusion ― and urged the president to protect the remaining power stations under a federal statute.
Federal regulators rejected the Trump administration's plan to pass a new rule to bail out coal and nuclear plants in January, and Energy Secretary Rick Perry shied away from a legally-dubious proposal last month to invoke an emergency clause of the Federal Power Act to give taxpayer-backed financing to struggling power stations. But the 68-year-old Defense Production Act could do the trick.
If so, a plan to nationalize or financially buttress the troubled coal industry in the name of averting a crisis thrusts into mainstream debate an idea that has struggled to gain traction but seems increasingly necessary to stave off the worst effects of climate change: nationalizing fossil fuel corporations to dismantle them.
In just the past year, emissions hit record highs and carbon dioxide levels began growing again after a three-year plateau. 2017 marked the second-hottest year on record and the third-warmest in U.S. history. Climate-fueled extreme weather events caused $306.2 billion in damages and killed at least 362 people as the United States suffered its worst wildfire and hurricane seasons in modern history, according to a report released in January by the National Oceanic and Atmospheric Administration.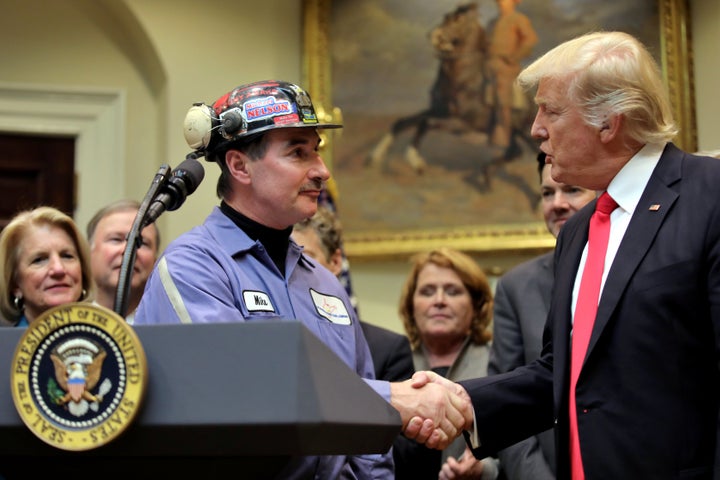 After years of funding Big Tobacco-style misinformation campaigns to muddy the waters on climate science, oil and gas companies now largely accept that the planet is warming. But tasked with analyzing the risks that climate change poses their businesses, few firms see ― or at least are willing to admit ― a threat. In February, Exxon Mobil Corp.'s first-ever climate risk report maintained that the company's products and resulting emissions are projected to rise until at least 2040. In March, Occidental Petroleum, one of the largest oil producers in Texas, issued its own report which, likewise, found little risk to a business-as-usual approach. If such reports seemed toothless, they became even less useful last month after the Securities and Exchange Commission sided with an oil company, allowing it to ignore a shareholder resolution requesting that the firm set targets to cut greenhouse gas emissions.
The debate over how to address climate change has long centered to the right of the economic policy spectrum. Republicans refuse to even take the science seriously and continue ― particularly under Trump ― to argue against the overwhelming scientific consensus that human greenhouse gas emissions are warming the planet. Democrats, wary of the McCarthy-era epithets conservatives are swift to deploy, tend to propose policies that would tweak markets rather than overhaul them, with ideas like a cap and trade system or carbon tax, which were initially devised by conservative economists in the 1980s.
The world has a limited amount of time to avert climate catastrophe. The Paris climate agreement of 2015, the historic first global deal to reduce planet-warming emissions, aimed to keep the Earth from warming 3.6 degrees Fahrenheit above pre-Industrial Revolution average. Even if emissions suddenly halted overnight, the Earth would still warm by at least that much, according to research the University of Colorado released last July. In November, more than 15,000 scientists put out a public letter calling for drastic action to reduce greenhouse gases, warning that "time is running out." And much more needs to be done to counteract the damage already done.
"If climate change is a crisis, which it will be in the future, all economic possibilities need to be on the table to deal with that, and that means taking over fossil fuel companies."
All of this fortifies the argument that investors cannot reform fossil fuel producers quickly enough, making the case stronger for severe government intervention in the form of nationalization, said Thomas Hanna, director of research at the Democracy Collaborative, a left-leaning think tank.
"Time may simply have run out on other options that we may be considering now," Hanna said. "If climate change is a crisis, which it will be in the future, all economic possibilities need to be on the table to deal with that, and that means taking over fossil fuel companies."
Hanna and his team estimated that it would cost the government $1.15 trillion to buy the top 25 largest U.S.-based, publicly traded oil and gas companies as well as the roughly four major remaining publicly-traded coal producers. That may sound like a lot, but he argued that could cost less than $200 billion annually over six years, which is slightly over one-third of the military's current annual budget.
There are ways to reduce the price, too. The Supreme Court has previously ruled that the government is required to compensate shareholders at market value. But if the government announced its plans to restructure companies to shut down fossil fuel production, the price of the shares would collapse, just as stock in private prison companies nosedived after President Barack Obama pledged to phase them out.
Federal regulators could also depress the price of shares by ruling that the companies failed to account for environmental externalities, according to a recent proposal from researcher Peter Gowan of the left-leaning People's Policy Project think tank.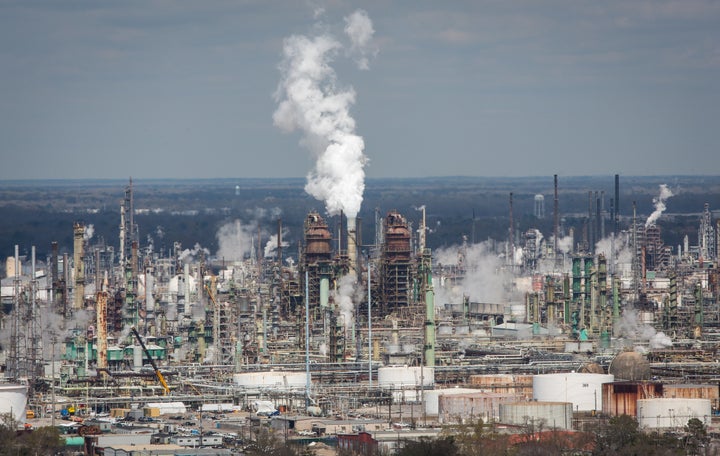 Gowan calculated that a discount of 30 percent on current prices ― which is arguably conservative, given the roughly $2 trillion in fossil fuel assets that may never be profitable enough to extract ― coupled with the need to purchase only a 51 percent majority share of the companies, the total cost of buying the country's largest fossil fuel companies would come out to $410 billion, a little over half the Pentagon's 2018 budget.
He pointed to British Labour Party Leader Jeremy Corbyn's proposal to buy the country's six largest utilities and produce at least 65 percent of the United Kingdom's electricity from renewables by 2030.
"There would probably be some immediate impact to the global economy as a result of a reduced supply of fossil fuel made available ― in my view, these are necessary to avoid far greater hardship down the line," Gowan said in an email. "The long-term economic and social benefits of mitigating climate change cannot be overstated."
Yet it's still highly unlikely Democrats are going to start proposing that idea anytime soon.
Aaron Fritschner, a spokesman for Rep. Don Beyer (D-Va.), said Trump's moves to nationalize the coal industry could "get a lot of pushback from the free-market types." But he said Democrats like his boss seem reluctant to support nationalizing companies to force them to phase out fossil fuel extraction.
"That sounds like an unlikely thing to happen," he said.
In a statement to HuffPost, Sen. Jeff Merkley (D-Ore.) declined to comment on the concept.
"Our coal communities have powered the nation for a hundred years," he said in response to questions about his support for nationalizing fossil fuel companies. "We need to honor their workers and ensure they are first in line for the jobs of the renewable energy future."
Sen. Sheldon Whitehouse (D-R.I.), one of the most vocal climate advocates in Congress, declined to comment. Neither Sen. Bernie Sanders (I-Vt.) nor the Democratic National Committee responded to requests for comment.
Democrats are more likely to focus on policies to put a price on carbon emissions and increase fuel economy standards for vehicles, said Michael Gerrard, director of Columbia University's Sabin Center for Climate Change Law.
"The interventions ought to be in the first place on the demand side," he said. "If the Democrats take over, I don't see nationalizing the oil companies as anywhere in the top 50 list of things they'd think about."
Before You Go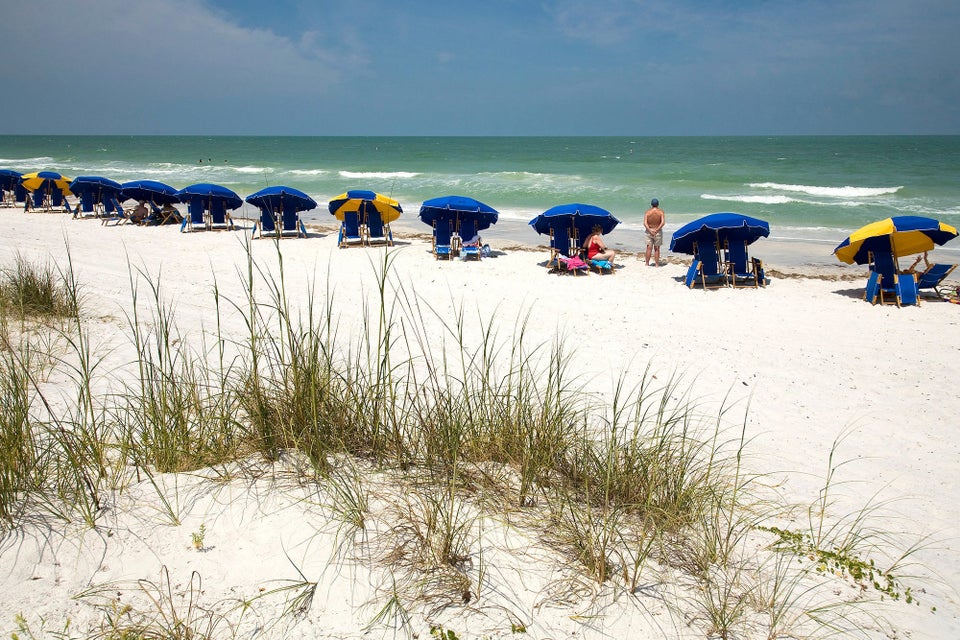 10 States That Burn The Most Coal
Popular in the Community