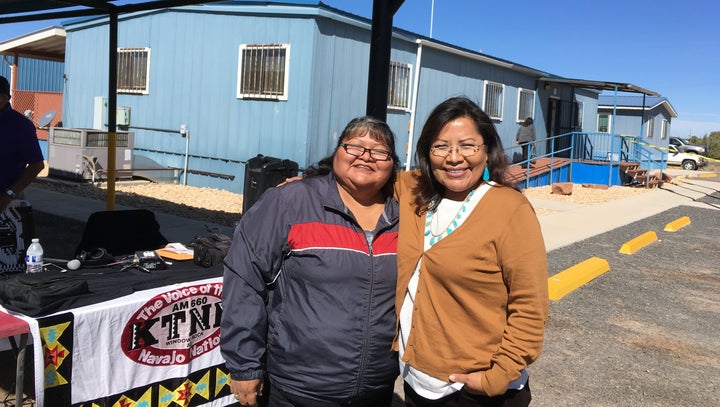 FORT DEFIANCE, Ariz. ― Living among the red-rock gullies and the desert scrub in this corner of the country are a people who could soon exact their revenge on Donald Trump.
Because while the Republican presidential nominee appears to have forgotten about Native Americans of late, with his focus on Muslims and Mexicans, Arizona's hundreds of thousands of Native Americans have not forgotten about him.
"I heard it for a long time, how he talks about Indians," said Dennis Tsinnijinnie, 69 and among the first to cast his ballot on the sunny but brisk opening morning of Arizona's early vote period last week.
Tsinnijinnie was talking about Trump's behavior from decades ago, when he accused some Native Americans of faking their ethnicities to win casino licenses. When he disparaged tribes for receiving federal money for roads. When he mocked their sovereignty. And, more recently, when he insulted Sen. Elizabeth Warren (D-Mass.) with the epithet "Pocahontas."
"Not so good to talk about it that way, I think," Tsinnijinnie said.
Although Republicans have comfortably won Arizona in every presidential election since 2000, polling this autumn suggests a much tighter race ― one in which a big turnout by Native Americans could flip the state's 11 electoral votes into Democratic nominee Hillary Clinton's column.
"We have a saying in Navajo that you may not have a lady for a leader," said Judy Allen, 69, who drove a full hour from her home to vote on the first day possible. "However, today is a new day. The world has changed."
Beyond Trump's remarks over the years about them specifically, Native Americans say they are also disturbed by his general rhetoric during this campaign.
Teresa Etsitty, 61, drove 35 miles with her husband to cast her ballot for one simple reason: "Trump," she said. "If he wins, looks like he could blow the whole thing up."
"He shuns anybody who's below him. The Hispanics. The blacks. Native Americans," added Allen. "I don't know if I can say this, but he's crazy."
Jamescita Mae Peshlakai, the Democratic candidate for state senate for northeastern Arizona, said she even finds Trump's slogan offensive. "Make America great again?" she asks. "There was an even greater America before 1492."  
Make America great again? There was an even greater America before 1492.

Jamescita Mae Peshlakai, Democratic candidate for Arizona state senate
On a cubicle wall in the Coconino County elections office in downtown Flagstaff is a map showing all the polling places overseen by County Recorder Patty Hansen. Among them is the precinct at the bottom of the Grand Canyon.
There, 129 registered voters of the Havasupai nation have their ballots and voting machine helicoptered in prior to Election Day. The three poll workers who staff the voting site, though, can't use the chopper. "They hike down the Monday before," Hansen said. "They hike out the Wednesday after."
Another polling place north of the canyon can only be accessed by a road that comes down from Utah, Hansen added.
Geography is just one of the challenges in accommodating Native American voters. Language is another. Many of the older tribe members speak and read little or no English, Hansen said, making a mail-in ballot impractical. "If you need language assistance, you can't mail an interpreter," she said.
And because the Native American languages themselves are oral, not written, translating some of the ballot wording can itself be an adventure. One of Arizona's initiatives in November, for example, would legalize marijuana for recreational use. There is no Navajo word for marijuana, Hansen said, so it's translated as "The smoke that makes you crazy."
Hansen's Coconino County, of course, is just one of Arizona's fifteen counties, which in all are home to some 300,000 Native Americans ― making it the state with the second-largest native population in the country, after Oklahoma.
That number is not even 5 percent of the state's 6.8 million people, and a fraction of the 2 million Latinos ― the vast majority of Mexican heritage. But the Clinton campaign and the state Democrats have nevertheless focused on registering and turning out as many of the 200,000 voting-age Native Americans in Arizona as possible. They know that over 90 percent have voted Democratic in past elections, with the potential for that percentage going even higher with Trump at the top of the ticket.
"Even though Arizona is red? We in the heart of Indian country are always blue," Peshlakai said.
Nailing down precise numbers, though, is not easy. Arizona does not track ethnicity on its voter registration forms. Many Native Americans work in cities and towns off the reservations, but keep a permanent address on one. And addresses on reservations don't necessarily have street numbers. In fact, registration forms allow voters to locate their homes by drawing a map of nearby landmarks ― an intersection, say, or even a large boulder.
Previous analyses show that Native American turnout has lagged behind other groups' in past elections. In 2008, for example, a study by the liberal group Demos found that while the overall turnout rate as compared to the voting-age population was 64 percent, among Native Americans, it was only 48 percent.
Yet while small relative to the entirety of Arizona's population, the Native American vote can have a decisive impact, as it did during the 2014 congressional elections. That vote coincided with a tribal election, and Native American turnout was not much lower than it was in 2012. That higher-than-expected vote total helped Ann Kirkpatrick retain her House seat that November by a 5-point margin, one of the few bright spots for Democrats nationally that election.
"That's definitely something we want to duplicate this election cycle," said Enrique Gutierrez, communications director for the Arizona Democratic Party.
I don't know if I can say this, but he's crazy.

Judy Allen, Navajo Nation member regarding Donald Trump
The state party's attempt to make that happen kicked into a higher gear last week, with an "early voting rally" a few miles from the Navajo Nation's tribal capital at Window Rock.
Volunteers grilled hot dogs while the radio station KTNN ― "The Voice of the Navajo Nation" ― broadcast all day from the Apache County offices at Fort Defiance, reminding listeners that voting had begun and encouraging them to cast their ballots.
At a double-wide trailer with blue vinyl siding that serves as the elections office, a stream of voters did just that on the first day of voting.
Allen, who has lived all of her 69 years in the remote community of Wheatfields about 40 miles to the north, said she votes in every election, but thinks that more of her neighbors are interested in voting in this election. "People say: I'm going to register to vote because I don't want that crazy guy," she said.
She said she also worries that Trump's apparent obsession with wealth makes it impossible for him to empathize with those who do not have it. "He's too great for everything. He refers to himself as the star. And he's above everybody else," she said. "He's a millionaire. He doesn't know the needs of real people."
Her own home, for example, has no running water. She has to periodically drive to her sister's house a half hour away to fetch some for cooking and cleaning. There is no landline phone service, and her cell phone can't pick up a signal. She spends the winters with her son in Gallup, across the state line in New Mexico. "Because," she said, "I can't chop wood."
"We're just thankful for what little we can get. That's the way, I think, God made us," she said. "I'm not complaining about it. I just wish my cell phone would work better."
Calling all HuffPost superfans!
Sign up for membership to become a founding member and help shape HuffPost's next chapter