BRUSSELS ― The Donald Trump who shows up at Thursday's NATO meeting could be Candidate Trump, who said the alliance had outlived its usefulness and was costing the United States too much.
Or maybe the Trump who shows up will be the President Trump of April 12, who declared that NATO had done what he had asked of it, and was no longer obsolete.
Or perhaps the Trump who shows up will be the President Trump of last week, who told graduating Coast Guard cadets: "I will strengthen old friendships and will seek new partners ― but partners who also help us. Not partners who take and take and take. Partners who help, and partners who help pay for whatever we are doing and all of the good we're doing for them."
And there, in a nutshell, is the quandary facing the 27 other members of the North Atlantic Treaty Organization. Which Donald Trump will appear Thursday afternoon when the leaders of the 68-year-old alliance's member nations meet at the new headquarters just outside town, what he will say once he's in the room behind closed doors, and most important, will those words carry meaning beyond Thursday? These are the questions leaders from Europe and Canada have and likely still will have even after Trump is winging his back to Washington aboard Air Force One.
"Quite a lot of people in Europe are probably saying: OK, we've seen what he's said, we've seen what he's tweeted. Let's see what he says now," said Ben Nimmo, a former NATO spokesman.
Trump's statements to date have already shown that he has neither the background nor the attentiveness necessary to appreciate why a strong alliance is in America's interest, said Klaus Wittmann, a retired German armed forces general now with the Aspen Institute. 
"NATO he seems to regard like a private security firm: Only who pays will be protected," Wittmann said.
We should ignore the more provocative statements ... And don't read the tweets."

Defense analyst Bruno Lete
Others remain cautiously optimistic.
Norwegian defense minister Ine Eriksen Soreide said she recalled that when U.S. Defense Secretary Jim Mattis met for the first time with his NATO counterparts in February, everyone was at the edge their seats, anxious to hear his message ― which, it turned out, was similar to that of previous defense secretaries.
"I think he delivered just brilliantly," Soreide said. "Everyone went out of the meeting room very reassured. He has just jokingly sometimes referred to himself as the Secretary of Reassurance."
And that, right there, might be the key that helps America's European allies retain sanity through the Trump presidency, said Bruno Lete, a defense analyst with the German Marshall Fund of the United States in Brussels. He pointed out that Trump's "America First" slogan notwithstanding, U.S. troops are now on the ground in Poland, a development that took place after Trump took office.
"So for us, that's very comforting," Lete said. "We should ignore the more provocative statements, stay calm, and look at the actions on the ground. And don't read the tweets."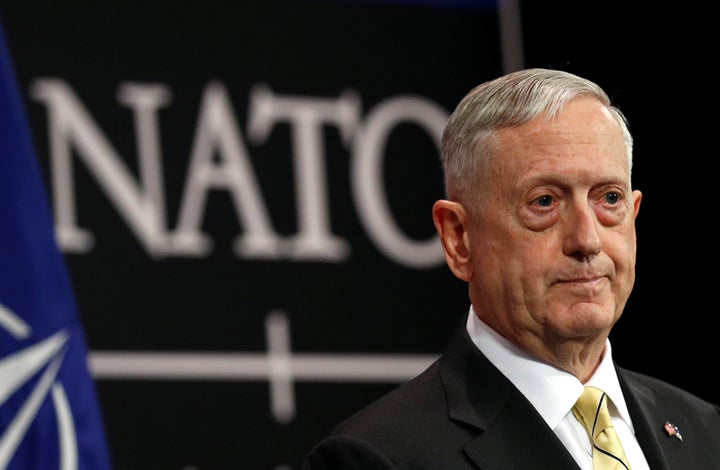 Sharing the burden of defense 
The irony of a potential Trump-led pullback from NATO is that the United States was the driving force behind its creation at the end of World War II.
With the defeat of Hitler's Germany came the westward advance of Stalin's Soviet Union, which occupied much of Eastern Europe, including a portion of Germany, with no evident intention of leaving.
The lessons of World War I still relatively fresh, U.S. leaders decided to invest heavily in helping rebuild Western Europe, including Germany. It was the economic distress there, exacerbated by the penalties imposed on Germany by the World War I allies for its role in starting that war, that helped Hitler come to power in the first place.
In addition to the substantial economic assistance, and fearing continued Soviet expansion, the United States also left behind a sizeable military force in Europe.
"It was only after the Second World War, people realized, wait a minute, if we're going to keep coming back every couple of years, maybe it will be better to keep troops here," said Tomas Valasek, who until this spring had been Slovakia's NATO representative and who now runs the Carnegie Europe think tank.
Key to the entire arrangement was the charter's "Article 5," which stated than an attack against one member would be treated like an attack on all, and bring a coordinated response ― a line in the sand meant to discourage the Soviets from pushing the Iron Curtain any farther west.
That status quo held for decades, until the fall of the Berlin Wall in 1989 and the subsequent breakup of the Soviet Union. NATO members, including the United States, enjoyed a "peace dividend" by cutting defense spending.
What irked U.S. presidents for years, though, was that European nations cut their defense budgets proportionally far more than the United States did. The concept of "burden-sharing," in which other NATO members would increase their own defense spending, was a U.S. priority long before Trump took office, and in fact became formalized in 2014.
That year, following the Islamic State terrorist group's declaration of a "caliphate" ― in Syria, immediately adjacent to NATO member Turkey ― NATO as a group agreed that each nation would ramp up its defense spending to 2 percent of its economy by 2024.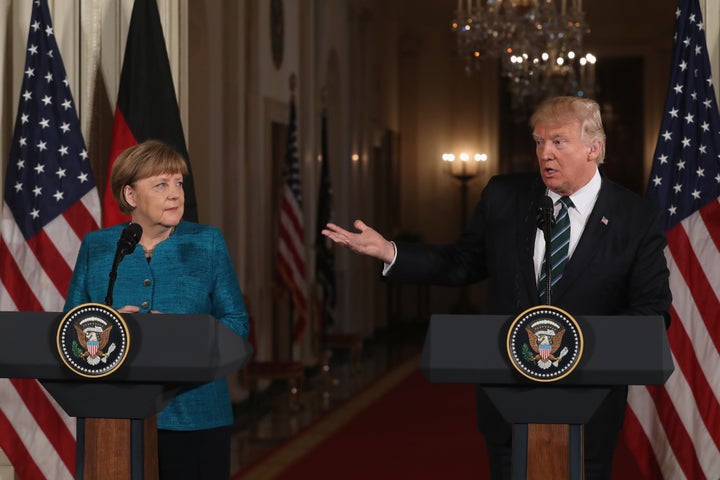 'This is an older problem'
While Trump's top military aides and national security staff know this history, it is unclear whether the president himself is fully aware of it ― or is aware of it beyond talking points he may receive prior to any given event.
Trump long complained that NATO was "obsolete" because it was created after World War II, because other countries weren't paying enough and because it did not address terrorism. That critique ignored that the only time Article 5 has ever been invoked was on behalf of the United States following the Sept. 11 terrorist attacks on New York City and Washington. NATO forces attacked al Qaeda and its Taliban hosts in Afghanistan, and troops from member nations remain there today.
Trump appeared to acknowledge the defense spending increases and the terrorism fight during the April 12 White House visit of NATO Secretary General Jens Stoltenberg. Trump declared that the alliance was now doing as he had demanded, and that it was therefore no longer obsolete.
"We went from NATO is an obsolete alliance back in November or December, to NATO is no longer obsolete in April," the German Marshall Fund's Lete said. "So at least we made some progress, there."
It did not take long, though, for Trump to revert to his earlier language. Barely a week later, with Italy's Prime Minister Paolo Gentiloni visiting, Trump again insisted that other NATO countries "pay their full and fair share for the cost of defense." 
The president seems to have come to office with a zero-sum view."
Trump has also repeatedly raised the issue of getting "back payments" from other countries. "I asked one simple question, I says is everybody paid up?" Trump said in an interview with Time magazine earlier this month. "These countries haven't paid for years. Haven't paid a fair amount for years. Billions, and billions, and billions and billions of dollars. And we're paying. We're paying for it."
Talk like that frustrates Wittmann, the former general and German liaison to NATO. "To talk about 'debts' or 'owing' to the U.S. or to NATO is sheer nonsense and shows that he does not understand the system at all," Wittmann said.
Carnegie Europe's Valasek said Trump's inability or unwillingness to see a broader benefit of European and global stability worries NATO leaders, particularly from smaller states in central and eastern Europe who were once on the Soviet side of the Iron Curtain. "The reason they worry is obvious. The president seems to have come to office with a zero-sum view," he said. "There is only so much they can do to change President Trump's mind."
Valasek said that as the decades have passed and the memories of World War II have faded, it was inevitable that Americans would come to question the need for a military presence across the Atlantic. "This is an older problem. Trump has exacerbated it by having a zero-sum view of almost any transaction, not just foreign policy," he said.
Perhaps out of necessity, current defense officials from NATO partners offer a more optimistic view. Norway's Soreide pointed out that President George W. Bush was also deeply disliked and mistrusted in Europe because of the Iraq War ― and yet the NATO alliance did not ultimately suffer.
"It's working out fine," she said. "I think that in tumultuous times in the world, where things are turned a bit upside down as compared to what we are used to, we need to make sure that these working relationships that we've had for decades, they go on, and they are good, and they are solid, and we find a way to work the way we have done before."
And that needs to happen, she said, even with Trump in the White House. "Regardless of if there is a Twitter feed that can be upsetting sometimes," she said. "We still work on the issues that bind us together."
Calling all HuffPost superfans!
Sign up for membership to become a founding member and help shape HuffPost's next chapter