WASHINGTON ― President Donald Trump continues to employ national security aide Sebastian Gorka despite a parade of evidence tying the counterterrorism adviser to Nazi-linked symbols, far-right politics and anti-Semitic political parties.
But Gorka, who was born in Britain to Hungarian parents in 1970, is far from the first Republican official with these sorts of ties. Throughout the second half of the 20th century, as Eastern Europeans who had fought the Soviet Union — many as part of explicitly Nazi or fascist-aligned groups — immigrated to the U.S., GOP officeholders sought their support.
Gorka isn't unique: He "represents a long history, a century, of these types of personalities being given personal status that they never should have earned based on their ideology and their history and their affiliations," said Russ Bellant, a former reporter who helped expose a previous wave of fascist-aligned GOP officials.
In 1968, Richard Nixon, who hoped to get elected by riding the backlash against recent civil rights advances, rapidly changing cultural norms among the youth and anti-authority riots, began aggressively courting recent immigrants who had fled Eastern Europe as the Soviet Union tightened its grip on the region in the 1940s and '50s. The Cold War had led the U.S. government to overlook the fascist affiliations of some of these immigrants.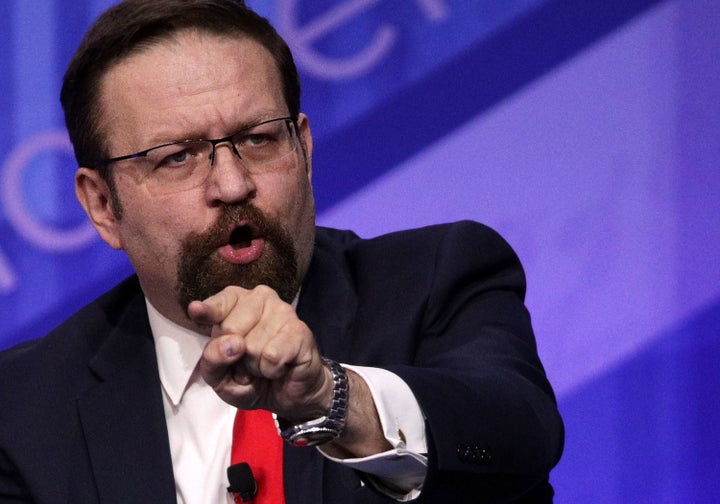 Laszlo Pasztor, who came to the U.S. from Hungary during this period, helped set up the National Republican Heritage Groups Council to organize immigrants from Eastern Europe for Nixon in 1968. After Pasztor's success in that election, Nixon made the council a permanent feature of the Republican National Committee.
But Pasztor, who had served two years in a Hungarian prison for his role as a Nazi collaborator, had deep ties to the fascist right. He had served as a youth member of the Arrow Cross Party, the fascist Hungarian regime that collaborated with Nazi Germany from 1944-45, and as a diplomat in Germany. (This is the same Arrow Cross whose recent symbolic re-emergence in right-wing Hungarian politics Gorka has defended.) In his new role leading ethnic outreach, Pasztor would go on to recruit a number of Eastern European immigrants with similar backgrounds.
The famed investigative reporter Jack Anderson and his partner Les Whitten were the first to bring attention to the background of those helping get out the vote for Nixon in these white ethnic communities.
In a 1971 article titled "Nixon Appears a Little Soft on Nazis," Anderson revealed Pasztor's fascist past and, with a tip from Democratic National Committee official William Quinn, exposed another council member, Dr. Joseph Pauco, a Slovakian who was editor-in-chief of a pro-Nazi paper in the 1940s. Anderson also named two other emigres with pro-Nazi histories who had visited Nixon in the White House or received written praise from the president.
At the time, the Anti-Defamation League, the leading Jewish group opposed to anti-Semitic prejudice, asked for Pauco's removal, calling it "inconceivable that a person with Pauco's appalling record should hold a high level post with the Republican National Committee."
Pauco resigned. Pasztor pleaded with Whitten that he was trying to weed out fascist elements in the ethnic council and stayed on.
But in 1988, investigative reporter Bellant took another look at Pasztor's council and discovered little had changed. Bellant revealed six more members of the ethnic council who had past ties to pro-fascist, pro-Nazi or anti-Semitic political groups.
"I think it was really important that Americans know that these people with these war crimes backgrounds were brought into the United States and elevated to leadership," Bellant, who is now a political activist in Detroit and former Democratic Party candidate for city council, told The Huffington Post. "It's not just the records of the people themselves but who brought them in and elevated them."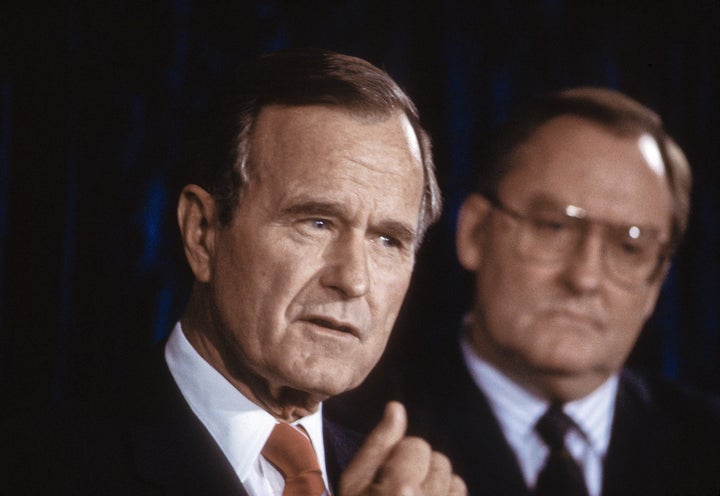 The ADL and Jewish lawyer Alan Dershowitz called for George H.W. Bush, then the Republican presidential nominee, to dismiss people with pro-Nazi pasts from the RNC's council.
At the time, Jewish groups were concerned about continued funding for the Office of Special Investigations in the Department of Justice, which sought to expose and prosecute ex-Nazis living in the U.S. Some of the former Nazi-linked emigres identified by Bellant had been outspoken in their opposition to the office. (The Office of Special Investigations eventually moved on in 2003 to investigate individuals involved in post-World War II human rights abuses and then merged into a new office in 2010.)
"It is not enough to accept the resignations of a few handfuls of bigots after they are publicly exposed," Dershowitz wrote in an op-ed. "The Republican Party must forever rid itself of this cancer within the body politic. There is no room within either major American party for Nazi collaborators or sympathizers."
Pasztor and the others on the campaign with similar past ties to Nazi Germany or fascist politics resigned their positions on the campaign. Bush accepted the resignations, but blamed them on dirty politics practiced by his Democratic opponent, Michael Dukakis.
"We are resigning today from the 'Coalition of American Nationalities' and removing ourselves from the controversy because we have been attacked unfairly by George Bush's political opponents," the emigres said in a statement in September 1988.
In Gorka, the Republican Party now boasts a White House with a national security aide who has clear ties to the next generation of far-right-wing European politics. Gorka has been pictured wearing a medal of the Hungarian Order of Heroes, also known as the Vitézi Rend. The Vitézi Rend is a controversial right-wing group that collaborated with the Nazis in World War II; its members are not allowed to immigrate to the United States. Gorka says that he wears the medal in honor of his late father, Paul Gorka, who received it as "a declaration for his resistance to a dictatorship." But members of Vitézi Rend claim Gorka is a sworn member, a position he gained from his father's membership. Gorka denies this.
The new far-right European groups and parties that Gorka has participated in are perhaps best known for their bigotry against Muslims. But they also include anti-Semitic elements and venerate past symbols of native fascist movements that supported the Nazis in World War II.
And Gorka is not the only person in the White House with far-right connections. White House chief strategist Steve Bannon was intimately involved with far-right-wing parties in Europe when he led the far-right publication Breitbart. Bannon boosted the new far right, including France's Marine Le Pen of the Front National, which was founded by her father, the Holocaust-denying anti-Semite Jean-Marie Le Pen. Bannon also boosted the Austrian Freedom Party, which was founded by ex-Nazis.
Jewish groups and senators have either called for Gorka's resignation or asked him to clarify his connections to anti-Semitic political parties and groups in Hungary. But they shouldn't get their hopes up. After all, it took 20 years for the GOP to oust the last group of party officials credibly accused of fascist ties.
And even then, these figures did not drift too far from power: When President George W. Bush hosted a 2006 White House screening of the film "Children of Glory," which depicted events surrounding 1956 Hungarian revolt that was brutally crushed by the Soviet Union, his guest list included one Laszlo Pasztor.
Sign up for the HuffPost Must Reads newsletter. Each Sunday, we will bring you the best original reporting, long form writing and breaking news from The Huffington Post and around the web, plus behind-the-scenes looks at how it's all made. Click here to sign up!
Popular in the Community