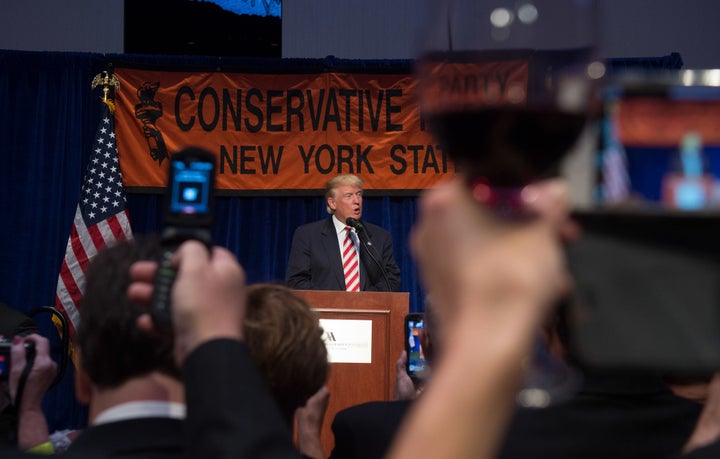 NEW YORK ― Struggling in key states and getting beaten in the money race, Donald Trump nevertheless spent part of his Wednesday campaigning in his home city and state, which almost certainly will go for his Democratic opponent in November.
"Just so you understand, we are going to play in New York, we're not just doing this for fun," Trump promised about 200 delegates to the Conservative Party of New York's convention that earlier had officially made Trump their nominee. "States are in play that are never in play for Republicans."
It's unclear which states Trump was referring to ― a number of traditionally GOP states are currently in play, but not the other way around ― and Trump did not elaborate.
The endorsement by the Conservative Party is not particularly unexpected. While the group fields candidates in local and state races, it generally lines up behind the Republican presidential nominee as a matter of course, delegates said.
Unlike recent events in Mississippi, Texas and Washington state, where Trump staged big rallies, Wednesday night's appearance at the Conservative Party gathering did not consume much time or money. Trump was in New York City anyway to participate in an MSNBC candidates forum, and merely spent about an hour visiting an event that was happening already.
Nevertheless, some Republican campaign consultants believe that with just weeks to go till Election Day, even an hour of a candidate's time is precious and should not be wasted in places where the outcome is not in doubt. Calling potential donors, calling staff or volunteers to offer encouragement, or even taking a nap would have been time better spent, according to Texas-based consultant Matt Mackowiak. Wednesday evening, Mackowiak said, Trump would have been better preparing for the "commander-in-chief" forum that was to begin just an hour later.
Trump gave the delegates a lower-key version of his stump speech, focusing on how dismal much of upstate New York looks because of shut-down factories. "And there is no hope. There is no hope, other than if I become president," he said, promising that a threat of 35 percent tariffs would bring jobs back from Mexico and overseas.
Trump also went into great detail with an extended description of how he finished the Wollman Skating Rink in New York City decades ago ― how he brought in an engineer from Montreal to replace an earlier one from Miami (where, Trump said, no one knew anything about ice), how he replaced copper tubing with rubber hose, and how he laid the concrete in one continuous pour.
"Lo and behold, shortly thereafter, there was ice," he said to applause.
Many leading conservatives have argued that Trump is not really a conservative, given his support for Democratic candidates through the years and his shifting views on a number of issues, including abortion.
But Jim Kerr, a Manhattan delegate to the convention, said Trump's politics were right in line with conservatism as New York conservatives understand it. "He's a conservative in the sense that the conservative party in New York is more of a small business party," Kerr said, adding that Trump's experiences through the years coping with government regulations let him understand what main-street businesses deal with every day. 
Calling all HuffPost superfans!
Sign up for membership to become a founding member and help shape HuffPost's next chapter