President Donald Trump's approval rating ― now 41 percent, according to HuffPost Pollster's average, and 38 percent according to Gallup ― puts him about where Gallup measured President Richard Nixon in July 1973, after months of Senate hearings into the Watergate scandal. Those numbers, however, represent far different political trajectories for the two presidents.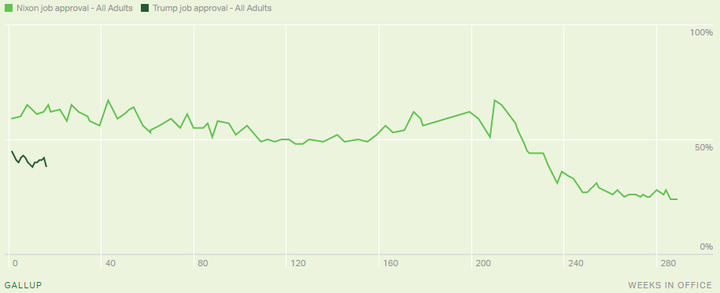 For Nixon, the approval rating constituted a major, if gradual slide. He began his second term in 1973 with a robust 68-percent approval in Gallup's tracking.
Even four months later, after the vast majority of Americans had heard about Watergate and two of the president's top aides had resigned, Nixon's approval stood at 48 percent ― higher than Trump has achieved at any point in his presidency, according to Gallup. It wasn't until partway through the widely televised Watergate hearings that Nixon's ratings collapsed into the low-30s.
A 2014 Pew Research post by Andy Kohut charts Nixon's decline in the court of public opinion: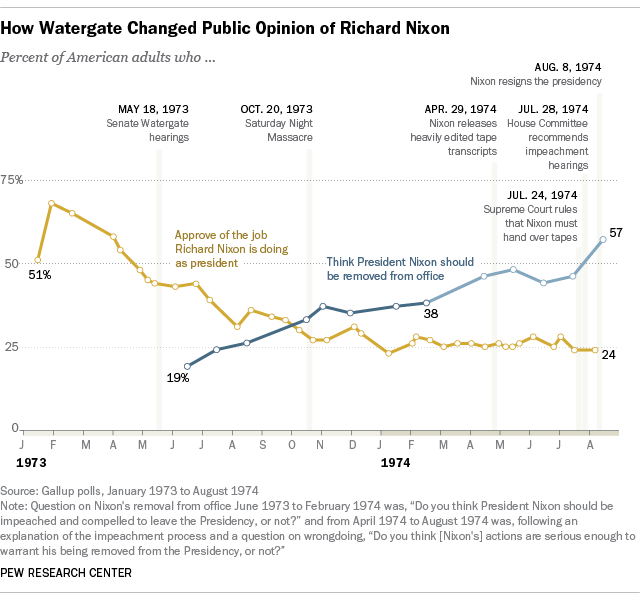 Trump's approval ratings, by contrast, are only modestly lower now than they were in the weeks after he was sworn in. His ratings in Gallup's tracker have thus far remained mired between the high-30s and mid-40s for most of his time in office
One major difference in views of the two presidents has to do with partisanship. From the beginning of Nixon's term through today, presidential approval has grown increasingly polarized, leaving little common ground between the president's party and his opposition.
During Nixon's first quarter in office, Republicans were 32 points more likely than Democrats to approve of him, according to Gallup. In Trump's first quarter, the gap was 78 points.
That, combined with Trump's weak performance among independents, has kept his ratings historically low, despite strong support from the GOP.
While questions have been raised in Washington about Trump's firing of FBI director James Comey, and about the broader investigation surrounding possible ties between Trump's campaign and the Russian government, they've so far failed to gain much traction across that political divide.
That means the controversies have yet to take any significant toll on Trump's already-low ratings.
In recent polls, voters who backed Hillary Clinton in last year's election have universally expressed concerns about Comey and the Russia allegations, while Trump voters have generally shrugged off the issues. The rest of the nation ― including non-voters and third-party supporters who may potentially be persuadable ― often have failed to tune in. In a recent survey, nearly half of Americans who didn't vote for either Clinton or Trump said they weren't sure if Trump made the right decision firing Comey. 
The most profound dip in Trump's ratings so far, by all accounts, had nothing to do with Russia, potential scandals, or any of the other unflattering process stories that have surrounded his administration.
Controversies like the Comey firing will have to similarly smash through the partisan divide before they have that kind of effect.
REAL LIFE. REAL NEWS. REAL VOICES.
Help us tell more of the stories that matter from voices that too often remain unheard.
BEFORE YOU GO