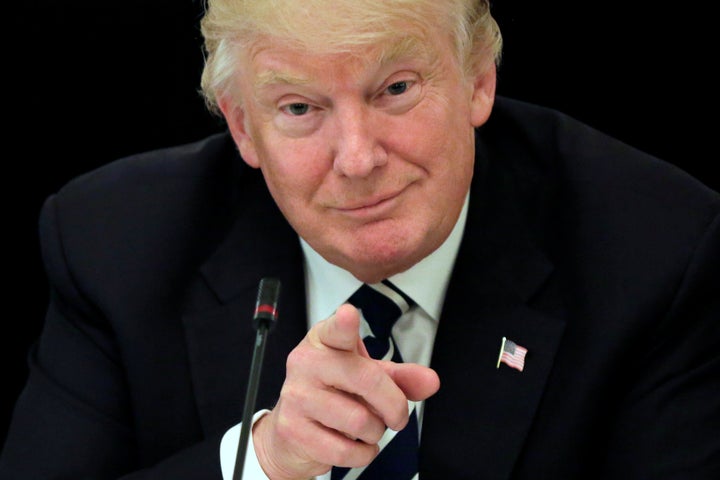 WASHINGTON ― When it comes to the power balance between workers and employers, President Donald Trump just tipped the scales in favor of guys like himself.
Over the past week, Trump chose a management attorney and a former GOP staffer to fill vacancies on the National Labor Relations Board. Their nominations could help reshape labor policy in favor of corporations, potentially reversing Obama-era decisions and further weakening the U.S. labor movement.
If confirmed as expected, Trump's picks ― William Emanuel, who was named Tuesday, and Marvin Kaplan, who was named last week ― will occupy two seats on a five-member board that serves as referee between businesses and labor groups. The NLRB's decisions help determine how easy or difficult it is for workers to unionize ― which, in turn, affects unions' footprint in the U.S. economy, and how much bargaining power rank-and-file workers have with their employers.
That includes Trump's own family hotel business, which has come before the NLRB several times over labor disputes.
After years of rulings friendly to unions in the Obama era, the labor board put in place by Trump will be far more likely to side with employers in contentious, policy-setting cases. With its new Republican majority, the board may undo notable decisions in recent years that helped more workers secure collective bargaining rights in the workplace.
Industry lobbies like the National Restaurant Association applauded Trump's nominations, as did the anti-union Workforce Fairness Institute.
The NLRB is an independent federal agency, meaning its members are nominated by the president, but don't answer to him. The five members serve staggered terms, traditionally with three members hailing from the president's party. What is currently a 2-to-1 Democratic majority held over from the Obama years would become a 3-to-2 Republican majority if Trump's nominees are confirmed.
Emanuel is a lawyer at the management-side firm Littler Mendelson. Kaplan served as a lawyer for Republicans on the House Committee on Education and the Workforce; he's currently a commissioner at the Occupational Safety and Health Review Commission.
The confirmation of Trump's picks will not be difficult, thanks to the "nuclear" rules change made by Democrats during a previous fight over the labor board. When the Republican minority stonewalled Obama's NLRB picks and prevented the board from functioning, Democrats reformed the rules in 2013 so that nominees only require 51 votes to pass the Senate. Republicans now hold 52 seats.
The NLRB found itself at the center of political fights on Capitol Hill during the Obama years, with Republicans accusing it of "killing" jobs and catering to unions. Trump would have nominated Emanuel and Kaplan with heavy input from business lobbies and GOP lawmakers, seeking to change course from the board's progressive direction.
If Emanuel and Kaplan are installed, the board could gradually flip some of the Obama-era rulings that helped workers organize in the workplace. Union membership is hovering near an all-time low in the U.S. ― just 6.4 percent of private-sector workers belong to unions now ― but labor groups hoped the board's liberal rulings could help.
Republicans in Washington held congressional hearings to blast rulings like those. But once Emanuel and Kaplan are confirmed ― probably after the Senate's summer recess ― the pendulum is bound to swing back toward employers.
CORRECTION: A previous version of this story misstated the number of Republican seats in the Senate. It is 52, not 54.
Popular in the Community