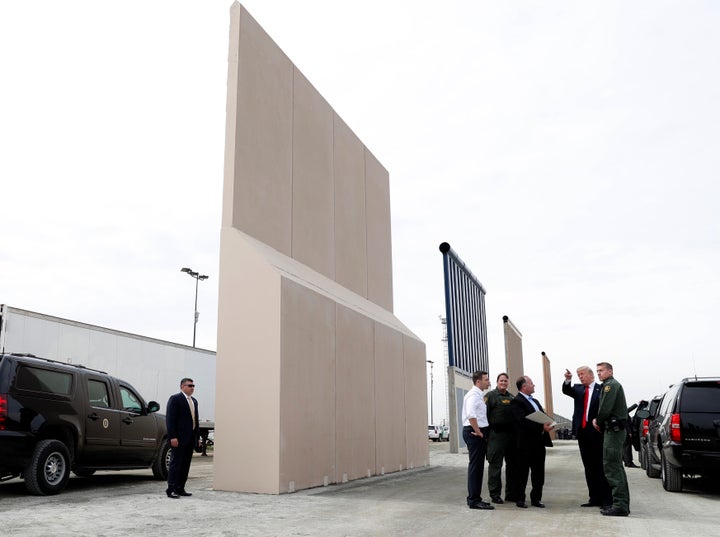 WASHINGTON — Mexico refused to pay for President Donald Trump's wall, and now it appears American taxpayers may never have to either.
A spending bill to keep the federal government running past Sept. 30 will not contain money for Trump's biggest presidential campaign promise. Republican congressional leaders are instead postponing the fight over a wall along the southwestern border until after the November midterm elections — when Democrats will almost certainly have more influence and possibly be weeks away from taking control of the House.
"This is the GOP Congress giving the president a big middle finger," said Stan Collender, a budget expert who spent years working for House and Senate committees. "It's the Republican Congress saying, 'We're going to make it more difficult for you to shut down the government because it's not good for us, even if it's good for you.'"
"There is a strong segment of Trump voters that's demoralized," said William Gheen, the head of the hard-line group Americans for Legal Immigration. "Because there's no wall, illegal crossings are at a new peak, possibly higher than Obama levels, and the Republican House spent its time on an amnesty compromise bill rather than enforcement like we were promised by Trump."
"Trump promised from the day he began his campaign in June 2015 that he would build a 'great wall' to end illegal immigration from Mexico."
Trump in recent public statements has suggested he would veto a spending bill that did not fund his wall. He has also suggested he would sign such a bill and instead pursue the matter after the elections.
But in a Sept. 4 interview with the conservative website Daily Caller, Trump said, "I don't see even myself or anybody else closing down the country right now. … I think that after midterms, we're going to have a very serious discussion because we want border security, we have to have it."
This spring, Trump agreed to a $1.3 trillion spending package to fund the federal government through Sept. 30 but apparently failed to understand that it did not contain any money to build his wall until Fox News hosts began criticizing him the night before he was scheduled to sign it.
The White House did not respond to HuffPost queries about Trump's position. On Thursday, deputy press secretary Lindsay Walters said of the proposed spending deal in Congress, "We look forward to reviewing the bill when it's released."
The issue of wall funding has divided the pro-immigration, big business wing of the Republican Party and the anti-immigrant, nativist wing represented by White House policy adviser Stephen Miller and former top aide Steve Bannon.
The former group believes a government shutdown at the start of October over Trump's wall would cost Republicans even more House seats than they are likely to lose already. The latter believes that only a government shutdown would let Trump rally his most loyal supporters sufficiently for Republicans to retain control of that chamber.
In a June 1 CNN interview, Bannon predicted that Trump would force a shutdown if he did not get money for his wall. "The wall is not just totemic. The wall is absolutely central to his program," he said. "If that appropriations bill does not include spending to fully build his wall ― not some $1.6 billion for prototypes, I mean to build the southern wall ― I believe he will shut down the government."
The $1.6 billion that Bannon mentioned is the total appropriated for border security enhancements in the spring spending bill. Almost all of that, though, was to add or replace 33 miles of fencing along the border and build 14 miles of secondary wall near San Diego. Language in the legislation, in fact, specifically prohibits the Department of Homeland Security from building any form of barrier other than what was in use as of 2017. Only $38 million of the total — 2 percent — was allocated for "border barrier planning and design," which was used to pay for wall prototypes that Trump visited in California in May.
If Republican leaders in the House and Senate go ahead as planned with a continuing resolution for a number of government agencies, including DHS, Trump would be bound by those earlier budgetary restrictions.
Despite the lack of money for his wall, Trump has repeatedly and falsely stated that his administration has already started building it.
"The wall — right now, that wall is coming along. We're over $3 billion. It's moving along very nicely," he said Aug. 21 at a rally in West Virginia.
"While most Americans are not particularly interested in a border wall, Trump's base is."
Gheen, who supported Trump and attended his inauguration, said Trump will not be able to fool his base forever.
"There are a great many Americans who continue to believe him," Gheen said. "But there is a huge disparity between what Trump says and what he actually does. And there is an even bigger disparity between what Trump says and what actually happens."
Trump promised from the day he began his campaign in June 2015 that he would build a "great wall" to end illegal immigration from Mexico.
"I would build a great wall, and nobody builds walls better than me, believe me, and I'll build them very inexpensively," Trump said during his candidacy announcement at Trump Tower in New York. "I will build a great, great wall on our southern border. And I will have Mexico pay for that wall. Mark my words."
Over the 17 months after his announcement, he promised hundreds of times that he would build the wall quickly and at no cost to U.S. taxpayers. He said that his wall would be at least 30 feet tall and extend deep underground to prevent people from tunneling beneath it. At a December 2015 visit to Manassas, Virginia, he even went into construction details.
"It's going to be made of hardened concrete, and it's going to be made out of rebar. That's steel," Trump said in response to a question from a young boy in the audience. "And we're going to set [the rebar] in nice, heavy foundations."
One Republican close to the White House said Trump is getting advice from the pro-immigration wing of the party that picking a fight on the wall right now would seriously hurt Republicans in the midterms.
The Republican, who spoke on the condition of anonymity, said this advice was "the type of establishment position they try to force on the president all the time."
"This is to appease the mythical moderate Republican voter, while at the same time depressing his base," the Republican added.
As for getting money for the wall after the elections, the Republican agreed with Collender and others that Trump will have far less power in December than he does now. "It dramatically reduces his leverage," the Republican said.
Popular in the Community