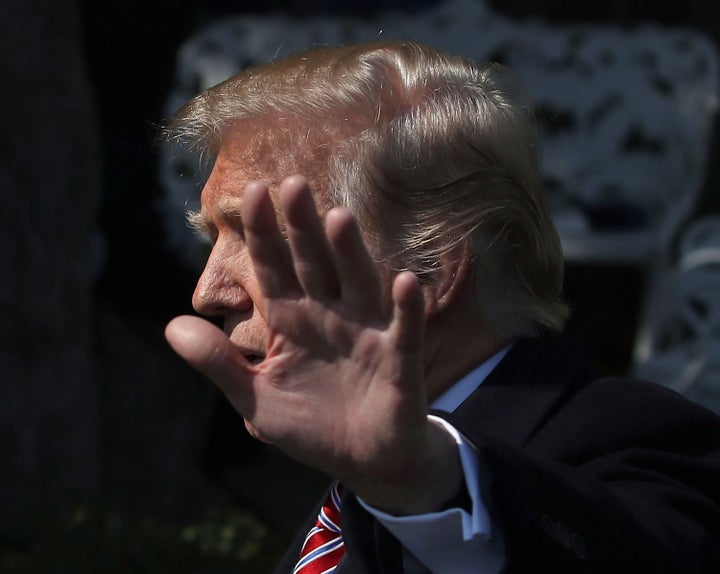 WASHINGTON ― If Donald Trump is to be believed when he claims his White House has "no Chaos, only great Energy," this week may well be the most energetic of his presidency.
Trump has seen the departure of top National Security Council staff amid discussions of a possible military strike on Syria. His Environmental Protection Agency chief continues weathering a daily drip of ethics violation allegations. His personal lawyer was raided by the FBI. He canceled a long-planned foreign trip. And he opened a meeting with military leaders with a 700-word tirade against the prosecutor investigating him and his associates ― and then acknowledged he is considering firing him.
"It's unadulterated madness. But because it happens so often, it tends to become the norm," said John Weaver, who joked that the last few days could set a low-water mark for an "infrastructure week" ― Washington shorthand for times when the White House has attempted to set a coherent message, only to see it descend into bedlam.
Weaver, who ran Ohio Gov. John Kasich's presidential campaign in the 2016 GOP primaries, was among a number of prominent Republicans who warned that a Trump presidency would be unending chaos because of Trump's basic character. He said special counsel Robert Mueller's probe was completely predictable, given Trump's behavior. "So please stop with the 'witch hunt,'" Weaver said.
Trump started using that phrase to describe the investigation more than a year ago, and last month escalated it to the all-capital "WITCH HUNT." On Tuesday morning Trump took it up another notch still: "A TOTAL WITCH HUNT!!!"
But the president's protestations notwithstanding, Mueller's probe of possible collusion by Trump's campaign with the Russian spy agencies that helped him win the election has already produced guilty pleas from five people and criminal charges against 14 others. Among those who have pleaded guilty are Trump's original national security adviser and his deputy campaign chairman. Among those facing charges are Trump's former campaign chairman and 13 Russians who worked to hurt Democratic nominee Hillary Clinton and to help Trump.
On Monday, the probe expanded to include Trump's longtime personal lawyer and "fixer," Michael Cohen, whose offices were searched.
In the days leading up to the 2016 election, Cohen had worked to buy the silence of two women who say they had had affairs with Trump. Documents show that prosecutors are interested in that effort as well as, unrelatedly, Cohen's handling of New York City taxi medallions.
"He's got a guy who's trying to juggle taxi medallions and porn stars and the president of the United States," Weaver laughed. "What could go wrong?"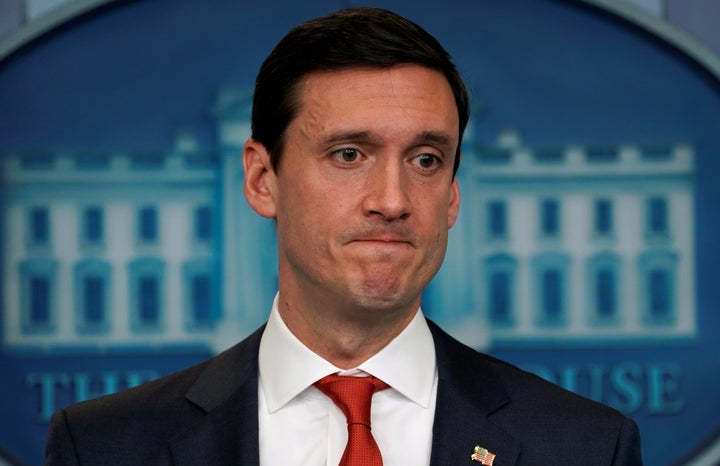 The staff departures from the NSC have come quickly after the arrival of Trump's latest national security adviser, John Bolton. NSC spokesman Michael Anton resigned Sunday, and Monday saw the unexpected exit of Tom Bossert, who had been Trump's homeland security adviser.
Bossert had told conference attendees in Sea Island, Georgia, just Sunday that the White House had actually become a relatively normal place. "I think at this point we've reached what seems to be a decent stability point," he said.
Bossert's departure came not long after the White House announcement that Trump would not be flying to Lima, Peru, on Friday to attend the Summit of the Americas this weekend. That decision came shortly after Trump resumed his complaints on Twitter about Mueller's investigation, continuing his attacks from the previous evening.
The White House, though, said Trump's decision to skip the South America trip was not as hasty as it seemed. The idea was first broached immediately after the suspected chemical weapons attack in Syria on Saturday, one White House official said on condition of anonymity.
If there was to be a U.S. military response, the thinking went, it was better for the president to be in the White House with ready access to his full NSC staff than on a foreign trip. "It's something that's been considered for some days," the official said.
"The president and his national security team felt it was best that he stay in the United States while all of these developments were taking place," press secretary Sarah Sanders said at Tuesday's briefing.
Whether the Syrian situation was the actual reason for the cancellation or a convenient excuse, Trump's dislike of traveling generally and foreign travel in particular is well known.
During much of his campaign for president, Trump would almost without fail begin and end each day in New York to avoid having to spend a night somewhere other than his apartment in Trump Tower.
White House officials privately acknowledge that Trump does not really enjoy foreign trips at all, especially those in which he will be forced to interact with leaders who do not particularly like him. This was bound to be the case in South America, where Trump is widely disliked because of his comments on immigration and Mexicans. The White House had already trimmed what had originally been planned as a five-day trip down to three days.
Whatever the reason for the cancelation, not having Trump attend ― and having Vice President Mike Pence go in his place ― might actually be better for relations between the United States and the nations of South America, said one scholar.
"I'm relieved. I was afraid he'd ask Latin America to help with his windmill battle against China," said Monica de Bolle, a Brazil expert with the Peterson Institute for International Economics, referring to Trump's recent offensive against Chinese trade policies. "It would have gone over very badly, indeed! I think the region has a whole lot more to lose from angering China than from angering Trump, who angers easily anyway."
Calling all HuffPost superfans!
Sign up for membership to become a founding member and help shape HuffPost's next chapter