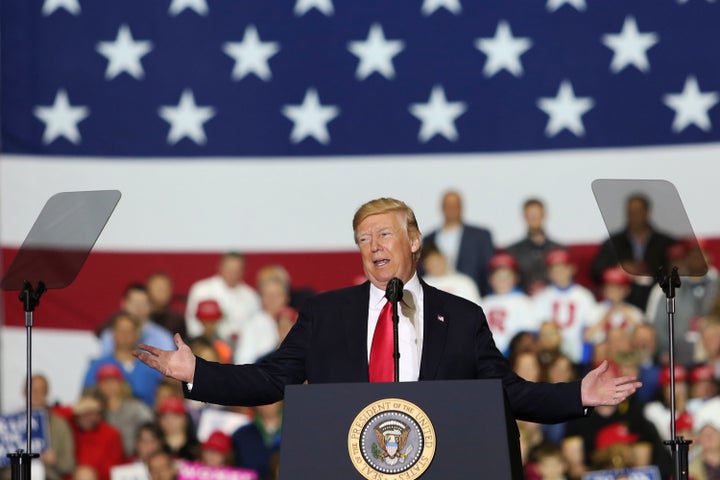 Three months ago, President Donald Trump used his first State of the Union address to chastise North Korea's Kim Jong Un as "depraved" and a "menace that threatens our world." A few weeks earlier, he taunted Pyongyang, saying his own "nuclear button" was "much bigger & more powerful" than Kim's.
All of that makes the suggestion that Trump should win the Nobel Peace Prize completely absurd. It has been floated repeatedly in recent days and was amplified on Monday after South Korean President Moon Jae-in responded to a message that he himself should get the prize by saying he felt Trump deserved it more.
"It's really President Trump who should receive it; we can just take peace," Moon said, according to his office.
The comments came days after Moon met with Kim at the Demilitarized Zone, which was the first time in history a North Korean leader stepped into the South's territory. Tensions on the peninsula have rapidly eased in recent weeks, and the pair of leaders announced plans to push for the official end of the Korean War and laid some groundwork for the denuclearization of the region.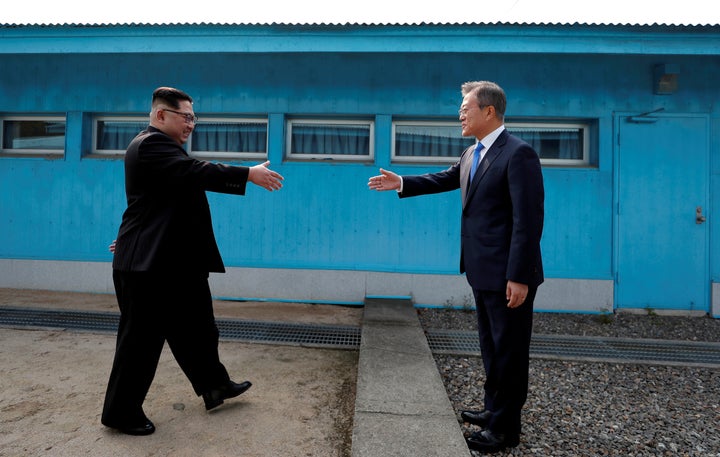 Trump is also expected to meet with Kim sometime this month or next month to discuss that process, although the terms of the summit have yet to be announced.
But despite the significant and somewhat surprising progress toward that end, it's unlikely Trump could even be nominated for his efforts on North Korea this year.
The Nobel Committee accepts nominations for the year's prize until Feb. 1, and most of the names submitted after that point are considered for the next calendar year. Those on the five-person committee are able to add additional names to the list after the nomination is closed, but that meeting had already happened by the time people began to call for Trump to receive the prize.
The Nobel Committee has said 330 candidates have been submitted this year, 216 of which are individuals. The winner will be announced in October, but the full name of nominees will not be released publicly for 50 years.
That hasn't stopped Trump or some of his supporters from taking up the idea with gusto. On Tuesday, Trump said it was "very nice" of Moon to throw his name in the ring.
"I want to get peace. The main thing, we want to get peace," Trump told reporters. "It was a big problem, and I think it's going to work out well. We'll see. … But I thought it was very generous of President Moon of South Korea to make that statement, and I appreciate it, but the main thing is to get it done. I want to get it done."
The Saturday before, supporters at a Michigan rally chanted "Nobel, Nobel, Nobel" to a smiling Trump. "I just want to get the job done," he said.
Next year could be a different story, although many experts have cautioned that the Korean peace process will be a long, complicated process that can't be settled in a single summit.
Trump was formally nominated for the 2019 Peace Prize by Republican members of the House on Wednesday. Rep. Luke Messer (Ind.) and 17 other Republicans sent a letter to the Norwegian Nobel Committee praising Trump's work and the barrage of new sanctions that "have largely been credited for bringing North Korea to the negotiating table."
"President Trump's peace through strength policies are working and bringing peace to the Korean Peninsula," the letter reads. "We can think of no one more deserving of the Committee's recognition in 2019 than President Trump for his tireless work to bring peace to our world."
Four U.S. presidents have been awarded Nobel Peace Prizes, most recently Barack Obama in 2009. Trump himself was nominated for the award this year and last year ― but both of those nominations were forgeries and were referred to Norwegian police for investigation.
Only a limited number of people in select categories are eligible nominators, including political leaders, university professors and previous winners of the prize.
Calling all HuffPost superfans!
Sign up for membership to become a founding member and help shape HuffPost's next chapter