Donald Trump did not speak to a roomful of striking Detroit autoworkers Wednesday night. He didn't speak in Detroit, even. And he definitely didn't speak at a unionized automaker.
The former president did speak at Drake Enterprises, a small non-union company outside Detroit, where he repeatedly bashed union leadership and argued United Auto Workers members had their priorities backward.
Reading news coverage of the event, though, might tell you otherwise.
One Politico newsletter, for example, initially stated in its first paragraph that Trump would be addressing "striking auto workers." Then it changed, saying his audience was simply "auto workers."
ABC News reported on Tuesday that Trump would skip the Republican presidential debate "to instead court unionized employees with remarks outside Detroit." And The New York Times reported Wednesday that Trump was traveling to Detroit to "interject himself into the United Auto Workers strike" as part of a story that made no mention of the fact that his actual speaking venue was a non-union workplace.
But a question remains: What happened?
Or they fell for his unnamed sources. In particular, the misdirection that appears to have started a week ago, when several outlets reported ― incorrectly, in the end ― that Trump would address striking autoworkers.
A New York Times headline on Sept. 18 first reported that Trump was set to "Woo Striking Union Members in Detroit" rather than attend the second Republican presidential debate. The story, citing two anonymous "Trump advisers with knowledge of the plans," stated that the candidate would deliver "a prime-time speech before current and former union members."
A Times spokesperson, Charlie Stadtlander, noted that a photo caption on the story had been corrected ― it initially said Trump planned on addressing "an audience of more than 500 union workers," rather than simply "workers." But Stadtlander said the paper stood behind its reporting, adding, "It remains accurate to call the visit an attempt to woo striking auto workers."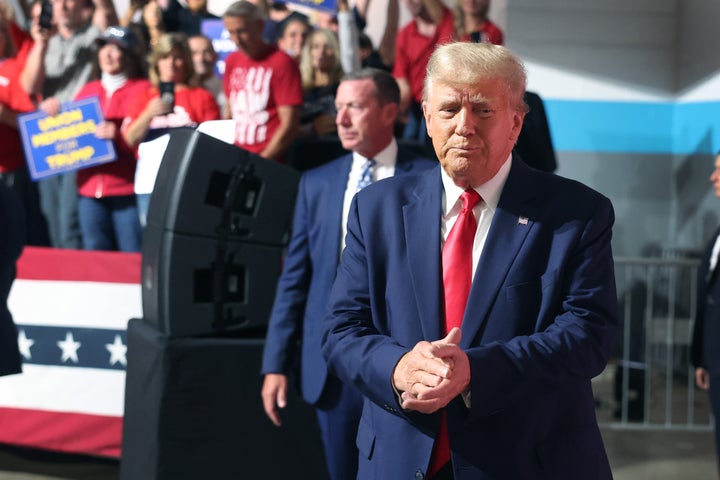 Similar reports, all citing anonymous sources, followed. NPR reported that Trump would "join striking union autoworkers." The Associated Press said he would "meet with striking autoworkers." The Washington Post said he was planning "to give a speech to union workers." In a story republished on CBS Detroit, another AP story told readers that Trump would "visit striking autoworkers in Michigan." The examples go on.
A few days after the initial swell of coverage, Trump claimed on Truth Social that "Crooked Joe Biden had no intention of going to visit the United Autoworkers, until I announced that I would be heading to Michigan to be with them, & help then out."
Some media critics smelled something fishy from the start. "Losing my mind here. This opening paragraph [of the NPR story] is not true!" Adam H. Johnson, co-host of the Citations Needed podcast, wrote last week on "X," formerly known as Twitter. "Trump is not 'joining striking autoworkers'. The UAW has formally rejected him and NYT reports a picket visit is 'unlikely'. It's just a vaguely adjacent campaign rally!"
"I feel crazy," commented Jack Mirkinson, an acting senior editor at The Nation, in response to the Times article that failed to mention Trump would be speaking at a non-union shop.
It's not clear how many striking UAW workers were present, though no outlet that was there could find more than a small handful. "I haven't seen anybody yet," Scott Malefant, a UAW member, told NBC News, referring to his union peers. "I'm sure there might be a few." Politico reported that there were at least four UAW members in the crowd.
Trump campaign spokesperson Steven Cheung insisted in an email that the former president did meet and speak to various union members, and that "UAW members (including those on strike), former members, and other union members like plumbers, pipe-fitters, electricians, and other autoworkers," were present.
There was also ample evidence of Trump spin: Multiple reports from the event established that people in the crowd were carrying "union members for Trump" and "Autoworkers for Trump" signs when they were not, in fact, union workers or autoworkers.
Still, Trump got the photo-op he wanted. The Times photographer Doug Mills, posting a photo of Trump shaking hands at the Drake Enterprises event, captioned the image, ".@realDonaldTrump greets union members at Drake Enterprises in Clinton Township Michigan." Mills eventually corrected the error, but not until after Trump had plastered the photo and caption atop his Truth Social profile.
Support HuffPost
The Stakes Have Never Been Higher
Popular in the Community