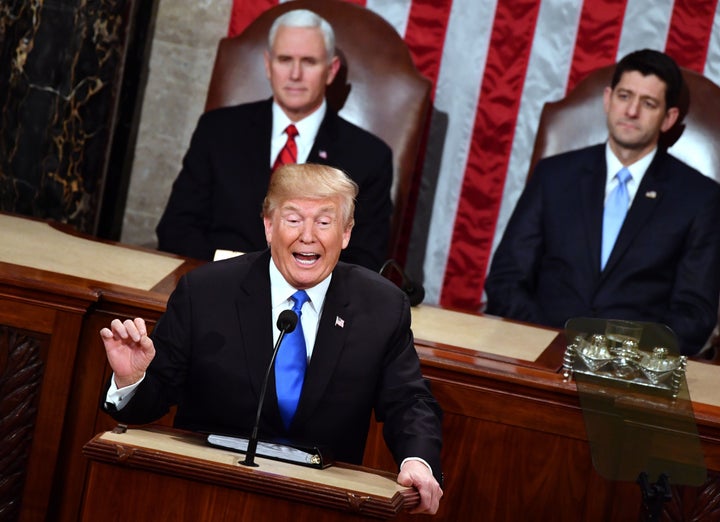 President Donald Trump singled out the "cruel dictatorship" of North Korea during his State of the Union address on Tuesday, calling its leader, Kim Jong Un, a "depraved character" and "menace that threatens our world" while touting his administration's efforts to prevent the country from developing nuclear weapons capable of reaching the United States.
Trump devoted a large segment of his address to criticizing the regime, casting the diplomatic efforts of prior administrations as insufficient, and once again slammed his predecessors as too soft on the Kim regime, saying they "invited aggression."
"Past experience has taught us that complacency and concessions only invite aggression and provocation," Trump said. "I will not repeat the mistakes of past administrations that got us into this very dangerous position."
The president pointed to the parents of American student Otto Warmbier, who died last June after he was returned to the U.S. following his imprisonment in North Korea, as evidence of Kim's brutality.
"You are powerful witnesses to a menace that threatens our world, and your strength inspires us all," he said.
Trump's hard-line stance comes the same day The Washington Post reported that the White House pulled the likely nomination of a respected foreign policy expert to be the U.S. ambassador to South Korea, a key diplomatic position that has been vacant for more than a year. Victor Cha was widely expected to be nominated, but his name was reportedly withdrawn from consideration after Cha expressed concerns over policy decisions related to North Korea, including U.S. consideration of a limited strike on the country in what has been called the "bloody nose" strategy.
Cha confirmed late Tuesday that his name was no longer under consideration.
Officials had hoped an envoy would be in place before the start of the 2018 Winter Olympics in Pyeongchang next month.
Tensions between North and South Korea have appeared to thaw in recent weeks after Kim offered an olive branch to Seoul on New Year's Day, saying he would open diplomatic channels between the two countries for the first time in years. Pyongyang later agreed to send athletes to the Olympics in February and said it would hold military talks with the South in an effort to improve relations on the Korean peninsula.
Trump took much of the credit for the diplomacy, asking on Twitter earlier this month: "Does anybody really believe that talks and dialogue would be going on between North and South Korea right now if I wasn't firm, strong and willing to commit our total 'might' against the North."
"Fools, but talks are a good thing!" he concluded.
South Korean President Moon Jae-In agreed with his U.S. counterpart, saying he gave "a lot of credit to President Trump" and that he wanted to express his "gratitude."
The two Koreas are expected to send their first joint team to the Olympics next month, the women's ice hockey squad.
REAL LIFE. REAL NEWS. REAL VOICES.
Help us tell more of the stories that matter from voices that too often remain unheard.