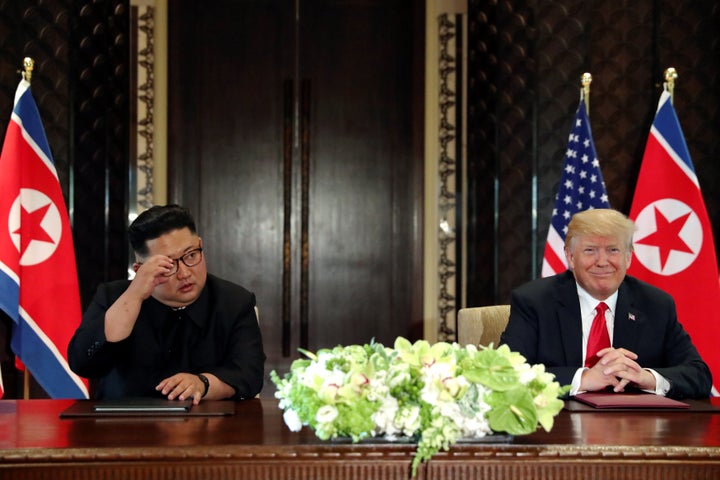 The public broadly approves of President Donald Trump's summit with North Korean leader Kim Jong Un, according to a HuffPost/YouGov survey released Thursday, easily ranking the meeting among Trump's most popular actions since being in office.
Americans say, 61 percent to 21 percent, that they approve of Trump having met with Kim. (A Monmouth University poll, also released Thursday, similarly found that 71 percent of Americans considered the meeting a good idea.)
Generally speaking, Trump's opponents tend to be more united in their opprobrium for his actions than his supporters are in their enthusiasm. That's not the case with this issue. A near-universal 96 percent of Trump voters approve of the meeting, while barely over half of Hillary Clinton voters disapprove.
The summit also appears to have boosted the public's overall opinions about Trump's North Korea strategy ― a shift demonstrating that the president's ratings, while remarkably stable, aren't entirely immovable by current events. A slim majority of Americans now approve of Trump's handling of North Korea, up from the high 30s in previous polls. A 44 percent plurality now say Trump is making the situation in North Korea better. Seventeen percent say he's making it worse, and 16 percent say he's not having much of an effect.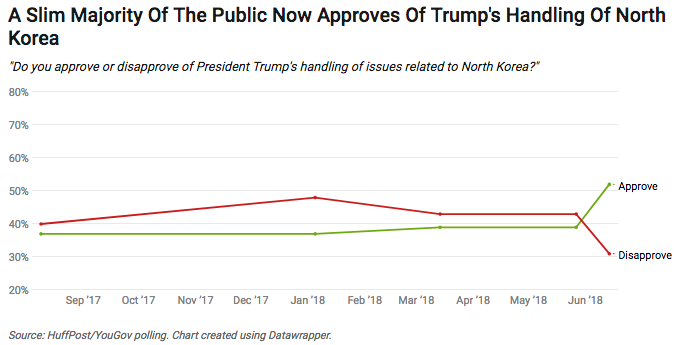 Read on for more takeaways from the new HuffPost/YouGov poll.
Few think either the U.S. or North Korea got most of what they wanted
Most Americans don't spend a lot of time focusing on the details of foreign policy, which can make polling on it highly dependent on question wording and other context clues.
The latest polling offers reason to think that the public's enthusiasm for the summit is likely founded more on principle than the details of the meeting.
In Monmouth's survey, more than half of those polled hadn't heard that Trump had agreed to suspend the United States' regular joint military exercises with South Korea after this meeting. Although two-thirds of the respondents to the HuffPost/YouGov poll say they followed news of the meeting at least somewhat closely, only one-quarter reported paying very close attention.
Just 28 percent of those surveyed in the HuffPost/YouGov poll say the U.S. government got most or all of what it wanted out of the summit, while 43 percent say the U.S. got only some or nothing. Thirty-five percent say the North Koreans got most or all of what they wanted, and 32 percent say they got only some or nothing.
In response to a separate question, 23 percent say Trump compromised too much, 36 percent that he compromised about the right amount, and 6 percent that he compromised too little. Another 35 percent aren't sure.
Republicans now likelier than Democrats to support talks with North Korea
Americans are generally in favor of seeing their leaders engage in diplomacy. They say, 65 percent to 10 percent, that U.S. leaders should meet with leaders of countries with whom we have "hostile or unfriendly" relations. Asked specifically about meeting with North Korea, they're also in favor, 66 percent to 12 percent. But in the wake of Trump's meeting, it's Republicans who are most open to the idea ― they're 36 points likelier than Democrats to say U.S. leaders should meet with North Korean officials, although a majority in both parties are supportive.
By contrast, polling in previous years found Democrats more receptive. In surveys conducted by the Chicago Council on Global Affairs between 2008 and 2014, Democrats were between 10 points and 21 points likelier than Republicans to favor talks with North Korea.
Nearly half of Trump voters agree with the president that Kim has 'great personality'
We've known for a while now that Trump's statements can have significant power to shape the views of his supporters (and his opponents, who tend to shy away from agreeing with him).
To see whether Trump's bully pulpit was enough to overcome Americans' near-universal loathing of the North Korean leaders, we asked our survey respondents about Trump's description of Kim Jong Un as having a "great personality" and being "very smart." Half were told that Trump had described him that way, while the rest were merely asked whether they agreed with the characterization.
In this case, the president's influence appeared to be enough to nudge up his voters' impressions of Kim. A majority of Clinton voters in both groups disagreed. But Trump voters who were told the president had made the statement agreed by a 29-point margin, while those who weren't told that Trump had described Kim in that manner disagreed by an 8-point margin.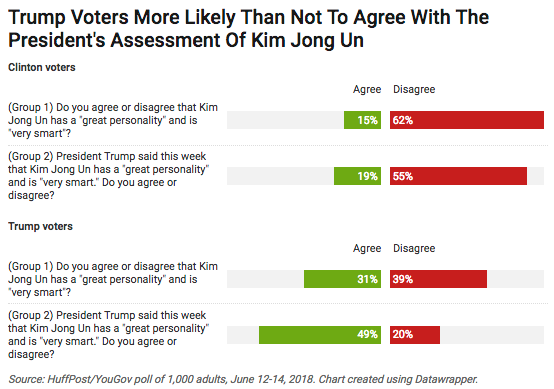 The HuffPost/YouGov poll consisted of 1,000 completed interviews conducted June 12-14 among U.S. adults using a sample selected from YouGov's opt-in online panel to match the demographics and other characteristics of the adult U.S. population.
HuffPost has teamed up with YouGov to conduct daily opinion polls. You can learn more about this project and take part in YouGov's nationally representative opinion polling. More details on the polls' methodology are available here.
Most surveys report a margin of error that represents some, but not all, potential survey errors. YouGov's reports include a model-based margin of error, which rests on a specific set of statistical assumptions about the selected sample rather than the standard methodology for random probability sampling. If these assumptions are wrong, the model-based margin of error may also be inaccurate. Click here for a more detailed explanation of the model-based margin of error.
Popular in the Community