WASHINGTON ― The incoming president is once more creating foreign policy 140 characters at a time, with tweets Monday evening lashing out at North Korea and China over the renegade nation's nuclear weapons program.
"North Korea just stated that it is in the final stages of developing a nuclear weapon capable of reaching parts of the U.S. It won't happen!" Donald Trump wrote in a 6:05 p.m. tweet.
North Korean dictator Kim Jong Un said in his annual New Year's address that the nation's plans for launching a missile are almost complete. "Research and development of the cutting-edge tech weapons are actively progressing and strengthening our defense capabilities, including last stage preparation of tests for intercontinental ballistic rocket launch have been continuously succeeding," Kim said, according to a CNN translation of the televised speech.
What Trump precisely meant by "It won't happen!" is not readily evident. Nor is it known whether Trump attempted to coordinate his statements with the current administration. Trump spokesman Sean Spicer did not immediately respond to Huffington Post queries on the matter.
The Department of Defense responded to Kim's speech Sunday with a statement pointing out that "multiple UN Security Council resolutions explicitly prohibit North Korea's launches using ballistic missile technology."
"We reaffirm our ironclad commitments to defend our allies utilizing the full spectrum of U.S. extended deterrence capabilities," the statement added.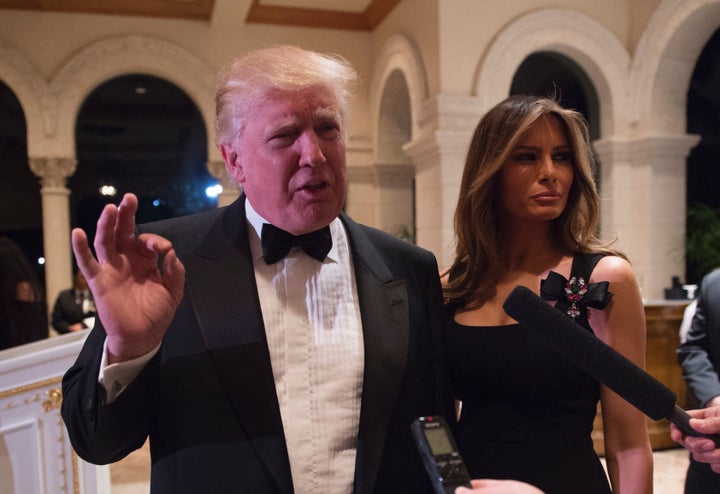 The State Department followed up with nearly identical language Monday in a statement from spokesman John Kirby.
Trump's views regarding the best way of dealing with the impoverished country's young and possibly unstable leader are unclear. A year ago, Trump said during a campaign rally that "you have to give him credit" for the way Kim took over in his 20s after the death of his father and went on to execute his uncle and others to consolidate power.
At times Trump said the United States should work with China to shut down Kim's nuclear program, but then later in the campaign suggested that China should deal with that problem by itself.
Forty-two minutes after his initial tweet Monday, Trump sent out a follow-up, this time insulting China and linking North Korea's weapons program to what Trump perceives as unfair trade practices that benefit China at the expense of the United States.
"China has been taking out massive amounts of money & wealth from the U.S. in totally one-sided trade, but won't help with North Korea. Nice!" Trump wrote.
Trump's many detractors during the campaign, including numerous Republican foreign policy and military experts, have said Trump did not have the knowledge or temperament to serve as commander in chief.
At a September rally in Pensacola, Florida, Trump promised an act-of-war response if the Iranian navy disrespected U.S. naval vessels. "When Iran, when they circle our beautiful destroyers with their little boats, and they make gestures at our people that they shouldn't be allowed to make, they will be shot out of the water," Trump said.
On Monday, former National Security Agency analyst John Schindler said Trump's second tweet in particular was a big mistake, as China has been North Korea's only ally but has, so far, sided with the United Nations against its neighbor on the matter of nuclear weapons.
"Keep pissing off Beijing, Don ― as POTUS you'll have no channel to DPRK next time the Norks do something crazy," Schindler wrote in response to Trump.
Popular in the Community