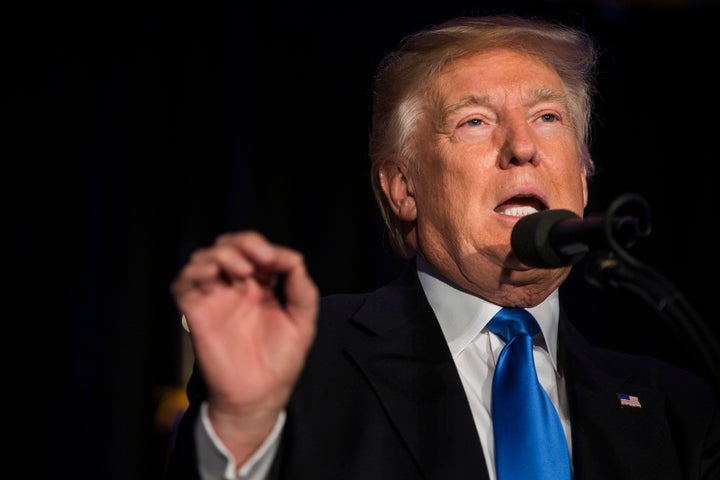 Donald Trump accused the National Security Agency on Friday of having the ability to access Hillary Clinton's erased emails, but declining to do so in order to protect the Democratic presidential nominee.
"I hear the NSA maybe has the emails," Trump said in a phone interview on Fox News' "On The Record." "A lot of people say the NSA would have the emails if they really wanted to get them."
"Obviously they don't want to get them," he added. "They're protecting her, they're coddling her. And it's the only way she could even consider running."
Clinton deleted some 32,000 personal emails from a private server she used as secretary of state after her lawyers determined that they did not contain information relevant to her work for the government. The State Department has already released 30,000 of Clinton's work-related emails to the public, and is scheduled to release an additional 15,000 in the coming months.
In July, the Federal Bureau of Investigation declined to prosecute Clinton for using a private email server during her time as secretary. FBI Director James Comey, a Republican, condemned Clinton's behavior as "extremely careless" after the agency found there were 100 classified messages on the private server.
But Comey argued that "no reasonable prosecutor" would press charges because of the absence of evidence that Clinton intended to use the server to send classified information. None of the classified information she sent or received was entirely properly marked as classified.
Trump has argued that Clinton's deletion of a portion of the emails is evidence of a criminal coverup that law enforcement should have pressed charges on.
Trump implied on Friday that Clinton's only reason for deleting the emails is that they contained some kind of damning evidence against her.
"She knows what was on those emails and it was very, very bad," he said. "And maybe somebody should, in fact, ask the NSA whether or not they have the emails."
Attributing unsubstantiated rumors to an anonymous "they" is one of Trump's preferred methods for peddling theories without fully taking ownership of them.
He employed the same language to accuse the NSA of going easy on Clinton during a campaign rally in Altoona, Pennsylvania, earlier this month.
"I don't know what the law is, but they say that they would have the emails," he said.
"I guess somebody came out from the NSA and they said, 'We have everybody's emails,'" Trump continued, apparently referring to the revelations of NSA whistleblower Edward Snowden. "So I don't think they tried too hard. Do you, folks?"
Calling all HuffPost superfans!
Sign up for membership to become a founding member and help shape HuffPost's next chapter