WASHINGTON ― Evidence of collusion has already surfaced in the House Intelligence Committee's probe of the 2016 election.
No, not between President Donald Trump's campaign and Russia, but between Trump's White House and the chairman of the House committee that's supposed to be doing the investigating.
Both California Republican Rep. Devin Nunes and the White House initially denied that his newly discovered information purportedly supporting an unfounded Trump "wire tapping" claim had come from the White House. Now, both have decided they'd rather not discuss it.
"It's not in our interest to talk about the process," White House press secretary Sean Spicer said Friday. "What occurred between Chairman Nunes in coming here was both routine and proper."
Spicer's various iterations of "no comment" came as published reports named Nunes' sources as White House officials from the National Security Council. Indeed, the reports show that the agency ― charged with coordinating U.S. military, intelligence and diplomatic efforts around the world ― had employees instead focusing on undoing political damage to Trump from his evidence-free tweet.
Spicer, on Thursday and Friday, denied that NSC staff members were acting specifically to look for such evidence. Rather, they found the information "in the ordinary course of their work," Spicer said.
On Thursday, Spicer announced that the White House was inviting both House and Senate intelligence committee leaders to look at the evidence for themselves ― an invitation that appeared to come just as The New York Times was publishing its story revealing the names of two NSC staffers who worked with Nunes.
On Friday, Spicer continued scolding reporters for pursuing the story about Russia working to elect Trump president instead of possible proof supporting Trump's March 4 tweet, in which he accused then-President Barack Obama of "wire tapping" him at his Manhattan office tower.
"These are serious issues. They raise serious concerns. And if true, the issues would be devastating," Spicer said.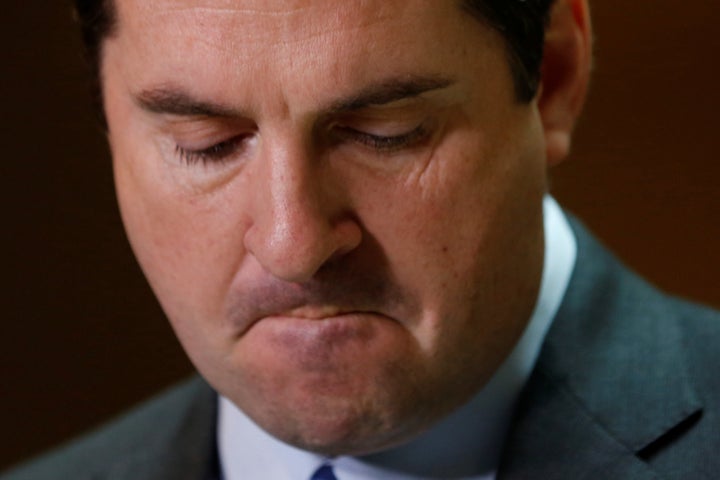 Both Nunes and Spicer made statements when Nunes first claimed he had evidence supporting Trump that have since proven false.
Nunes claimed after a morning news conference in the Capitol that he was taking his proof ― he refused to disclose his sources ― to the White House. "The administration isn't aware of this, so I need to make sure I go over there and tell them what I know. Because it involves them," he said.
As it turns out, his sources are actually White House employees, with two of them, according to The Washington Post, reporting to the top White House lawyer, Don McGahn.
Spicer, similarly, ridiculed the idea that the information that Nunes shared with Trump might have started with Trump's own employees.
"I don't know that that makes sense. I did not sit on that briefing. I'm not ― it just doesn't ― so, I don't know why he would travel ― brief the speaker, then come down here to brief us on something that ― that we would've briefed him on. It doesn't really seem to make a ton of sense," Spicer said two days after Nunes' initial news conference. "It doesn't really pass the smell test."
Trump, during his campaign last year, frequently praised Russian leader Vladimir Putin, even saying he was a better leader than Obama. At the same time, Putin's spy agencies secretly worked to help Trump win by stealing and releasing embarrassing documents about Trump's Democratic opponent Hillary Clinton – disclosures that Trump cited on a daily basis as a public service.
FBI Director Jim Comey testified at a congressional hearing last week that his office for nearly a year has been conducting an investigation into whether Trump's campaign colluded with Russian officials.
Sign up for the HuffPost Must Reads newsletter. Each Sunday, we will bring you the best original reporting, long form writing and breaking news from The Huffington Post and around the web, plus behind-the-scenes looks at how it's all made. Click here to sign up!