WASHINGTON ― President Donald Trump's White House probably wishes now it had never even heard of Rep. Devin Nunes.
Not a week after calling attention to the House Intelligence Committee chairman's claims about suspicious surveillance of Trump's transition team, White House press secretary Sean Spicer on Monday sounded like he was done talking about the California Republican.
"I know that Chairman Nunes has confirmed that he was on White House grounds Tuesday and, frankly, any questions regarding who he met with or why he was here should be referred to him," Spicer said.
Spicer's new tone comes as Nunes continues trying to explain why it was that he went to the White House on March 21 to receive documents from a source only to head back to the White House on March 22 to brief Trump on what he had learned. Nunes told Bloomberg News that his source was an intelligence official, not a White House employee.
Spicer, meanwhile, claimed that he knew very little about the whole thing. "All of what I know has been available through public comments," he said, referring to news accounts.
Monday's statements are the latest in the evolution of Spicer's views on Nunes.
Last Wednesday, Spicer went out of his way to make sure everyone had heard Nunes' announcement that he had come to learn that Trump transition team members had been swept up by surveillance conducted by U.S. intelligence. Nunes' committee is investigating possible ties between the Trump campaign and Russian spy agencies' efforts to get Trump elected. "My understanding is that Chairman Nunes is coming to the White House later to brief the president on this development," Spicer said.
The next day, as Nunes was dodging questions as to where his new information came from, reporters asked Spicer whether the White House itself could have been Nunes' source. Spicer ridiculed the question.
"I don't know that that make sense," he said Thursday. "I don't know why he would travel ― brief the speaker, then come down here to brief us on something that ― that we would've briefed him on. It doesn't really seem to make a ton of sense. So, I'm not aware of it. But it doesn't really pass the smell test."
But by Friday afternoon, after Nunes acknowledged that all the surveillance he was referring to was legal and had taken place as a result of court orders, Spicer again changed his tack when asked if he could rule out that Nunes' source for his documents was from within the administration.
"I don't know where he got them from. He didn't state it," Spicer said. "I don't have anything for you on that. So I cannot say anything more than 'I don't know' at this point."
Monday, prior to Spicer's daily briefing, the White House put out a statement referring all questions about Nunes' newly disclosed visit to the White House complex to Nunes himself ― a request that reporters did not honor, forcing Spicer to spend much of the briefing trying to distance the White House from an increasingly embattled ally.
Democrats are demanding that House Speaker Paul Ryan replace Nunes as chairman of the House Permanent Select Committee on Intelligence because of his open coordination with Trump, arguing that Nunes cannot lead an impartial investigation into Trump's team.
During his campaign last year, Trump frequently praised Russian President Vladimir Putin, even saying Putin was a better leader than President Barack Obama. In the meantime, Putin's spy agencies were secretly working to help Trump win by stealing and releasing potentially embarrassing documents about the campaign of Trump's Democratic opponent, Hillary Clinton ― disclosures that Trump cited on a daily basis.
FBI Director James Comey testified at a congressional hearing last week that his office has for nearly a year been conducting an investigation into whether Trump's campaign colluded with Russian officials.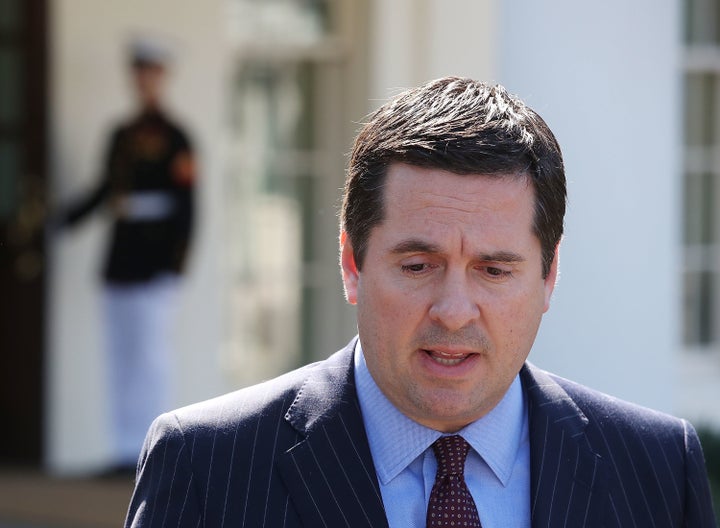 REAL LIFE. REAL NEWS. REAL VOICES.
Help us tell more of the stories that matter from voices that too often remain unheard.
BEFORE YOU GO
PHOTO GALLERY
White House Press Secretary Cinematically Roasted With #SeanSpicerAFilm