By Gina Cherelus and Barbara Goldberg
NEW YORK (Reuters) - U.S. President Donald Trump on Thursday reiterated his call that the Uzbek immigrant accused of killing eight people when he drove a truck down a New York City bike path should get the death penalty.
The suspect, Sayfullo Saipov, told investigators he was inspired by watching Islamic State videos and began planning Tuesday's attack a year ago, according to a criminal complaint filed against him on Wednesday.
Saipov, 29, also said "he felt good about what he had done" and asked for permission to display the flag of the militant group Islamic State in his hospital room, the complaint said.
Trump on Wednesday had suggested sending Saipov to the Guantanamo Bay military prison in Cuba where multiple detainees are held, but on Thursday said that move would have been too complicated.
"Would love to send the NYC terrorist to Guantanamo but statistically that process takes much longer than going through the Federal system...," Trump said on Twitter on Thursday. In a subsequent Tweet, he added, "...There is also something appropriate about keeping him in the home of the horrible crime he committed. Should move fast. DEATH PENALTY!"
Saipov faces two charges, one of which carries the death penalty if the government chooses to seek it, Manhattan acting U.S. Attorney Joon Kim said.
The charges are one count of violence and destruction of motor vehicles causing the deaths of eight people and one count of providing material support and resources to a foreign terrorist organization - Islamic State, also known as ISIS.
The maximum penalty for the first is death; the maximum for the second life in prison, Kim said.
Dzhokhar Tsarnaev, the surviving member of a pair of ethnic Chechen brothers who killed three people and injured more than 260 when they bombed the 2013 Boston Marathon in an attack inspired by the al Qaeda militant group, was sentenced to death in 2015. He is the only inmate among the 61 people on federal death row convicted for an act charged as terrorism.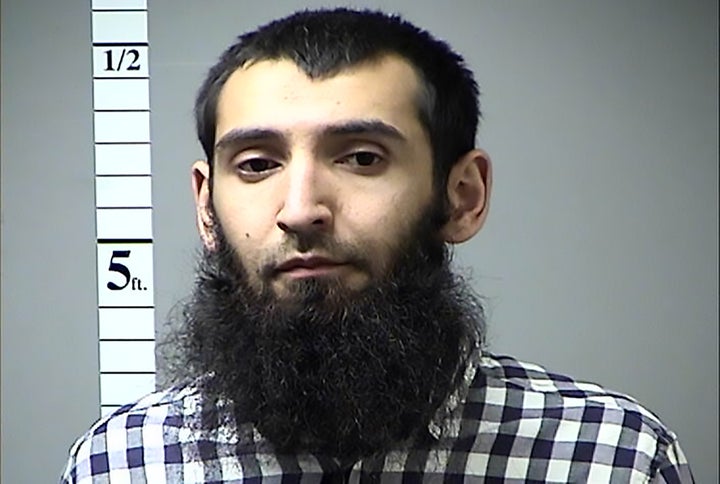 WAIVED RIGHTS
Saipov's charging document said he waived his rights to remain silent, avoid self-incrimination and have an attorney present when he agreed to speak to investigators from his bed at Bellevue Hospital Center in Manhattan, where he was being treated after being shot by a police officer.
It said he was particularly motivated by a video where Abu Bakr al-Baghdadi - the leader of Islamic State - exhorted Muslims in the United States and elsewhere to support the group's cause.
Investigators found thousands of ISIS-related propaganda images and videos on Saipov's cellphone, the complaint said. Among them were video clips showing ISIS prisoners being beheaded, run over by a tank and shot in the face.
SECOND MAN LOCATED
The Federal Bureau of Investigation said it had located another Uzbek man, Mukhammadzoir Kadirov, 32, wanted for questioning as a person of interest in the attack.
U.S. law enforcement officials, speaking on condition of anonymity because the investigation was continuing, told Reuters that Saipov had been in contact with Kadirov and another person of interest in the investigation.
Tuesday's assault was the deadliest in New York City since the attack on Sept. 11, 2001, when hijackers crashed two jetliners into the World Trade Center, killing more than 2,600 people.
Five Argentine tourists, a Belgian, a New Yorker and a New Jersey man were killed in the attack.
Saipov, who lived in Paterson, New Jersey, allegedly used a pickup truck rented from a New Jersey Home Depot to run down pedestrians and cyclists along a 20-block stretch of the Manhattan bike path, before slamming into a school bus.
He got out of the truck brandishing what turned out to be a paint-ball gun and a pellet gun, authorities said, before a police officer shot him.
Seated in a wheelchair, Saipov appeared for a hearing in Manhattan federal court on Wednesday before Magistrate Judge Barbara Moses. Public defense attorney David Patton was appointed to represent him.
Saipov did not ask for bail and was remanded to federal custody. It was not immediately clear where he would be held.
Earlier on Wednesday, Trump called him "this animal" and lambasted the U.S. justice system for terrorism suspects as "a joke" and "a laughingstock".
(Additional reporting by Mark Hosenball in Washington and Brendan O'Brien in Milwaukee; Writing by Scott Malone; Editing by Larry King and Chizu Nomiyama)
Calling all HuffPost superfans!
Sign up for membership to become a founding member and help shape HuffPost's next chapter
BEFORE YOU GO
Nicholas Cleves, a 23-year-old who lived in New York, died in the Tuesday attack, according to the NYPD. Cleves had been working as a software engineer after graduating from Skidmore College last year with a degree in computer science, according to
his LinkedIn page
. Previously, he attended Elisabeth Irwin High School in New York City.
His friend Bobby Carlton, whom he met at Skidmore, recalled how quickly they bonded.
"We instantly became friends, and he was someone who would come to my desk almost daily," often to chat about the latest technology or "Star Wars," Carlton wrote to HuffPost.
"He was someone that was always welcome in my home," he said, calling Cleves a "spectacular human being."
His employer
remembered him
as a smart, kind person whom he hired without hesitation.
"He was polite, funny, and, above all, considerate in action. He possessed a rare capacity for emotional IQ in an often-stoic professional milieu," wrote Alex T. Silverstein, the president of Unified Digital Group. "He was composed, accepting, and open to all. It pains me greatly to reflect that we can no longer experience his unique gifts. A growing light has been senselessly extinguished."
Darren Drake, 32, was one of the bicyclists killed when the truck barreled down the bike path. He was a native of New Milford, New Jersey, where he once served as school board president.
"Darren was a good man with a soft touch and huge heart," Michael A. Polizzi, superintendent of the New Milford Public School District, told HuffPost. Speaking of Drake's role on the board of education, Polizzi said, "His decisions were always predicated on what he believed was in the best interest of students, their growth and well-being."
Drake worked as a project manager at Moody's Investors Service at the World Trade Center and had been exercising between meetings at the time of the attack, Barbra Drake, his mother,
told The New York Post
.
"He was the most innocent, delicate kid in the world," James Drake, his father,
told The Record
. "Life was perfect for him."
Drake, whose birthday was coming up on Nov. 18, was an only child and very close to his parents, Drake's cousin
Marian Mattera
told HuffPost by Facebook message. He had started riding a bike to get healthy and loved it so much he would ride in the rain.
"Darren Drake was an educated man, a funny man, a kind man," Mattera said. "Just the other day [he] posted how he wanted to save a cricket in his apartment rather than kill it."
Drake graduated from Rutgers in 2007 with a bachelor's degree in political science, according to the university.
"Darren was an exceptional graduate, a leader in his community, and had a bright future ahead of him," John Cramer, director of public relations at Rutgers University-New Brunswick, told HuffPost.
Ann-Laure Decadt, a Belgian woman, was biking in lower Manhattan when she was fatally struck by the truck. She had been visiting New York with her mother and sister, who were unharmed in the attack. She is survived by her two sons -- a 3-year-old and a 3-month-old -- and her husband, Alexander Naessens.

"This loss is unbearable and impossible to grasp," Naessens said in a statement. "She was a fantastic wife and the most beautiful mother of our two sons."
Ariel Erlij was one of five friends from the city of Rosario, Argentina, who died in Tuesday's attack after traveling to New York to celebrate the 30th anniversary of their high school graduation. A prominent local business owner of a steel mill company in Rosario, Erlij played a leading role in his friends' reunion trip, organizing some trip details, designing matching shirts and even helping cover some flight costs, reports
the Argentine national news outlet Clarin
. He had three children and was a fan of local soccer team Rosario Central.
Hernán Ferruchi,
an architect
, was a member of the group from Rosario.
Diego Angelini was another one of the Argentine classmates.
Alejandro Pagnucco was one of five Argentines who died in Tuesday's attack. The
49-year-old architect
had three daughters, according to local news outlet
Rosario3
.
"Good student and son... always there when asked for favors... the guy was always there," Gustavo Repizo, a friend of Pagnucco's,
posted on Facebook
. "Until [the attacker] came... he didn't care about your three beautiful daughters. Or your dear brothers."
"He was a marvelous being," Repizo wrote. "Picho... was a being of peace," he added, using his friend's nickname.