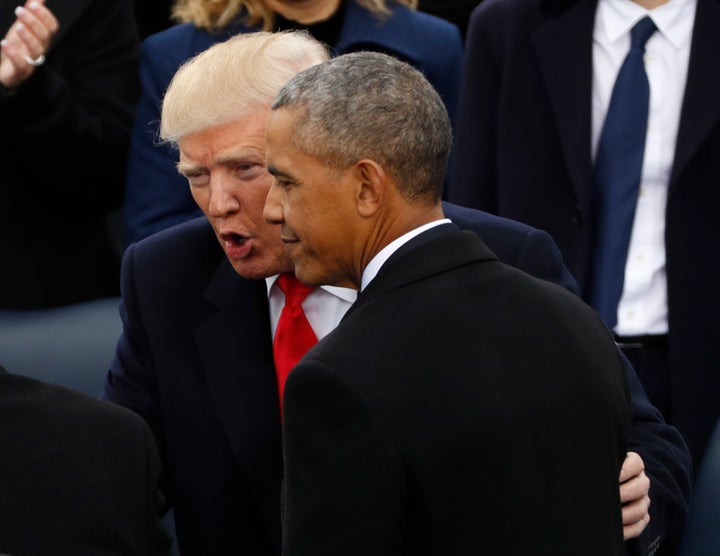 President Donald Trump said he tried to watch former President Barack Obama's speech on Friday, but couldn't stay awake.
"I'm sorry, I watched it, but I fell asleep," Trump joked while speaking at an event in North Dakota. "I found he's very good, very good for sleeping."
During a fiery speech on Friday, Obama called out Trump directly for the first time since he left office in January 2017. He criticized the current president's policies as well as some of his more contentious remarks, like when Trump said there were "some very fine people on both sides" of the rally last year in Charlottesville, Virginia, that saw white supremacists squaring off against anti-racism protesters.
"How hard can that be, saying that Nazis are bad?" asked Obama, speaking at the University of Illinois at Urbana-Champaign.
Obama also criticized those in Trump's administration ― like the anonymous author of a New York Times op-ed published Wednesday ― who claim they're trying to keep Trump from implementing damaging policies while still working for him.
"They're not doing us a service by actively promoting 90 percent of the crazy stuff that's coming out of this White House and then saying, 'Don't worry, we're preventing the other 10 percent,'" Obama said. "That's not how things are supposed to work. This is not normal."
Before Friday, Obama had held back from explicitly rebuking Trump, choosing instead to allude to his successor's policies as he did in the eulogy he gave at Sen. John McCain's funeral.
Calling all HuffPost superfans!
Sign up for membership to become a founding member and help shape HuffPost's next chapter