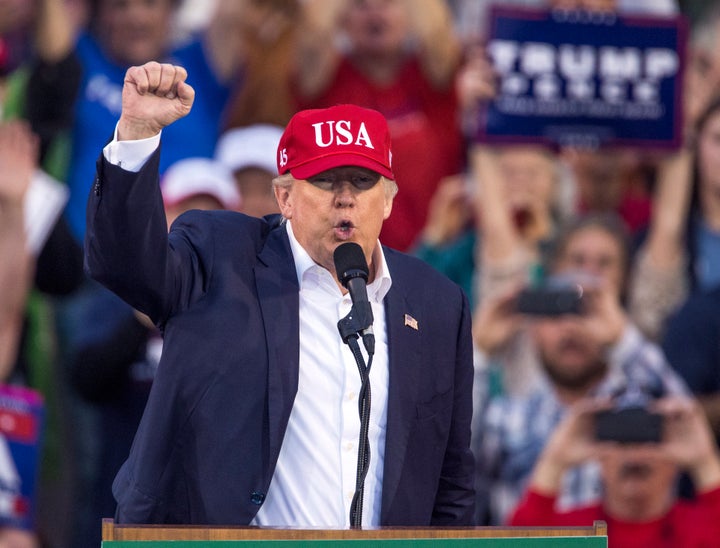 In his first trip outside of Washington D.C. as president, Barack Obama went to Elkhart, Indiana, the hub of the RV industry and a town that, at that point in time, was being crushed by the Great Recession. He had gone there as a candidate several times. But when he arrived with the trappings of the presidency, it was to pitch the idea of a massive stimulus package to save towns just like Elkhart, where the unemployment level was nearing 20 percent.
The stimulus passed. The economy came back. And Elkhart did, too. When Obama paid another visit this summer, the unemployment rate was down to 3.8 percent.
On Thursday, Obama's soon-to-be successor, Donald Trump, will visit Indiana as well, in what will be his first trip since winning the election. He'll be going to the Carrier factory in Indianapolis to celebrate a deal that his team put together with the company's leaders to stop it from sending jobs to Mexico. Trump and his vice president, current Indiana Gov. Mike Pence (R), reportedly offered $7 million in tax incentives and promised not to target the company through the federal contracting process in exchange for 1,100 or so jobs being kept domestic (1,300 jobs will still be heading to Mexico).
Beyond Indiana's inexplicable magnetism for newly elected and incoming presidents, these two trips also tell a larger story about the value of stagecraft and salesmanship in politics. While Trump's jaunt to Carrier is already winning accolades from unexpected sources and praise from the factory workers, the people of Elkhart moved on quickly from Obama.
Elkhart County didn't vote for his re-election in 2012 and it went decidedly for Trump in 2016. But that is just part of the story. Many recipients of the nearly $170 million in stimulus funding that was sent to Elkhart didn't even know they'd received the money at all. When I called a number of them back in July, they either flat-out denied such funding existed or assumed that the loans and contracts they'd received had derived from another company or the state government.
This isn't an Elkhart phenomenon. In Indianapolis, where Carrier is based, the same pattern exists.
Scott Prange, president of the mechanical contracting company Sullivan & Poore, Inc., said he didn't know that the stimulus had funded the renovation of the six-story, 440,000 square foot Minton Capehart Federal Building. "I knew it was some kind of special funding," he explained. "But at the time, I didn't know where it came from." His company was a sub-recipient on that contract, getting more than $10 million for its help on remodeling and reconstructing the building's ventilation systems.
An official at the company HE Danby, which sells and installs pumps, filters and filtration systems, was similarly unaware that the $110,000-plus it had received as part of a $62 million Department of Energy grant to increase manufacturing of cost-efficient, fuel-efficient hybrid commercial trucks had been made available by the stimulus.
"I don't know anything about it, to be honest," the official said, declining to reveal his name. He did ask the company owner, however, who "didn't know either."
Others who worked on stimulus-funded projects had a stronger ― though still somewhat vague ― sense about the source of the funding. And what's clear from them is that the bill actually worked. Kevin Hunt, the chief operating officer at Shiel Sexton Company, Inc., said that plans to renovate and modernize the Birch Bayh Federal Building and U.S. Courthouse had been dormant for years prior to the recovery act's passage. But when the money was made available, people got to work. Over the course of 20 months, his company employed dozens of people (75-100 at the peak of construction) on mechanical and electrical upgrades.
"For the construction industry as a whole across the country, in '08 and '09, we were in a downward spiral," said Hunt. "This project, specifically what we did, you can see and feel and touch the evidence of that [stimulus] money being spent for the right reasons."
All told, the state of Indiana received about $8.7 billion from the roughly $800 billion stimulus bill, according to data gathered by ProPublica. In 2014, the White House estimated the legislation had created some 6 million job-years, with a "job-year" defined as a full-time job for one year.
To this day, however, conservatives hold up the bill as an example of the government picking and choosing private sector winners. To them, the failures of Solyndra, a solar panel manufacturer that received $500 million from the stimulus, and Caterpillar, which continued outsourcing jobs despite receiving funding, symbolized the recovery act's misguidedness, despite the larger-picture data that underscore its success.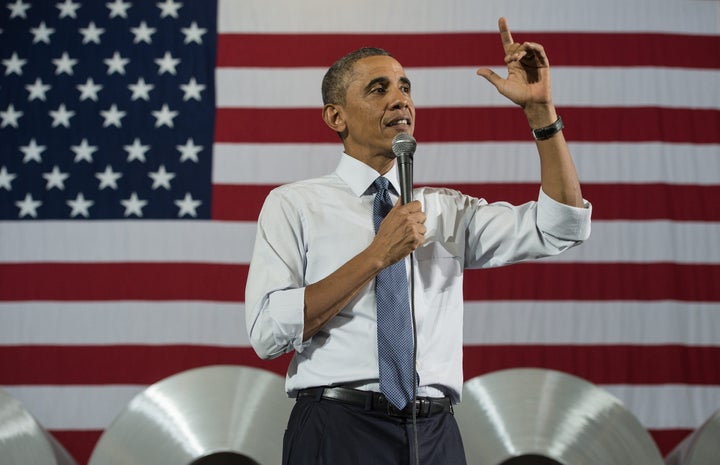 It's debatable how much of this ― conservatives' ability to frame the Recovery Act by its notable failures, recipients' lack of awareness about it ― can be blamed on Obama. The bill sent money out through various agencies and in different forms, including grants, contracts and loans. In many instances, subcontractors got their checks from the main recipient, not the government itself. So it was, in other words, difficult to track.
And on the auto bailout ― a separate matter that passed around the same time ― Obama showed deftness in taking credit. His campaign pummeled then-GOP nominee Mitt Romney on the matter in 2012, comfortably winning the states most affected by it.
"They spent millions of dollars of ads in those states on the auto bailout and it mattered," said Neera Tanden, president and CEO of the liberal-leaning Center for American Progress. "Sometimes these things just don't take in the same way. The auto bailout worked and the stimulus didn't."
What Trump is now doing with Carrier in Indiana is obviously different in size and scope than the auto bailout or the stimulus. But it still represents the use of government leverage and incentives to prop up companies that are shedding jobs. The politics, of course, are different too.
The chorus criticizing Trump, for one, is more muted, consisting mostly of economists warning about a moral hazard these types of deals create, populist Democrats, and a few conservative commentators and lawmakers committed to ideological consistency.
And then there is the salesmanship.
Time will ultimately tell if Trump can be more successful than Obama. But as the president-elect takes a victory tour of Carrier, even aides to the president acknowledge they failed in the public relations phase that follows the legislating. Obama took trips, too. Elkhart's residents can attest to that. But he was never able to connect the dots between a government action and a private sector reaction the way that Trump appears poised to do on Thursday.
"I think everyone understands the president saved the economy from the abyss and the huge progress we made. That is indelible in our record," said a senior administration official. "There is also no question that certain communities didn't feel it or realize they felt it. And you're 100 percent right that it remains a challenge … I don't have a lot of spin for you. If you crack this code, let me know."
Sign up for the HuffPost Must Reads newsletter. Each Sunday, we will bring you the best original reporting, longform writing and breaking news from The Huffington Post and around the web, plus behind-the-scenes looks at how it's all made. Click here to sign up!
Popular in the Community