WASHINGTON ― In a bid to shift attention away from the ongoing investigations of his administration, and to give the impression of progress despite his stalled legislative agenda, President Donald Trump this week is highlighting his efforts to create jobs and grow the economy.
Trump isn't the first president to attempt a pivot to jobs, of course. But some of the policies he has talked about so far bear a striking resemblance to initiatives introduced by former President Barack Obama's administration.
"In all cases, the devil is in the details of the policy and the implementation," former Obama senior adviser Dan Pfeiffer said of Trump's new initiatives.
On Monday, Trump and his elder daughter Ivanka kicked off what the White House is calling "workforce development week," during which the administration will promote job training programs and new policies that it says would make it easier for businesses to create and expand apprenticeship programs.
Alexander Acosta, Trump's labor secretary, spoke about the proposed initiatives at the White House on Monday. He claimed the programs would lower the unemployment rate, and made sure to credit a key presidential adviser who came up with them.
"I especially want to thank Ivanka Trump for developing the proposals that we'll be talking about this week," Acosta said at a daily press briefing. "Her leadership on this issue has been invaluable."
While expanding workforce programs to boost job creation is a worthy goal, it isn't exactly a novel concept. In his 2014 State of the Union address, Obama called for expanded access to apprenticeships and improved job training programs at community colleges. In 2016, his administration invested $90 million to expand apprenticeship resources across the country.
Trump's proposed budget, meanwhile, seeks to cut Labor Department funding for training and employment services around the country by 36 percent.
Last week, Trump sought to highlight his proposals to upgrade the nation's crumbling infrastructure system. He did not unveil his promised $1 trillion plan, which the administration said is coming later this year. Rather, he called on Congress to pass a bill privatizing the nation's air traffic control system, a move that is opposed by lawmakers of both parties. Trump also promised to speed up the lengthy approval process for new construction projects.
The Obama administration also worked to expedite the construction of infrastructure projects. In 2011, for example, Obama directed federal agencies to expedite environmental reviews and permit decisions for 14 major infrastructure projects around the country, including the new Tappan Zee Bridge in New York, which is expected to open to traffic in the fall.
In some instances, Trump has simply repurposed initiatives undertaken by the Obama administration.
Earlier this year, for example, Trump signed an executive order on agriculture and rural development, which he claims had been neglected by the Obama administration. The order terminated a "rural council" that Obama created in 2011, and replaced it with a "task force" that serves largely the same function ― identifying and promoting policy that benefits rural Americans.
Trump also touted the $115 billion in weapon sales to Saudi Arabia that he announced in May as a major breakthrough that will spur job creation in the U.S. However, the deal appears to be more than meets the eye ― in terms of both the stated value and whether it is actually binding. Moreover, some of the arrangements of the deal were made before Trump took office.
It remains to be seen whether Trump succeeds in shifting the conversation this week. He's headed to Wisconsin on Tuesday to tout his apprenticeship programs with Gov. Scott Walker (R), but Russia will once more be in the spotlight when Attorney General Jeff Sessions testifies before a congressional panel on Capitol Hill.
Clarification: Language has been amended to more accurately describe the status of the construction on the new Tappan Zee Bridge.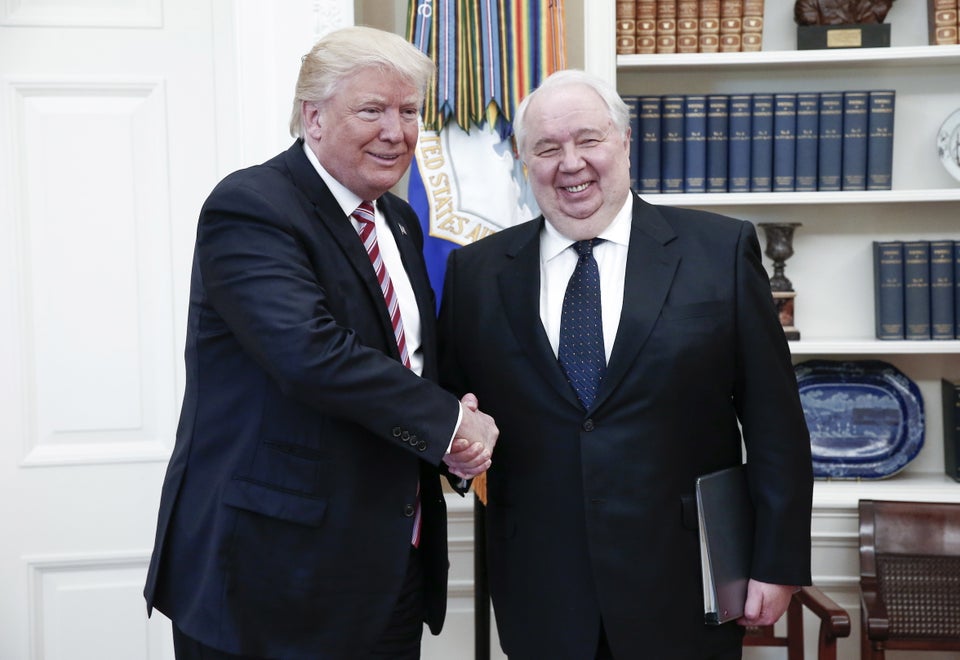 Donald Trump Meets With Russian Officials
Popular in the Community