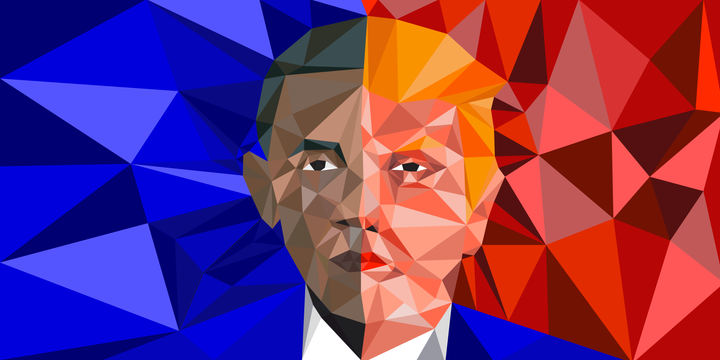 WASHINGTON ― Very few Americans outright regret their votes in last year's election. But such regrets, new data reveals, are highest among voters who may now make up the most tenuous part of the base that swept Donald Trump into office: those who supported Barack Obama in 2012.
"I'm off that boat," said Hildegarde Evans, a registered Democrat from Sacramento, California, who supported Obama in 2012. She says she voted for Trump because she hoped his business experience would give him a different perspective, but is now adamant that she'd never support him for re-election. "There's nothing he can say or do that will impress me or cause me to vote for him again, no, absolutely not. That's out."
After seeing Trump's record on health care and immigration, his handling of foreign affairs, and his continued combativeness on Twitter, she says she wishes she'd cast a write-in ballot last year.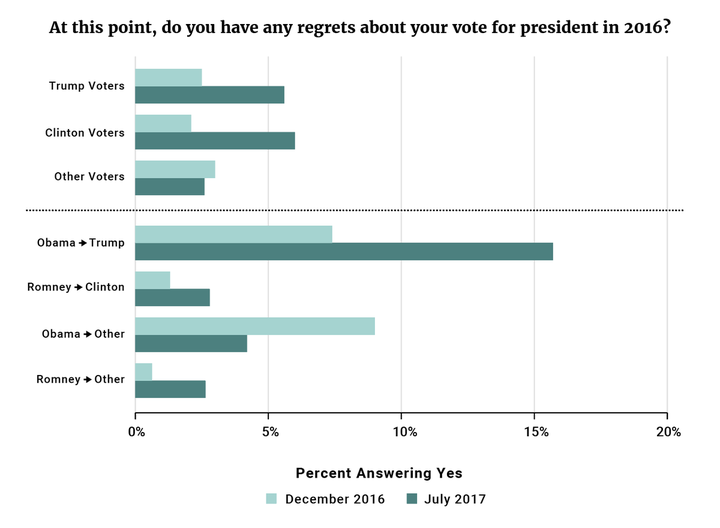 Evans is among the 16 percent of Obama/Trump voters who now say they regret their votes, according to a newly released set of polling. Six percent of all 2016 voters say they regret the decision they made last year, and 3 percent those who voted for Mitt Romney in 2012 and Hillary Clinton in 2016 say the same.
Fewer than 4 in 10 of Obama/Trump voters say they're sure they'll vote GOP in the 2018 midterms.
The data comes from an online YouGov poll conducted in July by the Democracy Fund Voter Study Group, which describes itself as a collaboration by "nearly two dozen analysts and scholars from across the political spectrum." The survey reinterviewed 5,000 Americans who'd previously been polled in 2011, 2012 and 2016, allowing the researchers to track the shifts in their political opinions.
"I think there are some people who argue this is a segment of the population the Democrats can't win back, but this is already a population that's already shown itself to have some flip-flopping tendencies ― to vote for one party and then to vote for another."
Between 6.7 million and 9.2 million Americans may have backed Obama in 2012 and Trump in 2016, according to an analysis Geoffrey Skelley of Sabato's Crystal Ball conducted earlier this year. He concluded such voters "played a crucial role" in Rust Belt states such as Michigan, Pennsylvania and Wisconsin. According to the Voter Study Group, they represent about 9 percent or 10 percent of Obama's supporters.
"Among the people who supported Trump, they're showing some of the highest levels of dissatisfaction," said Robert Griffin, the director of quantitative analysis at the progressive Center for American Progress and one of the participants in the Voter Study Group. "I think there are some people who argue this is a segment of the population the Democrats can't win back, but this is already a population that's already shown itself to have some flip-flopping tendencies ― to vote for one party and then to vote for another. So, I think the evidence would suggest that this is a group that's in play. They're by no means lost to the Democratic Party."
The behavior of these voters stands out in a political environment often characterized by inflexible hyper-partisanship, as they are less tethered to a partisan identity than most of the electorate.
Although they are considerably right-leaning and by no means largely wayward Democrats, Obama/Trump voters do appear in some ways significantly different from the rest of Trump's electorate, according to additional YouGov polling conducted for the Economist in June and shared with HuffPost.
They're less likely, for instance, to closely follow politics, to consider themselves conservatives, or to feel a strong kinship with the Republican Party. They're less likely than other Trump voters to consider immigration a very important issue. And although they aren't significantly likelier to express personal worries or to name the economy as a top issue, they are more bearish about its prospects. Just 46 percent of Obama/Trump voters, compared to 61 percent of other Trump voters, say the economy is getting better. And 36 percent, compared to 58 percent of other Trump voters, think Trump cares a lot about people like them.

Most Trump voters, no matter whom they supported in previous years, aren't rueing their decision. About 70 percent of Obama/Trump voters said in July that they approved of the current president's performance, according to the Voter Study Group.
"Donald Trump, in my opinion, he put down his feet and started running right away, as soon as he was inaugurated, to move his agenda forward. I like that," another Obama/Trump voter, Cornell Rankin, told HuffPost earlier this summer.
Rankin, a resident of Wilmington, Delaware, who originally hails from Pittsburgh, Pennsylvania, said he hoped that Trump would restore manufacturing jobs.
"I grew up with the steel mills and other manufacturing that was [flourishing] during my childhood, and by the time I got old enough to get into the workforce, those things were dwindling and eventually closed down," he said. "And now the manufacturing in western Pennsylvania is almost nothing. And I would like to see the return of some manufacturing because as a nation we used to be very strong at providing everything that we need."
And unlike even many Republicans, Rankin called Trump's pugnaciousness "refreshing," saying he liked having someone in office to confront the status quo.
Most Obama/Trump voters, however, aren't wholly upbeat, especially in comparison with straight-ticket Republican voters. Just 35 percent in the Voter Study Group's poll strongly approve of Trump's performance, significantly below the level of Trump voters as a whole. (A 63 percent majority of Obama voters who backed third-party candidates, meanwhile, disapprove of Trump entirely.)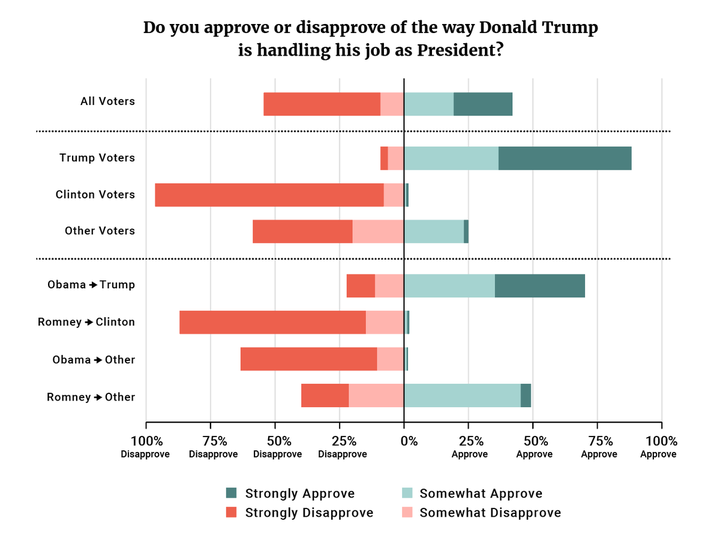 "I still have hope for him. I have not given up," said Ella Johnson, a 62-year-old from Rochester, Minnesota, who backed Trump in 2016 after voting for Obama in 2012. Johnson, who picked Trump because she thought he'd do a better job of working with Congress, praised him for fighting for what he wanted, even if it meant taking on other politicians or the press.
But Johnson also expressed concerns about Trump's record on health care, noted that the president hasn't yet accomplished much, and said he often seemed to let his ego get the best of him. And although she hasn't given a great deal of thought yet to the midterm elections, she's more than open to the idea of supporting a Democrat.
That openness is not entirely uncommon among Obama voters who didn't support Clinton, according to the study. Thirty-six percent of Obama voters who voted for a third-party candidate last year say they plan to vote Democratic in the midterms, and 23 percent that they haven't made up their minds. Obama/Trump voters, while less Democratic-leaning, aren't solidly Republican either: 39 percent of Obama/Trump voters say they plan to back a Republican candidate in 2018, according to the study, with 17 percent saying they'll vote Democratic and another 41 percent still unsure.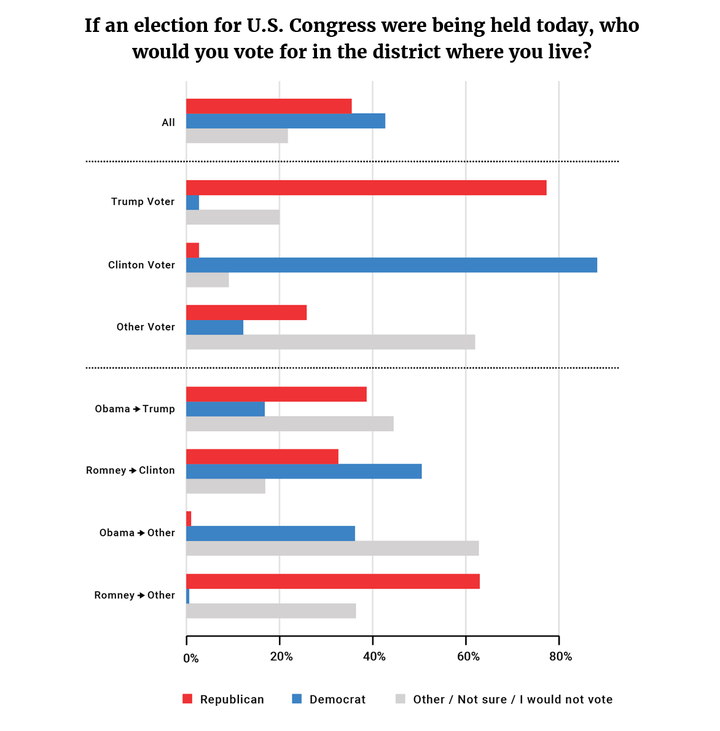 Given their loose tethers to partisanship, even those who remain happy with Trump may not necessarily be a reliable vote for the GOP.
"Sometimes it's not a bad thing to have a little opposition in the government," Rankin said.
Before You Go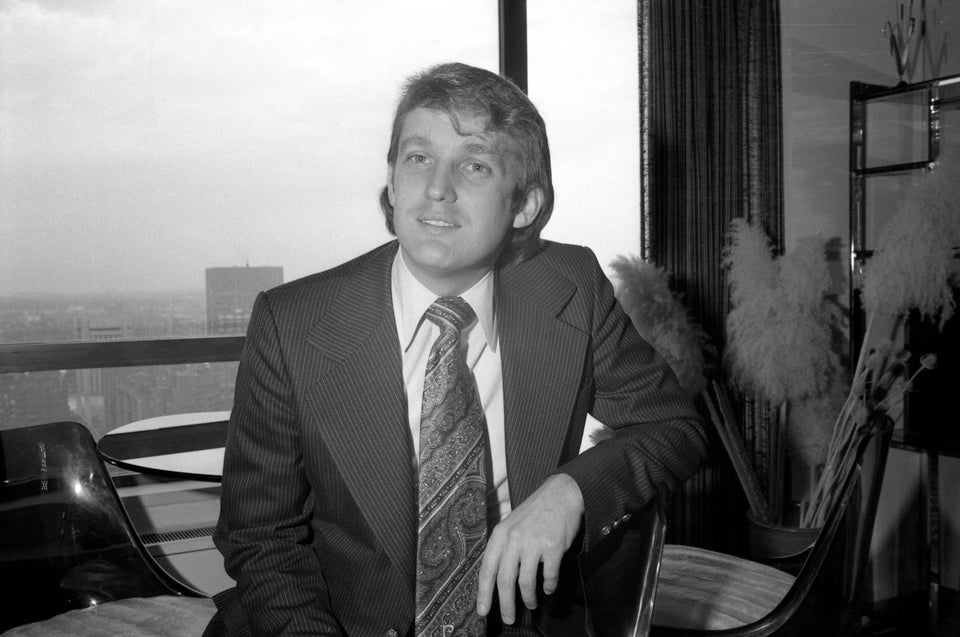 Donald Trump Over The Years
Popular in the Community