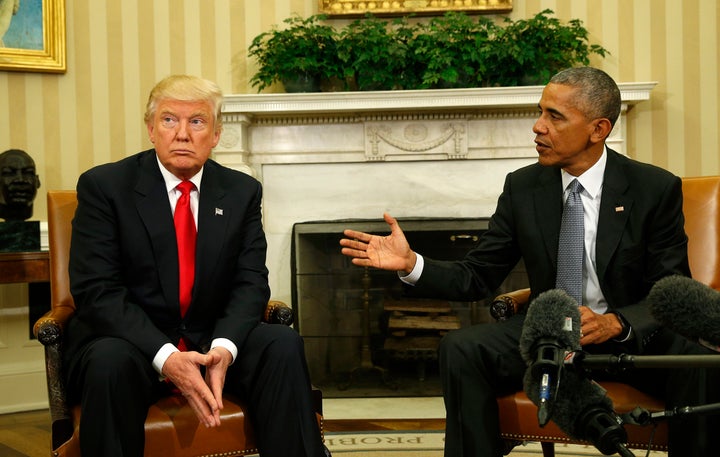 WASHINGTON – Imagine if rather than reminding you to sign up for health insurance at the start of open enrollment, your employer ignored the matter entirely and instead spent company time and money bashing the insurance program.
For the millions of Americans who don't get health coverage through work and could use some help from the Affordable Care Act, no imagination is necessary.
Even as large and small companies across the country are urging their employees to sign up for next year's insurance, President Donald Trump and his administration's top health care officials have said exactly zero about the Obamacare enrollment period.
"People don't have basic information. They don't know when open enrollment starts. They don't know when it ends. They don't know there are subsidies to help them pay for it," said Lori Lodes, who once helped run the office that administered the federal health insurance exchange under President Barack Obama. "They are making it so fewer people enroll."
The White House has declined to answer repeated questions about whether Trump, notwithstanding his opposition to his predecessor's signature legislative achievement, would still encourage Americans who otherwise lack health insurance to sign up for it on the exchanges.
One White House aide, on the condition he not be named, said Trump believes Americans will figure it out for themselves.
"The president trusts Americans to know their own health care and coverage needs best ― certainly more than the federal government does," the aide said. "They don't need the government telling them what's best for them when it comes to health insurance."
The Department of Health and Human Services, which oversees Obamacare, did not respond to HuffPost queries about whether Acting Secretary Eric Hargan would be promoting the start of the six-week enrollment period.
A press officer at the Centers for Medicare and Medicaid Services, who declined to give his name, said the office was doing its job. "We're not hiding that open enrollment has started," he said. "We would put out a fact sheet. I tweeted out that open enrollment started this morning."
The agency's press office had, in fact, sent out two tweets on the topic Wednesday morning: "Exchange Open Enrollment period begins today – Nov. 1 to Dec 15 – coverage starts on Jan. 1. healthcare.gov" and "Starting today consumers can log in to HealthCare.gov or call 1-800-318-2596 to enroll in 2018 coverage healthcare.gov/."
But that Twitter account has only 5,456 followers.
HHS's passive neglect is overshadowed by Trump's active sabotage, which has led people who need insurance to wonder if it's even available, Lodes said.
On May 28, for example, the president tweeted, "ObamaCare is dead - the Republicans will do much better!"
At an Oct. 16 Cabinet meeting at the White House, Trump said the Affordable Care Act shouldn't even be discussed. "Obamacare is finished. It's dead. It's gone," he said. "It's no longer ― you shouldn't even mention. It's gone. There is no such thing as Obamacare anymore."
Americans who believe that what the president says is true could reasonably conclude that the law had been repealed months ago, Lodes said.
"People are very, very confused. More so than ever before," she said.
Trump's assault on the health care law has gone far beyond the verbal. He has shortened the enrollment period and slashed the budget for enrollment period advertising. He and congressional Republicans have also refused to abide by the law's requirement that insurance companies be reimbursed for subsidizing out-of-pocket expenses for low-income customers. That last decision alone has driven up premiums by as much as 38 percent, according to a recent study by the Kaiser Family Foundation.
Insurers are also citing uncertainty about the program's future as a reason to raise premiums. In other words, Lodes said, Trump is right when he claims costs are going up: "Yes, because you made it this way."
Lodes now helps run Get America Covered, which is beating the drums to encourage eligible Americans to sign up for health insurance in the coming weeks. The group's website features a video in which Obama promotes enrollment ― it's similar to the videos and ads he appeared in as president.
But that effort is little match against an administration that appears ready to see Americans go without insurance rather than push a program it does not like, Lodes said. She predicted that enrollment in the coming weeks will not match the 12.2 million who signed up on the exchanges by the end of last year's open enrollment.
"They don't want people to sign up. If they wanted people to sign up, they'd help people," she said. "There should be zero reason for fewer people to be signing up this year."
Calling all HuffPost superfans!
Sign up for membership to become a founding member and help shape HuffPost's next chapter