WASHINGTON ― President-elect Donald Trump seems concerned about his party's strategy for repealing the Affordable Care Act, at least according to a series of tweets he posted on Wednesday.
"Republicans must be careful in that the Dems own the failed ObamaCare disaster, with its poor coverage and massive premium increases like the 116% hike in Arizona," Trump tweeted.
"Don't let the Schumer clowns out of this web massive increases of ObamaCare will take place this year and Dems are to blame for the mess," he added, referring to Sen. Chuck Schumer (D-N.Y.), leader of the Democrats in the U.S. Senate. "It will fall of its own weight - be careful!"
Congressional Republicans have been preparing to pass legislation repealing Obamacare for Trump to sign shortly after he assumes the presidency. The president-elect isn't saying the GOP shouldn't proceed ― but it will be difficult for Republicans to continue to blame Democrats for Obamacare's shortcomings, like Trump suggests, if they pass legislation that disrupts the health care law's consumer subsidies and rules for health insurance companies.
The Affordable Care Act expanded health insurance coverage to more than 20 million Americans who had previously been uninsured. A full repeal of the law would leave those people uninsured again.
Vice President-elect Mike Pence renewed the pledge to repeal Obamacare during a visit to Capitol Hill on Wednesday. "The first order of business is to repeal and replace Obamacare, and that was our message today and it will be our message on Capitol Hill," he said. "It needs to be done."
A problem for the "repeal and replace" plan is that Republicans haven't coalesced around a replacement for Obamacare since it was signed into law almost seven years ago. One idea they are reportedly considering is immediately passing a "repeal" bill that actually leaves elements of the Affordable Care Act in place for as long as another four years.
Hospital groups and physicians have warned that passing a repeal bill without a replacement could be massively disruptive, even if the repeal is delayed.
House Minority Leader Nancy Pelosi (D-Calif.) has blasted Republicans for their apparent repeal-and-delay approach.
"Repeal and delay is an act of cowardice on the part of the Republicans," Pelosi said earlier this week. "Where are they going to get the votes to replace? If, in fact, ideologically they're opposed to a public role and any participation in the good health of the American people, where are they going to get the votes, unless they were to act in a bipartisan way?"
Trump himself campaigned on repealing Obamacare, though he has held a variety of positions on the issue. After the election, he said he favored keeping a core part of the law ― the guarantee of coverage options for the millions of people with pre-existing health conditions who would otherwise be frozen out of the insurance market.
Before You Go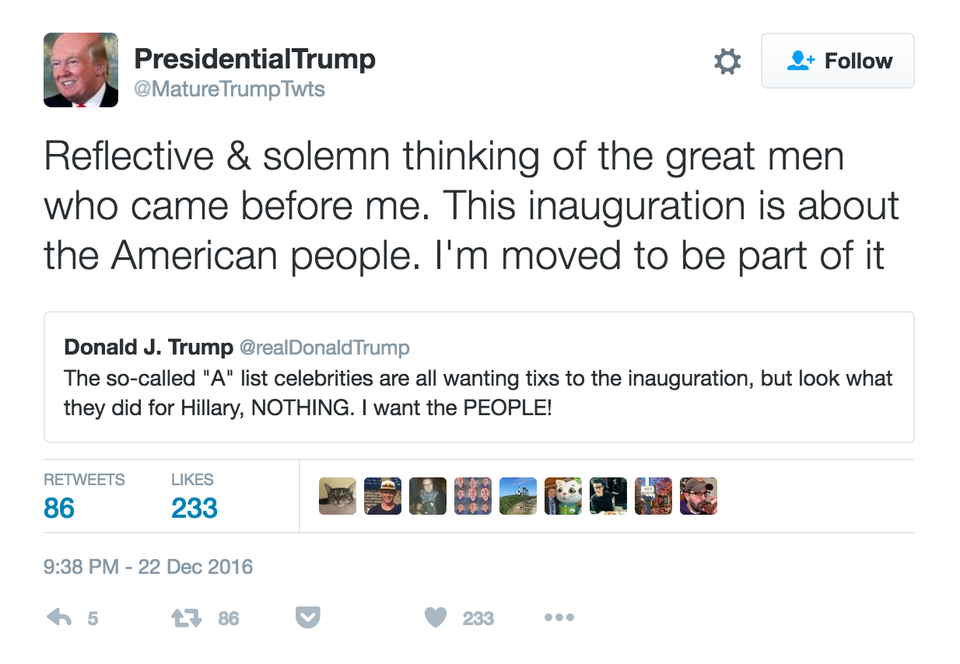 Twitter's @MatureTrumpTwts Is The Grownup Trump We Probably Won't Get
Popular in the Community