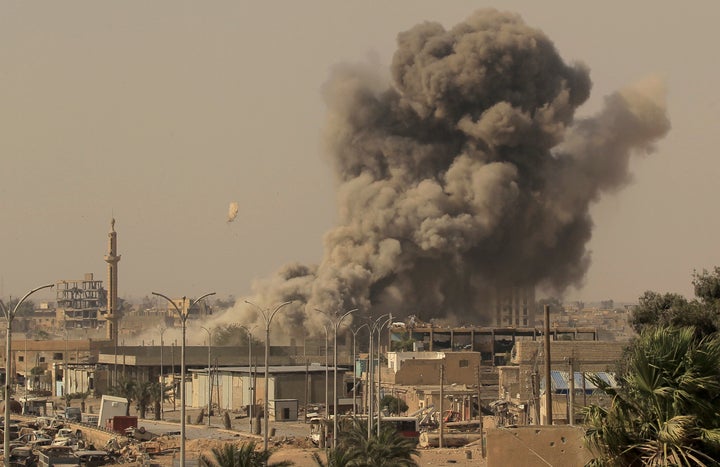 WASHINGTON ― While President Donald Trump claims he has "eradicated," "wiped out" and even "absolutely obliterated" ISIS, there is one group that has ignored the president's words: the terrorists themselves.
What's more, the Islamic State of Iraq and Syria ― or the Islamic State of Iraq and the Levant, as it is also known ― actually regrouped somewhat earlier this year. Foreign affairs experts suggest it will concentrate on overseas attacks now that it has lost most of the territory it used to control in Iraq and Syria.
"Despite the damage to bureaucratic structures of the so-called 'caliphate,' the collective discipline of ISIL is intact," according to a July 27 report commissioned by the U.N. Security Council. "The general security and finance bureaus of ISIL are intact."
The Defense Department's report for the three-month period ending June 30 found as many as 17,100 ISIS fighters remaining in Iraq, with another 14,000 in Syria – numbers in line with the U.N.'s estimate of 20,000 to 30,000 fighters spread between the two nations.
"Although there has been an overall decrease in violence, these fighters, organized in small cells, continued to plant improvised explosive devices (IEDs) and to mount terrorist attacks," the Defense Department report stated.
Seth Jones, a former senior officer in the Defense Department and now a lecturer at the Johns Hopkins School of Advanced International Studies, said that retaking most of the territory that ISIS used to hold is certainly an accomplishment – but that the battle is nowhere near over.
"They haven't been obliterated," Jones said. "They certainly haven't been crushed or defeated such that they are no longer present. They are present."
Estimates for the number of ISIS fighters in Iraq and Syria, always imprecise, have ranged as high as the mid-30s to about 45,000 at the group's territorial peak in 2014, down to as low as a few thousand early this year.
"The problem is that terrorism, including the Islamic State activity, is primarily political," said Jones, pointing to the ongoing ethnic and sectarian grievances that allowed ISIS to co-opt people in the region in the first place. "Anybody who uses phrases like 'we won' or 'we crushed them' doesn't really understand the political situation."
Yet those are exactly the sorts of words Trump has been using about ISIS in public statements this year.
"We've essentially just absolutely obliterated ISIS in Iraq and in Syria," he told reporters in an April 24 news conference.
Four days later, at a rally in Macomb County, Michigan, he boasted, "We have really wiped out ISIS."
Standing beside Vladimir Putin in Helsinki on July 16, Trump thanked the Russian leader for his help in the fight. "We have just about eradicated ISIS from the area," Trump said.
And late last month, speaking at the Veterans of Foreign Wars convention in Kansas City, Missouri, the president proclaimed, "We're destroying the bloodthirsty killers known as ISIS ― almost gone."
Trump's grandiose but false declarations have generated an awkward game of "ask somebody else" between his administration and the media, as officials struggle to reconcile the reality of the situation with the commander-in-chief's claims.
A spokeswoman for the White House's National Security Council told HuffPost, "I refer you to the State Department," when asked about the latest U.N. report.
State Department spokeswoman Heather Nauert, when asked about the U.N. estimates at a press briefing on Wednesday, answered, "I don't have a U.S. government estimate to provide for you. Perhaps another department or agency has additional figures that they could provide."
Even White House press secretary Sarah Huckabee Sanders, who generally repeats and defends Trump's statements regardless of their veracity, ignored the question of the U.N. report entirely when she was asked last week. "We'd like to see every single member of ISIS defeated across the globe. I think that would be the ultimate victory," Sanders said.
Asked again on Wednesday, she said, "Certainly we know that the caliphate has been practically destroyed. Certainly there are ― continue to be ISIS fighters, and that's why we continue to take all of those threats seriously and look for ways every single day to defeat them and protect American people and our allies."
At the Defense Department, the agency whose inspector general produced the 31,100 estimate, a spokesman offered a far more cautionary assessment than anything Trump has said.
"We have assessed that, even after the liberation of ISIS controlled territory, ISIS probably is still more capable than al-Qaida in Iraq at its peak in 2006-2007 ― when the group had declared an Islamic State and operated under the name Islamic State of Iraq ― suggesting it is well positioned to rebuild and work on enabling its physical caliphate to reemerge," said Cmdr. Sean Robertson.
"ISIS will remain a regional and global threat even after their military defeat. ISIS will take full advantage of any opportunity, including any abatement of pressure, to regain its momentum by attempting to retake previously liberated territory and fleeing more permissive areas," Robertson added.
On ISIS as with many other issues, Trump repeatedly claims that he has succeeded where his predecessor, Barack Obama, had failed. "We've had more success with ISIS in the last eight months than the entire previous administration has had during its entire term," Trump said during a bill signing in December.
That assertion, though, is false. The U.S. military under Trump has largely continued the strategy started under Obama in 2014 of liberating ISIS territory by providing air support for local allies on the ground, although bombing of targets did increase under Trump.
Trump's bigger accomplishment compared to Obama is his willingness to declare sweeping success.
Daniel Byman, a professor in Georgetown University's Walsh School of Foreign Service and a senior fellow at the Brookings Institute, said a "normal president" would take credit for driving ISIS's caliphate underground, but would follow that with a string of caveats about the future.
Instead, Trump is claiming total victory, Byman said, but appears to be getting a pass from foreign policy experts because, unlike many of Trump's other pronouncements, this one has at least some grounding in reality. "That fact that there's actually some grains of truth to it is the real news story," he said.
Popular in the Community