WASHINGTON – "HELP WANTED: Possible attorney general opening. Must quash Russia investigation into president of the United States. Also, must go after leakers. Willingness to endure criminal prosecution for obstruction of justice a plus."
Lost amid the never-ending palace intrigues of the West Wing remains this extraordinary desire of President Donald Trump: An attorney general who will end special counsel Robert Mueller's probe of possible collusion between Russian intelligence and the Trump presidential campaign.
In statements on Twitter, in interviews and publicly at a news conference, Trump has been insulting Attorney General Jeff Sessions for more than a week for recusing himself from the Russia investigation back in March. "If Jeff Sessions didn't recuse himself, we wouldn't even be talking about this subject," Trump told The Wall Street Journal.
That, said the former top ethics lawyer in President George W. Bush's White House, speaks volumes, particularly in light of Trump's firing of FBI Director James Comey in May.
"It's not about Comey. It's not about Mueller. It's about the Russia probe," said Richard Painter, now a law professor at the University of Minnesota.
Trump's White House did not respond to queries on the matter, and Sessions – the first sitting senator to endorse Trump's campaign last year – has given no indication he intends to leave his job on his own.
Painter said that shows good judgment on Sessions' part, as does his refusal to fire Mueller.
"I don't think Sessions is going to do it because I don't think he wants to be charged with obstruction of justice," Painter said. "There is no reason to fire Mueller other than to stop the Russia investigation."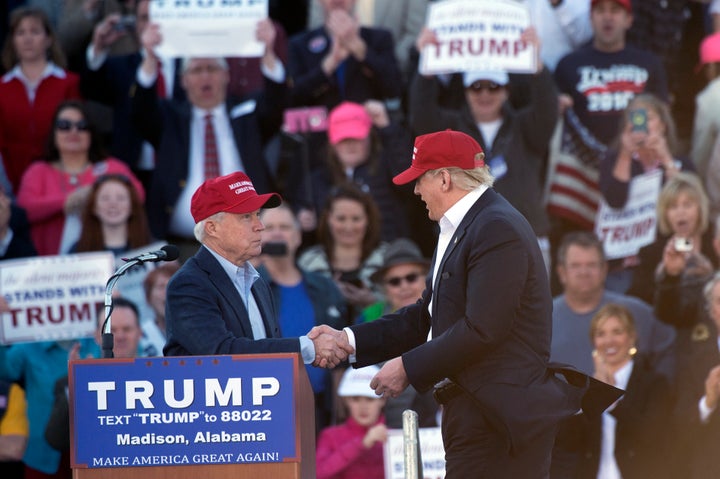 Randy Evans, a Republican National Committee member from Georgia, defended Trump, saying his criticisms of Sessions do not constitute obstruction of justice – just a president who would have preferred an attorney general who could have kept a distraction under control.
"He is a very hands-on leader," Evans said, adding that Trump is a president "who thinks out loud" and is more interested in results than methods. Trump is clearly upset with Sessions, but his public attacks are more akin to a college football coach trying to get better performance from a quarterback than trying to get someone to quit, Evans said. "When there's a lack of winning, he's not going to be shy in letting you know about it."
Other Republicans said Trump's actions are indefensible, and show how his aberrant behavior has normalized what previously had been unimaginable.
Florida GOP consultant Rick Wilson, who worked in the George H.W. Bush White House, said a staffer who recommended firing the attorney general to block an investigation into that president would have been out of a job. 
"That person would have been fired. They would have been shown the door instantaneously. They would have been out in a hot minute," Wilson said. "Now, it's so much the new normal that everyone just shrugs, and says, 'Sure. Of course he's trying to obstruct justice.'"
Rick Tyler, a Republican strategist who worked for Texas Sen. Ted Cruz in the GOP presidential primaries, said that if Trump is unhappy with Sessions, he should tell him so privately, not in media interviews and on Twitter. "That should all be internal. It should not be external," Tyler said.
Trump's outbursts are causing harm to himself – Comey's firing, for example, led to the appointment of Mueller, Tyler noted.
"We have Mueller because of Trump, and for no other reason," Tyler said. "He's his own worst enemy."
Sessions recused himself from the ongoing investigation into Russian interference after his own undisclosed meetings with Russian officials came to light. That left the probe under the charge of Sessions' deputy, Rod Rosenstein.
Two months later, Trump fired Comey after the FBI director refused to drop a related investigation into Trump's first national security adviser, Michael Flynn, for his undisclosed Russia contacts. The very next day, Trump told the Russian foreign minister and ambassador during an Oval Office visit that he had fired Comey to relieve the "pressure" from the FBI's Russia probe.
That firing led to the appointment of Mueller as special counsel by Rosenstein – which has become a focus of Trump's anger ever since. That rage appeared to boil over after recent reports that Mueller may be seeking Trump's tax returns in connection with the investigation. Trump refused to release his returns during the campaign, a break from decades of protocol for presidential candidates.
Painter, the ethics adviser to George W. Bush, said Trump can, if he chooses, pardon his son Donald Trump Jr., and son-in-law Jared Kushner to protect them from the probe – and face the political consequences. But ending Mueller's investigation, Painter said, requires an attorney general ready to go to jail for Trump.
"He needs to find someone who will be willing to engage in obstruction of justice," Painter said. "Criminal obstruction of justice."
Listen to S.V. Date discuss Trump's treatment of Jeff Sessions on "So That Happened," the HuffPost Politics podcast (the conversation starts in the 30th minute): 
Calling all HuffPost superfans!
Sign up for membership to become a founding member and help shape HuffPost's next chapter
BEFORE YOU GO