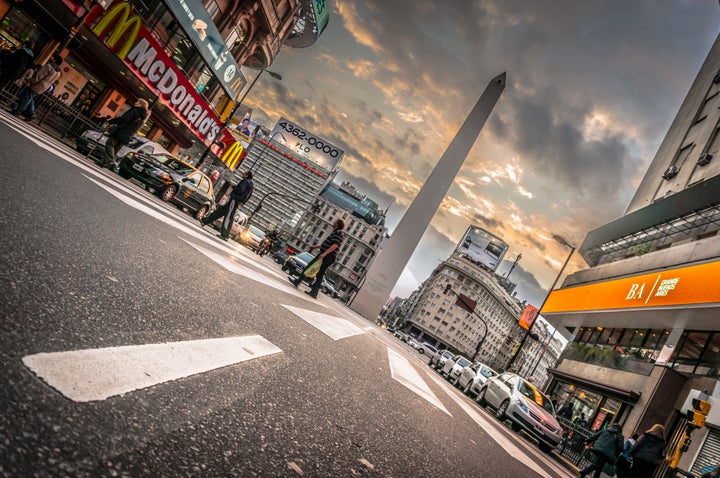 The site, a former parking lot, is located just a few steps from the Obelisko in the city's main tourist district.
According to The Bubble, an Argentine media outlet, Trump Office Buenos Aires will be 35-stories tall and span roughly one-half a mile along Nueve de Julio.
Juan Jose Cugliandolo, general director of YY Development Group, told El Pais de Espana, "The change of Argentina's government led us to choose land in Buenos Aires. The opening of the financial market will draw international businesses intrigued by the iconic building. The Trump brand should be associated with a free market."
YY Development Group is an Argentina investment group which has long maintained a cozy relationship with Trump. The Trump Office Buenos Aires will be the second of Trump's architectural monsters to call South America home. The first is in Punta del Este, Uruguay.
Is "No Plans to Build" a Misdirection?
A Trump Organization spokeswoman told Reuters on January 3, 2017, that the President-elect's company has "no plans to build in Buenos Aires."
Buenos Aires' government claimed in late November it declined to allow a permit to build an office tower connected to Trump. At the time, the government said developers would have to file new paperwork for the project to move forward.
Trump Office Buenos Aires development recently made international headlines when a local television station reported that Trump mentioned the proposed office complex during a congratulatory call following Trump's November 8 election.
Mauricio Macri, the Argentine president, called the report untrue and denied any mention of the project during the call. Macri and Trump have been chummy since Macri's days as a businessman in the South American nation.
Trump claims he will remove himself from day-to-day operations before taking office in an attempt to avoid conflicts of interest. His company pulled out of a hotel venture in Rio de Janeiro in December.
In Uruguay, developers YY Development Group built Trump Tower at the Punta del Este resort, and many observers see the "no plans to build" in Buenos Aires as misdirection.
The potential pitfalls as Trump mixes business and politics were highlighted on December 2 when Trump accepted a congratulatory phone call from Taiwan's President Tsai Ing-wen.
A representative of the Trump Organization conducted a business trip to Taiwan in October according to the Taiwan News. The Taiwan News and other outlets described a Trump Organization representative holding discussions with the Taoyuan's mayor in September about pushing forward an airport development project.
The Trump Organization denied any plans for expansion in Taiwan despite Trump's interest in China dating to 2005 when he started applying for trademarks for the "Trump brand" for hotels and real estate.
Todd G. Wynne-Parry, a senior vice president for Trump Organization, said, "The Trump development team has identified Greater China as our top priority."
The term "Greater China" typically refers to mainland China, Hong Kong, and Taiwan.
Jim Petrus, Trump Organization's COO said the group intends to open 30 hotels by 2020 according to the Washington Post.
Representative Elijah E. Cummings, a Democrat from Maryland, spoke at a Capitol forum on ethical issues raised by a Trump administration. Cummings' statement said it didn't matter to him if Trump kept his name on businesses such as "The Celebrity Apprentice" but dealings with foreign nations was another matter.
"I care about federal officials in Bahrain, China, Argentina and other places who might buy up complete floors at Trump Tower, expedite permits for construction plans and take other kinds of improper efforts to ingratiate themselves to the new administration," Cummings added.
I am an American freelance writer and ghostwriter now living the expat life in Argentina. Never far from my coffee and Marlboros, I am always interested in discussing future work opportunities. Email me at jandrewnelson2@gmail.com and join the million-or-so who follow my life and work on Twitter @ Journey_America.
Thanks for being part of my wild and wonderful journey called life.
Calling all HuffPost superfans!
Sign up for membership to become a founding member and help shape HuffPost's next chapter
BEFORE YOU GO