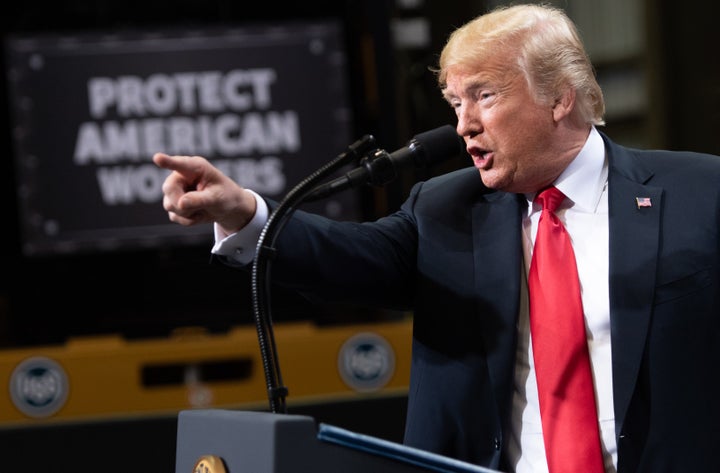 WASHINGTON ― Top White House staffers on Tuesday said that "official" government events are part of President Donald Trump's efforts to help Republicans in the coming midterm elections ― an admission that public dollars are being used for partisan political purposes.
One staff member on a conference call with reporters, responding to whether Trump planned to visit "purple" congressional districts rather than the safely Republican ones he favors, pointed out that Cabinet members ― including Housing and Urban Development Secretary Ben Carson, acting Environmental Protection Agency Administrator Andrew Wheeler and Energy Secretary Rick Perry ― are already doing that.
"And while these are official events, and I want to be clear about that, official events obviously drive earned media attention," said the staffer, whom the White House would only permit to be identified as someone "familiar with the president's thinking."
"You know, the president's Cabinet and senior staff have done 35 events with or affecting House districts in August already. Over 35 events in August already. I wanted to make sure I repeated that. And these include people and places like Secretary Carson in Mike Coffman's district in Colorado 6; Secretary Perry in John Katko's district in New York 24; acting Administrator Wheeler with David Young in Iowa 3; Ivanka Trump with Keith Rothfus and Mike Kelly in western Pennsylvania. All targeted districts. All fitting that, and I'm using air quotes, the suburban districts that I think you were inferring the president isn't spending a lot of time in," the staffer said. "Presidential rallies deservedly drive a great deal of attention, but there are many tools in that toolkit."
A second staffer ― who is also familiar with the president's thinking, according to the White House ― pointed to a recent trip by Trump "for" Rep. Rod Blum of Iowa and Rep. Mike Bost of Illinois. "Remember, too, just right before August he was in Iowa and Illinois for Bost and Blum," the staffer said.
Except that the July 26 trip had no political events on the itinerary ― only "official" ones paid for entirely by taxpayers. Despite this, Trump told the audience at a U.S. Steel plant in Granite City, Illinois, that Democrats supported illegal immigrants, so voters should back Republicans in the November midterms.
"You've got to vote Republican, folks, you've got to vote Republican," Trump said at the newly reopened steel plant.
Craig Holman, with the watchdog group Public Citizen, said Trump and his White House could be violating federal law. "The White House comments make it rather obvious that Trump and his senior staff are mixing campaign work with official work, which, if not managed properly, would constitute violations of reporting requirements, the Federal Election Campaign Act and federal laws prohibiting the use of official resources for campaign activity," Holman said.
On the Air Force One flight back from the Midwest trip, White House spokesman Hogan Gidley defended Trump's openly political exhortations at official government functions.
"There's no legal prohibition for that to occur. The president can do that," Gidley said. "It is no surprise that the president would want people in Congress who support his agenda."
The White House on Wednesday criticized the publication of this report based on the conference call.
"It is unfortunate but ultimately unsurprising that a liberal publication like Huffington Post would make these misleading accusations and misconstrue the intent of the response," deputy press secretary Lindsay Walters said.
While previous presidential administrations scheduled "official" events in cities where there would also be a fundraiser or political rally in order to lessen the travel costs charged to the campaign, past presidents were careful not to make political statements at the official events.
Trump has shown little interest in making that distinction, routinely endorsing candidates at "official" events and urging attendees to vote for Republicans.
"This represents just the latest series of what we have seen throughout much of this administration," Holman said. "A reckless disregard of the laws designed to prevent taxpayer resources from being used for self-serving purposes ― in this case, for campaign purposes."
This story has been updated to include a comment by White House deputy press secretary Lindsay Walters.