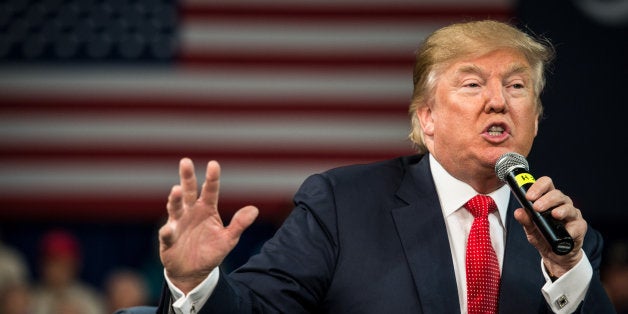 Donald Trump is one shrewd move away from becoming electable. Don't let the sputtering and hand-wringing from both Left and Right obscure your vision. He is the political real deal. He's more in touch with voters than most of his critics. The reasons aren't hard to figure.
In this bright and bouncy new age, I first need to certify that his policies and rhetoric are anathema. His policies and rhetoric are anathema. But something serious is going on and it isn't enough to hope he goes away.
So far, Trump has understood the electorate better than anyone else. A very large fraction of Republican voters wants no part of immigrants or compromise. They prize candor and hostility to political correctness even when they disagree with a particular utterance. They are disaffected from the establishment of their own party. Compromise is weakness. The nation is in physical and existential peril of its life. The expected emphasis on economic self-interest has vanished.
That gets Trump to the low 30s in the polls. Add the dwindling Carson voters and maybe you get to 40. Close, but enough meat on the bone for Cruz/Rubio/Bush to rally. And the Donald seems to be stuck.
Which brings us to the one shrewd move. Consider that Trump has broken through without a serious economic program. True, every Republican has sworn allegiance to the failed austerity, supply-side economics of the past thirty years. More tax cuts for the rich, more spending cuts, more reductions in Social Security and Medicare. The Donald has mostly bought in, even as most of the country has moved on. Look at the poll numbers on income inequality, higher minimum wage, cost of college, paid family leave. In fact, middle America has been suffering and in fact middle America is by no means supportive of policies that are good for the 1 percent and bad for them.
If Trump is as smart as he says he is, he will figure out that an economic program that speaks directly to the needs of middle-class Americans is good politics. Explicitly and out loud commit to protecting Medicare and Social Security, tax the 1 percent (he's already hinted at taxing hedge fund guys), invest in roads, and embrace minimum wage increases.
He would appeal to those Republican seniors, moderates and blue-collar voters who aren't with him now. He would stand alone and unafraid among the other candidates who are lock-step with the Koch Brothers and Wall Street. He would give people a reason to support him even if they are wary of the more outlandish Trumpisms.
The Democrats ultimate hope in 2016 is that Hillary can combine foreign policy and terrorism toughness with an economic message of fairness for the middle class. A Republican who can pivot and pre-empt that argument will give her fits.
Trump isn't constrained by ideology. He relishes sticking it to everyone. He needs an extra boost. His intuitive sense of the electorate is the best of the bunch. Everyone else is paralyzed. It's perfect. One shrewd move.
REAL LIFE. REAL NEWS. REAL VOICES.
Help us tell more of the stories that matter from voices that too often remain unheard.